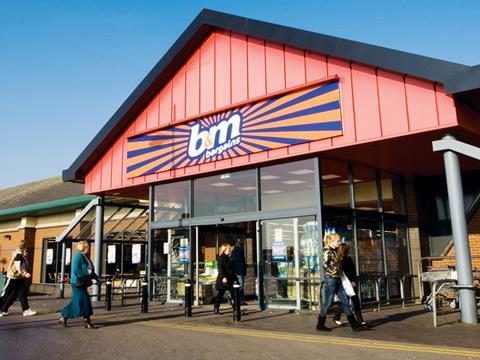 The City is not known for its gratitude or patience. Having absorbed B&M European Value Retail's surging annual sales and doubling of profits, the market promptly sent the discounter down 5% on warnings of an inevitable sales slowdown in 2022.
There is no doubting that B&M's 2020/21 financial year was a spectacular success. Overall sales were up 25.9% to £4.8bn for the year to 27 March, with its core B&M UK stores up 23.8% on a like-for-like basis as it benefited from 'essential retailer' status during the Covid lockdowns.
However, B&M also pointed out that performance remained strong even when no restrictions were in force, while it opened a further 43 stores in the period, which have traded "strongly".
B&M UK gross margin also saw a significant hike this year, driven by a shift towards higher-margin general merchandise sales and an unprecedented level of sell-through on seasonal lines.
Conditions for its French business were "more challenging", though sales still rose 9.1% to £283.4m for the period. Its improved UK profitability drove an EBITDA jump of 83% to £626.4m, while group statutory profit before tax was up 108.5% to £525.4m.
Despite the good news, the shares were down by 4.7% to 535p by early afternoon on Thursday.
Investor concern centred on B&M's ability to repeat its stellar performance, given B&M UK like-for-likes were down 1% over the first nine weeks of the financial year despite benefiting from a pull-forward of gardening demand to April.
It guided that like-for-like sales will fall back in the current financial year, while margins will revert to "more normalised levels", with an expected return of markdown activity on seasonal goods.
"How do you improve on perfection?" wondered analysts at Peel Hunt. "Life is now going back to normal and it will be tough to match FY21. Like-for-like sales growth of –1% so far in the new year is not a bad effort, but we would expect a slower underlying rate to emerge."
AJ Bell added: "While some level of drop-off is to be expected, shareholders will be crossing their fingers that the business can hold on to at least a chunk of the new customers it won in 2020… … This means it needs to get the basics of retail absolutely spot on, ensuring stores remain attractive, clean and safe destinations with the products they want at attractive price points."
Despite the share price fall this week, B&M shares have more than doubled since post-pandemic March 2020 lows and remain up 43% year on year.