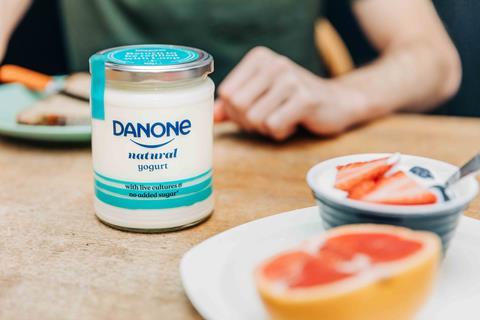 Activist investors finally got their man this week after Danone parted company with its under-fire boss, ditching plans for chairman and CEO Emmanuel Faber to remain as chairman.
Earlier this month Danone had agreed to split the roles of chairman and CEO, with Faber retaining his position of non-executive chairman and a new chief exec to be appointed. But the plan drew criticism from the City, with analysts and activist investors questioning whether the new CEO would have the independence be able to change strategic direction at the French dairy giant, given Faber's influence and the board's commitment to his existing strategy.
On Monday, Danone climbed down, with Faber relinquishing both positions with immediate effect to be replaced as chairman by Gilles Schnepp. It tasked international CEO Véronique Penchienati-Bosetta and North America boss Shane Grant to jointly lead the business while the search for a new CEO continues.
In an update on Thursday, Schnepp committed to hiring an external, "globally respected" CEO, acquiescing to investor demand for new blood in the boardroom.
Broker Barclays called the developments a "boardroom coup". "Clearly there is a big job to do and the revival of Danone will take time but it at least has a chance to move in a new direction."
However, concerns persist that a new CEO could still be tied to Danone's existing strategies, given Schnepp reaffirmed the board's intention to press ahead with its 'Local First' margin reset plan.
Barclays welcomed Danone's commitment to recruit global fmcg experience, both in the CEO position and the wider board, but was "less comfortable" with its decision to press ahead with 'Local First', despite Danone insisting it represents only a framework and will not tie the hands of a new CEO.
"We remain unconvinced that this is the right strategic move for the company, and even if we are wrong and it is, undertaking it in the middle of a pandemic seems unwise to us… This reorganisation could be many times more disruptive than Danone has undertaken before."
Bernstein also raised concerns about Danone's efforts to bolster margins, which "will be expensive", "take time" and the "outcome of success is still very uncertain".
"Danone's categories dairy & water are at the extreme end of commoditisation pressure and after years of underinvestment in brands, innovation and capability, success is by no means guaranteed," it said.
Nonetheless, the company's activist shareholders welcomed the news and Danone shares rose 2.9% to €59.80 their highest level since July 2020, albeit before slipping back by Thursday to €58.94.