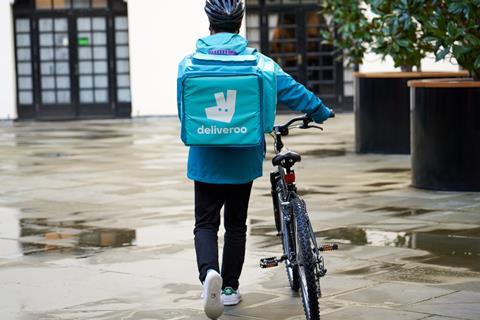 Deliveroo's troubled start to life as a listed company continued this week as its shares fell again on expectations of a slump in growth once restaurants and pubs reopen.
In its first update as a listed company, it posted record first quarter numbers with a 130% jump in gross transaction values to £1.65bn and a 114% spike in year-on-year order numbers. Both figures were significantly up on its fourth quarter numbers and represented its fourth consecutive quarter of accelerating growth as it benefited from the shift to at-home eating. By way of comparison, Deliveroo's order number growth in the pre-pandemic first quarter of 2020 was just 27%.
However, Deliveroo cautioned that it remained "difficult to say" how much of this growth had been driven by the special circumstances of the current lockdown restrictions and warned growth would decelerate as restrictions eased.
Given the strong first quarter growth, the City reacted with disappointment that Deliveroo was sticking with its pre-IPO guidance for full year turnover growth of 30%-40% and gross profit margins of 7.5%-8%.
Having floated at 390p, Deliveroo shares fell another 3.5% to 260.6p on Thursday, albeit still above the low of 241.7p set on Monday.
Broker AJ Bell more optimistically suggested Deliveroo was deliberately trying to dampen expectations: "Deliveroo's reputation has already been shattered because of the big share price drop straight after listing. It doesn't want to risk another slump by being too aggressive with earnings guidance and failing to meet it."
A fellow online specialist that has been more favourably viewed by investors is Naked Wines, which posted another sales update ahead of market expectations on Thursday.
Naked pointed to full-year growth of 68% during the year to 29 March, with rapid 75% growth in the US catapulting the territory to become Naked's biggest market, accounting for 45% of total sales. Overall growth was driven by increased levels of investment in new customers, with its group of active 'angels' growing by 50% to 885k.
"Naked has firmly capitalised on the favourable backdrop, and we continue to believe its advantaged proposition will support an extended growth runway," said broker Jefferies.
Naked's shares edged back 1.2% to 795.4p in early trading after its second half growth dipped from the 79% seen in the first half, but the shares remain almost 175% up year on year, given its pandemic outperformance.