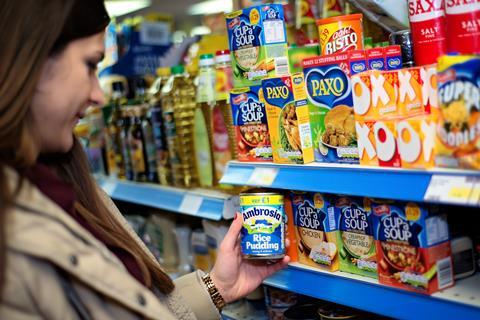 The resurgence in Premier Foods share prices stalled somewhat this week, despite yet more stellar branded growth, as the City began to question how long its sales boom can continue.
Premier upped its full-year profit expectations again on Tuesday, after posting sales growth of 9% in the 13 weeks to 26 December. This jump was driven by grocery branded growth of 14.6%, with Sharwood's cooking sauces up 40% and Bisto and Batchelors reporting "healthy double-digit" sales growth. In its sweet treats division, Mr Kipling was up 7% in the UK while overall online sales rose 90% and international growth stood at 43%.
Following the "strong" trading, Premier upped its full-year trading profit expectations to be in the range of £145m-£150m and for net debt/EBITDA to be below 2x by year end.
It should have been a further boost for Premier's share price, which has seen a dramatic recovery – up by more than 170% year on year – as the pandemic boosted consumption of its brands. However, shares fell back from 110.8p at the start of the week to 99p by close on Wednesday, amid concerns that growth was tailing off.
Total third quarter growth of 9% was down on the 12.5% year-to-date growth, while branded grocery growth of 14.6% was still down on the 20.8% seen in its first nine months. Additionally, Premier now faces a fourth quarter that overlaps the start of the crisis – and stockpiling – in 2020.
AJ Bell's Russ Mould noted: "Premier Foods will be hoping some of the home cooking habits will remain for a lifetime, yet it is hard to see a permanent structural shift in how people source meals."
However, a more upbeat Shore Capital argued: "Hereon, sales comparatives notably toughen, but Premier faces into these forthcoming times with a much stronger financial constitution, elevated cash flows to support marketing breadth and depth and the self-help to emerge from its international activities."
The broker also suggested Premier was now in a position to look at bolt-on acquisitions to move sales beyond purely organic growth and further bolster earnings.
Jefferies also suggested the longer term outlook for Premier remains bright: "Premier is enjoying a good war. However, this is more than just a bubble economy, with the group gaining both volume and value share during the quarter… Sustained improvement in household penetration, market share and brand investment… is laying the foundations of a better and more conventionally-financed company for the future."
Premier shares fell 4.8% on Tuesday back to 102.8p and further on Wednesday before ticking back up 1.9% to 100.9p by Thursday lunchtime.