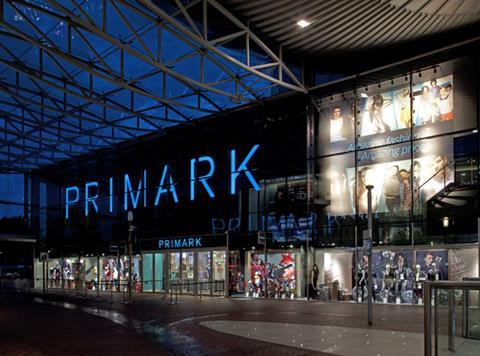 Top story
Associated British Foods has seen 'record' sales on the reopening of its stores last week to bounce back from a first half of a double-digit revenue fall and shrinking profits.
Revenue for the group for the 24 weeks to 27 February was down 17% to £6.3bn at actual exchange rates driven by the loss of Primark retail sales as a consequence of the trading restrictions.
Adjusted operating profit of £369m was 46% lower than last year at actual exchange rates as a result of the contribution lost at Primark.
Statutory operating profit for the period reduced by 8% to £320m, as exceptional items decreased from a charge £309m last year to £25m this year.
ABF said its grocery business was 'strong' in the period, with revenues up8% at constant currency as increased retail sales more than offset weaker foodservice as a result of COVID-19.
Twinings and Ovaltine both had a strong first half despite weaker demand in out-of-home channels, while Jordans, Dorset Cereals, Ryvita, Patak's and Blue Dragon all delivered growth as they benefited from international development and significant increases in retail demand.
Consumer demand for home baking products in the UK continued and Silver Spoon was well ahead as a result. Revenue in Allied Bakeries was in line with last year and following its decision last year to exit the Co-op contract, cost reductions have been delivered to mitigate the loss in contribution.
AB Sugar revenue was marginally ahead of last year in the first half at constant currency. Adjusted operating profit was significantly ahead, driven by Illovo, which benefited from increased domestic demand and higher prices.
However, Primark closures cost the group some 1.1% with sales down 41% year-on-year at constant exchange rates and adjusted operating profits down 90%.
At the half year, 22% of Primark's selling space was open. With the reopening of stores in England and Wales last week, and expected reopenings in some more markets the coming weeks, it will be trading at the end of April from 68% of retail selling space, which increases to 79% if stores with restricted trading are included.
Chief exec George Weston said Primark had seen "record" sales in England and Wales in the week after reopening on 12 April.
However, following the exceptional performance of its grocery, sugar, agriculture and ingredients businesses in the first half, it expects a softer performance in the second half.
Full year profit at AB Sugar will be ahead of last year and in line with expectation, profits at ingredients and agriculture are expected to be in line with last year and grocery margins will be impacted by significantly higher US commodity vegetable oil costs.
It also continues to expect the profit for Primark to be somewhat lower than last year as the repayment of the job retention scheme monies will be treated as an expense in adjusted operating profit in the full year.
Weston commented: "I am proud of how our people have responded to the many challenges presented by COVID-19. Our food businesses delivered an exceptional increase in adjusted operating profit of 30% and we have provided safe and nutritious food under the most demanding of conditions.
"With most of the Primark stores closed for more than half the period, the management team demonstrated operational agility in response to the measures employed by governments to tackle the pandemic. Primark sales after store reopenings demonstrate the relevance and appeal of our value-for-money offering. We are excited about welcoming customers back into our stores as the lockdowns ease and are delighted with record sales in England and Wales in the week after reopening on 12 April. With our success in a number of new markets, as wide-ranging as Poland and Florida, we are as convinced as we have ever been in the long-term growth prospects for Primark.
"Looking ahead, with stores reopening and Primark once again becoming cash generative, our confidence is reflected in our decisions to repay the job retention scheme monies in respect of this financial year and to declare an interim dividend."
ABF shares are down 2.2% to 2,407p in early trading.
Morning update
Bakkavor has said it continues to see an encouraging recovery in sales despite ongoing COVID-19 restrictions, with group reported revenues for the quarter to 13 weeks to 27 March 4.4% lower than the prior year and 2.6% lower on a like-for-like basis.
In the UK, it said it was reassured by a recovery in sales as lockdown restrictions started to ease, first with schools returning in early March and then with limited outdoor meetings being reintroduced at the end of March.
"Although it is early days, we are seeing an increase in the frequency of shopping visits and a steady return to more normalised shopping habits," it stated.
Overall, UK like-for-like sales were down 6.4% for the quarter, and down only 3.5% in March.
The disruption created by the initial impact of Brexit to its business and supply chain was minimal and it remains confident of its ongoing mitigation plans to limit further disruption.
In the US, it continued to experience strong like-for-like sales growth in the quarter of 17.9% in line with the levels reported at the end of 2020. Demand for fresh prepared meal solutions continues unabated and as a result it said it is looking to accelerate investments to enhance capacity across its existing footprint.
In China, it reported a significant year-on-year uplift in Q1 sales of 56.2% as it have recovered much of the volumes lost in mainland China, however, reduced demand in Hong Kong continued due to ongoing lockdown restrictions. Following the end of the quarter, it opened a new site in Wuhan to replace the existing factory, and extended capacity at its bakery.
Bakkavor said that while uncertainty remains, improved visibility on sales for the coming months has made the board more confident about the group's liquidity position. Therefore it will be recommending the payment of the previously suspended final dividend for 2019 of 4p per share.
French dairy giant Danone has reported a further drop in first quarter sales, with consolidated sales of €5.7bn down 3.3% to on a like for like basis driven by a 3.7% volume fall and a 0.3% increase in pricing.
On a reported basis, sales were down -9.4%, mainly driven by the negative impact of exchange rates (-7.0%) that resulted from currency devaluations against the euro in the United States, Latin America, Indonesia, Turkey and Russia.
Europe and North America sales declined by 2.8% on a like-for-like basis, from a high base of comparison that was driven by the pantry loading that benefited these regions in March 2020 for Specialised Nutrition and, to a lesser extent, Essential Dairy and Plant-based.
Rest of the World sales decreased 4.2%, with China, Latin America, and Africa experiencing continued pressure in the quarter.
Essential dairy and plant-based was up 1.6% on a like for like basis despite an exceptional first quarter last year.
Specialised nutrition was down 7.7% on a like-for-like basis from a high base of comparison and dragged back by Infant Nutrition, which remained penalised by Covid-related channel disruptions in China.
Waters saw another double-digit decline, down 11.6% on a like for like basis and a 11.2% drop in volume as consumer mobility remained below pre-Covid levels.
Danone said that, despite short-term uncertainties, a gradual reopening of economies is assumed to start from the summer, as vaccination programs are rolled out. Meanwhile, a broad-based acceleration of inflation in milk, ingredients, packaging and logistics is expected.
It reiterated its 2021 guidance, expecting like-for-like growth in Q2, and to return to profitable growth in the second half.
On the markets this morning the FTSE 100 is down 0.3% to 6,979.9pts.
Early risers include Naked Wines, up 4.7% to 874.5p, Bakkavor, up 2.2% to 127.7p and SSP Group, up 1.9% to 318.6p.
Fallers include British American Tobacco, down 5.6% to 2,750p, Imperial Brands, down 5.4% to 1,496.2p and Wynnstay, down 2.6% to 470p.
Yesterday in the City
The FTSE 100 started the week edging back 0.3% to 7,000.1pts, but a number of grocery retail stocks had positive days as the country reopens from the coronavirus lockdown.
Marks & Spencer was up 3.6% to 162.1p, SSP Group, up 3.2% to 312.6p, Sainsbury's was up 2.4% to 254.7p, Greggs up 1.9% to 2,342p, Morrisons up 1.8% to 183.7p and B&M European Value Retail up 1.8% to 568.6p.
Other risers included Naked Wines, up 4.5% to 835p, FeverTree Drinks, up 2.4% to 2,417p, Domino's Pizza group, up 2.2% to 365p and Ocado, up 2.1% to 2,226p.
The day's fallers included THG, down 5.2% to 633.5p, Deliveroo, down 3.2% to 239p, PayPoint, down 2.1% to 618p, Nichols, down 1.2% to 1,392.5p, Parsley Box, down 1.2% to 199p and C&C Group, down 0.9% to 138.5p.