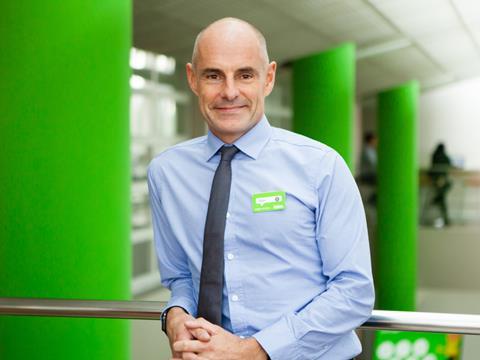 Asda has announced that CEO and president Roger Burnley will leave the business next year following its takeover by the Isaa brothers and TDR Capital.
Asda said he will depart "after the supermarket has transitioned fully to new ownership and once his long-term successor is in place".
Burnley has been CEO since January 2018, having joined the business in 2016 as deputy CEO.
A process will commence shortly to appoint a new CEO who is "able to commit to leading the business over the long-term".
A stataement said that the Issa brothers and TDR Capital "continue to be focused on supporting its leadership team to implement and accelerate Asda's growth strategy over the next five years and beyond".
Burnley said: "My decision to leave Asda is personal and something I wanted to communicate to my colleagues as soon as I could. Whilst I remain fully committed to leading this great business for the next year and delivering our strategy, it is right to plan for a managed succession process well in advance.
"It has been a great privilege to play a leading role at Asda over the last five years – putting in place a clear strategy for long-term sustainable growth and doing the right things for our customers, colleagues and the communities we serve.
"I could not be prouder of our achievements during this time– which have seen us maintain our strong heritage as a value and values driven retailer, offering great products to our customers at consistently low prices as well as supporting our local communities. We have also developed our brand partnerships that mean we are an even more convenient place than ever to shop.
"We've grown a formidable online grocery operation that is on track to fulfil one million orders per week by the end of this year and continue to test our exciting new 'Asda on the Move' format, which is bringing the Asda brand to more communities in more convenient ways.
"We have supported our communities – both local and global – through our work to remove 9300 tonnes of plastic from our operations and donate over 100 million meals through our partnership with FareShare and Trussell Trust. And through the Covid 19 pandemic it has given me immense pride to be able to support over 200,000 vulnerable people with weekly home shopping deliveries as well as provide 250,000 masks for care workers and 7000 laptops for local schools. Most importantly, I have seen the pride on my colleagues faces at the recognition that the work they do really matters to society.
"And amongst all this, I've been delighted to work with Walmart as our parent and also to identify the right partners for the next chapter of Asda's journey – Mohsin and Zuber Issa and TDR Capital, who I know have both a real passion for this great business and great ideas to enhance its continued success."
Mohsin and Zuber Issa and TDR Capital jointly stated: "Roger and his team have protected and enhanced an exceptionally resilient business which we are proud to own.
"Roger will continue to lead Asda over the next year and deliver the strategy that he and his leadership team have set in motion, whilst at the same time working with us on identifying his successor.
"We are acutely aware of the responsibility we have in ensuring this great British brand continues to thrive for years to come – delivering great value products for customers, serving communities, and developing our colleagues."
The £6.8bn deal to buy Asda from Walmart has completed, but the parties are still awaiting clearance from the Competition and Markets Authority.
Morning update
UK consumer confidence saw a notable increase in February, according to the long-running GfK Consumer Confidence report published this morning.
GFK found overall consumer confidence was up seven points to -16 for March 2021, following on from -23 recorded during February.
All of the five measures recorded by GfK increased month-on-month.
The biggest movement was in perceptions of the general economic situation over the next 12 months, which improved by 13 points to -17.
The general economic situation during the last 12 months increased by four points to -60, while the personal finance index recorded a three year high, improving six points to +10.
GFK client strategy director Joe Staton said: "Spring is in the air on the back of well-received Budget announcements, the successful vaccine rollout and roadmaps in place for ending lockdown," GfK client strategy director Joe Staton said.
"If this improved mood translates into spending, it might help reverse some of the economic damage the UK has suffered.
"And the eight-point fillip in our major purchase measure to -11 suggests this may well happen. It's highly likely this upward trajectory on all measures will build over the next six months and beyond."
Elsewhere, listed property investor Supermarket Income REIT has raised £153m through the issuance of new shares.
Due to investor demand the share issue was upped from £100m to £150m, with investor demand substantially exceeded the maximum size of the Issue.
A total of 144,297,503 new ordinary shares were taken up in the offer and will begin trading on 23 March.
Immediately following admission, the Company will have 810,350,452 ordinary shares in issue.
Chairman Nick Hewson said: "We are extremely grateful to our existing shareholders and new investors for their strong support exhibited by the exceptional level of demand for this upsized capital raise.
"Our pipeline of transactions is strong and we have seen an increase in attractive investment opportunities since the marketing roadshow began and therefore expect to be able to deploy efficiently the proceeds of this latest raise into high quality, long let, omnichannel supermarket assets that support our investment strategy."
On the markets this morning, the FTSE 100 has opened down 0.7% at 6,733.2pts.
Early fallers include Compass Group, down 2.1% to 1,475p, WH Smith, down 2% to 1,892.6p and THG, down 1.9% to 658.5p.
Risers include Nichols, up 4.6% to 1,234p, Devro, up 2% to 198.3p and Bakkavor, up 1.9% to 110.4p.
Yesterday in the City
The FTSE 100 ended the day up 0.3% at 6,779.7pts yesterday.
However, FeverTree was a major faller – dropping 12.3% to 2,225p after posting its annual results yesterday.
Ocado fell 4.9% to 1,980 despite posting 40% sales growth in its first quarter yesterday.
Other fallers included Nichols, down 6% to 1,180p, Greggs, down 3.3% to 2,092p, AG Barr, down 2.8% to 489p and Compass Group, down 2.2% to 1,506.5p.
The day's risers included Bakkavor, up 3.6% to 108.4p, Hotel Chocolat, up 2.8% to 406p, SSP Group, up 2.6% to 326.8p, Hilton Food Group, up 2.3% to 1,060p, DS Smith, up 2% to 405.9p and Kerry Group, up 1.5% to €103.10.