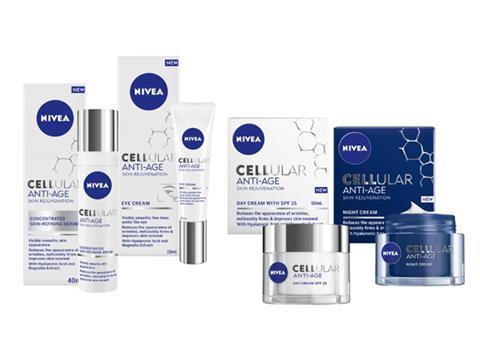 Top story
Nivea owner Beiersdorf has bounced back to pre-Covid levels of sales and skincare demand rebounded in the first half of the year.
Overall group sales were up 16.2% in the first six months of the year to £3.45bn, driven by second quarter organic growth of 28.3%, which lifted Beiersdorf above the pre-crisis level of 2019.
The rebound was driven by a significant recovery in its core consumer business, which recorded organic sales growth of +13.6% in the first six months of the year and 27.1% in the second quarter.
Beiersdorf's core brand Nivea is back on a growth path and has achieved a 9.1% year-on-year increase in organic sales. Strong sales growth in the body and face care categories, which far exceeded even the level seen in 2019, contributed to the strong performance in the first six months of 2021.
Dermocosmetics brands Eucerin and Aquaphor saw continued strong performance, with organic sales growth of 2.1% in the first half on increasing sales in the US, Asia and Latin America. Beiersdorf said the major drivers for this remain the product innovations, including the patented ingredient Thiamidol, and the significant growth in e-commerce.
Last year, Beiersdorf's exclusive skin care brand La Prairie was particularly affected by the COVID-19 pandemic, but it posted 41% growth year-on-year despite continued restrictions hitting its travel trade business.
The Healthcare business, which mainly comprises the plaster business with the Hansaplast and Elastoplast brands, was also significantly affected by the COVID-19 pandemic last year and was up 16.5% year-on-year in the first half.
Positive effects on the EBIT margin from the strong increase in sales across all regions were partially offset by the investment in its CARE+ strategy.
Excluding special factors, the Group's EBIT margin for the first six months of 2021 was 15.3%, up from 13.7% last year.
Beiersdorf said it expects above-market sales growth in the high single-digit range in the consumer business segment for fiscal year 2021. However, the EBIT margin will be at the level of the previous year due to rising material prices and increasing investments in the markets, digitalisation and sustainability.
CEO Vincent Warnery commented: "Performing above pre-crisis level with our strong half-year results is proof that we consistently deliver on the right priorities through our CARE+ strategy. We successfully managed to improve both sales and profitability compared to last year's first half – despite still volatile market conditions. This is the momentum we want to use going forward"
"We will further accelerate the CARE+ strategy: By tapping new business areas, by further driving profitability, and by fostering the digital transformation of Beiersdorf and our industry."
Beiersdorf shares are up 4.8% this morning to €106.75.
Morning update
Soft drinks bottling giant Refresco has posted a strong increase in volumes and profits in the second quarter.
In Q2 total group volumes were up 7.4% to 3,204m litres, with positive volume development for contract manufacturing across Europe and North America.
Retailer brands volume in the quarter of 1,988m litres was at the same level as last year as the market was still affected by Covid-19, albeit its impact is decreasing following market recovery and fewer lockdown restrictions.
Volume in contract manufacturing increased by 21.7% to 1,216m litres in the quarter, driven by organic growth with customers, combined with additional volumes from acquired businesses, namely Britvic's former juice bottling facilities in France (acquired in September 2020) and the facility in Evansville, Indiana, US (acquired in January 2021).
First half total volumes increased by 4.2%, driven by volume growth in contract manufacturing.
Overall revenue in Q2 increased by 9.1% to €1.1bn.
Gross profit in Q2 increased by 11.3% to €531m, predominantly driven by a combination of increase in volume and a favourable product mix, supported by pricing effects.
It said rising inflationary pressure across all regions in which it operates "might temporarily affect the development of gross profit margin over the remainder of 2021".
CEO Hans Roelofs commented: "We are pleased to report a strong performance in the second quarter of 2021. We have been able to accelerate our growth in volume and profitability this quarter, ending the first six months of 2021 with good results.
"We have strengthened the business organically by growing along with our customers, specifically in Contract Manufacturing. As we move into the second half of the year, we are facing increasing cost pressure on commodities and transportation, with higher inflation levels across all regions in which we operate.
"With these strong financial results, our well-balanced customer base across Europe and North America, and our robust M&A approach, we continue to pursue our ambition of Our Drinks On Every Table."
During recent weeks it has announced the acquisition of Hansa-Heemann, a major German mineral water company, closed the acquisition of US contract manufacturer SEBB and announced it will acquire three Coca-Cola production sites in the US.
Elsewhere, retail landlord giant Hammerson said footfall across its properties remained down by around 25% in the first half of the year.
This follows an initial spike on reopening, with inner-city footfall still down on pre-pandemic levels ahead of a wider return to offices. Many retailers continue to report high sales and conversion rates as visitors shop with purpose.
The restrictions associated with Covid-19, particularly when its 'Villages' shopping centres were forced to close, again had a significant adverse impact on retail in the first half of 2021.
In the first half of the year, it recorded a £2m adjusted loss from our investment in value retail this compares to a £13m loss for the same period in 2020, with the improvement driven by both higher income and operating cost savings.
Overall like-for-like net rental income was flat, with adjusted net rental income down 8%.
Total managed portfolio value was down 19% to £3.6bn.
CEO Rita-Rose Gagné commented: "We have continued to respond to the changing landscape during the first half of 2021, which again was impacted by Covid-19. As we emerge from a unique moment in time, I see a pathway to create sustainable value as we transform the business to become more agile and able to anticipate and respond to this change. We own flagship destinations around which we can curate and reshape entire neighbourhoods and city centre spaces for generations to come.
"To realise this opportunity we are focused on continuing to de-lever the balance sheet through disposals of non-core assets, creating a leaner and more agile organisation, driving value in our destinations and accelerating our longer term developments."
On the markets this morning, the FTSE 100 has opened flat at 7,124pts.
Early risers include Science in sport, up 4% to 78p, Hotel Chocolat, up 2.7% to 380p and Greggs, up 2.1% to 2,778p.
Fallers include McBride, down 3.3% to 84.3p, Glanbia, down 3.1% to €14.39 and McColl's, down 2.2% to 34.5p.
Yesterday in the City
The FTSE 100 closed the day up 0.3% at 7,123.8pts.
Risers included THG, which rose 1.2% to 586.5p after expanding its beauty portfolio with the £275m acquisition of online prestige retailer Cult Beauty.
Other shares on the up included Hotel Chocolat, up 2.8% to 370p, McColl's Retail Group, up 2.3% to 35.3p, Deliveroo, up 2.3% to 326.3p, Science in Sport, up 1.4% to 75p and Marks & Spencer, up 1.1% to 139p.
The day's fallers included Total Produce, down 13.2% to 165p after the troubled US float of its newly merged venture with Dole.
Other fallers included SSP Group, down 4.2% to 248.3p, C&C Group, down 2.3% to 226.4p, Ocado, down 2.2% to 1,800p, and PZ Cussons, down 1.6% to 246.