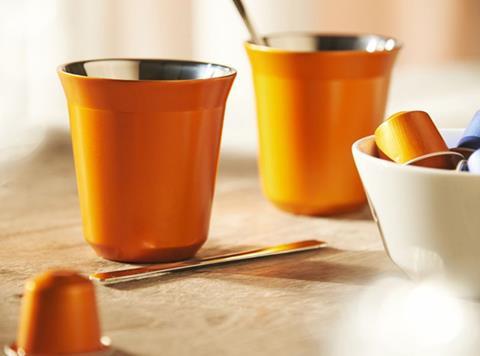 Top story
Nestlé has reported a 7.7% jump in first quarter organic growth, boosted by a surge in coffee sales and early signs of recovery in out-of-home channels,
Organic growth of 7.7% was driven by volumes growth of 6.4% and a 1.2% contribution from price increases reflecting input cost inflation.
This represents a notable acceleration on the 4.3% organic growth it posted in 2020 and was significantly above analysts' expectations, who had expected sales to slow down in the quarter.
Coffee was the largest contributor to growth, fuelled by strong demand for Nespresso, Nescafé and Starbucks products.
Nespresso organic growth, which are reported separately from the rest of its portfolio, was 17.1%, with double-digit organic growth reflecting continued expansion of the Vertuo system and strong momentum in e-commerce and innovation.
Meanwhile, its dairy portfolio grew at a double-digit rate, based on elevated demand for home-baking products and fortified milks.
PetCare saw high single-digit growth, led by its science-based and premium brands Purina Pro Plan, Purina ONE and Felix. Prepared dishes and cooking aids posted broad-based double-digit growth, with robust momentum across most brands.
Additionally, Vegetarian and plant-based food offerings continued to see strong double-digit growth, led by Garden Gourmet.
Confectionery grew at a double-digit rate and Nestlé Health Science reported high single-digit growth, reflecting increased demand for vitamins, minerals and supplements.
However, Infant Nutrition saw a sales decrease as a return to positive growth in China was more than offset by sales declines in other markets, due to consumer stockpiling in March last year and lower birth rates in the context of the pandemic.
Water also recorded negative growth due to its high exposure to out-of-home channels
Nestlé said growth was broad-based across most geographies. Organic growth was 5.0% in developed markets, while growth in emerging markets was 11.4%, with strong volume growth and positive pricing.
By channel, retail sales posted high single-digit organic growth, reflecting continued strong demand for at-home consumption. Sales declines in out-of-home channels moderated, with a return to positive growth in AOA (Africa, Oceania and Asia).
E-commerce sales grew by 39.6%, reaching 14.5% of total group sales with most categories saw strong momentum, particularly coffee, Purina PetCare and culinary.
Net divestitures decreased sales by 1%, largely related to the divestment of the Herta charcuterie business and the Yinlu peanut milk and canned rice porridge businesses.
Foreign exchange reduced total sales by 5.3% due to the appreciation of the Swiss franc versus most currencies. This meant total reported sales increased by a more modest 1.3% to CHF21.1bn.
Nestlé CEO Mark Schneider commented: "We are pleased with Nestlé's strong organic sales growth in the first quarter, building on broad-based contributions from most geographies and product categories. Our growth was fuelled by disciplined execution, enhanced digital capabilities and rapid innovation, resulting in further market share gains. Retail sales saw solid growth and out-of-home channels saw signs of improvement. We confirm our guidance for the year and our mid-term outlook for sustained mid single-digit organic growth.
"The development of COVID-19 vaccines has given the world hope and we are supporting the broad and equitable delivery of vaccines in the communities where we operate. Our partnership with the International Federation of Red Cross and Red Crescent Societies is helping to get vaccines to those who need them most. In these challenging times, we can truly demonstrate how business can act as a force for good and help accelerate the recovery."
Nestlé shares are up 3.1% to CHF110.22 in early trading.
Morning update
Domino's Pizza Group has continued to see strong trading so far in 2021 as the group issued an update from the 13 weeks to 28 March ahead of its AGM today.
Exceptional trading over the new year period resulted in UK & Ireland system sales of £371.3m, up 18.7% on the first quarter of last year which was largely unaffected by the impact of Covid-19.
Like-for-like system sales, excluding splits, were up 18.5%.
The sales performance of its delivery business has been "particularly good", more than offsetting the lower sales within the lockdown-impacted collection business.
At an order count level, it posted delivery growth of 6.8% in the quarter with collection reporting some recovery, now trading at 65% of 2019 levels.
In line with its aim to exit wholly-owned and directly operated international markets, last month it announced the disposal of its discontinued businesses in Sweden and Iceland, which are expected to complete by the end of May.
CEO Dominic Paul commented: "We are pleased with the strong performance of the business in the first quarter of the year. The investments we are making to deliver our multi-year strategic plan give us confidence in our ability to capitalise on the opportunities which lie ahead as the nation begins to emerge from the Covid-19 lockdown restrictions."
"With management focused on our core UK & Ireland business, we are working to fulfil our vision of being the UK & Ireland's favourite food delivery and collection business. I look forward to sharing an update on our progress at our half year results."
Pernod Ricard rebounded to a 19% jump in third quarter sales amid strong performance in the US and China.
Sales for the first 9 months of its financial year totalled €6.9bn, representing organic growth of 1.7%:
Sales for the third quarter were up 19.1% on an organic basis to €1.95bn, representing reported growth of 12.6%.
The sales rebound was driven by mid-single-digit growth in the US over the nine months and 34% growth in China, with India back to double-digit growth in the third quarter.
Europe continued to display strong resilience, thanks in particular to Scotch and Specialty Brands, despite Covid-related restrictions
Travel Retail is also starting to lap easier comparison base, but still very subdued, with limited passenger traffic.
Its strategic international brands returned to growth of 1%, driven by Martell, Malibu, Jameson and The Glenlivet. Absolut and blended Scotch still in decline, impacted by Travel Retail exposure
Strategic local brands are now stable, while specialty brands were up 22%, with continued strong dynamism of Lillet, Malfy and Aberlour in Western Europe, and Tequila and American whiskey in USA
Reported nine month sales declined 3.7% due to an unfavourable FX impact linked mainly to the euro's strength against the dollar and emerging markets.
Chairman and CEO Alexandre Ricard commented: "Our Q3 was excellent, marking a return to organic Sales growth for 9M FY21. This confirms the strength of our business, with strong dynamism of our domestic Must-win markets and good resilience throughout.
"In a still uncertain and volatile global context, with the current information available on the pandemic, we will continue to implement our strategy while actively managing resources, in particular strongly reinvesting where efficient."
Pernod said it expects sales to accelerate in Q4 and accordingly organic growth in profit from recurring operations is guided to rise 10% for the full year.
On the markets this morning, the FTSE 100 is back up 0.3% to 6,916.8pts.
Early risers include SSP Group, up 4.8% to 326.4p, Marston's, up 2.4% to 96.7p and PZ Cussons, up 2.2% to 269.9p.
Fallers include Domino's Pizza Group, down 2.3% to 358.6p, McColl's, down 0.8% to 31.7p and Sainsbury's, down 0.7% to 247.8p.
Yesterday in the City
The FTSE 100 recovered somewhat from Tuesday's 2% slump, rebounding 0.5% to end the day at 6,895.2pts.
Food to go exposed stocks rebounded, with Nichols up 6% to 1,420p, Coca-Cola European Partners up 3.3% to €46.95, Bakkavor up 3.1% to 133p and Greggs up 1.9% to 2,302p.
Tobacco stocks were up after heavy falls on Tuesday, with Imperial Brands up 2.2% to 1,498p and British American Tobacco up 1.6% to 2,736.5p.
Other risers included McBride, up 2% to 91.6p, Devro, up 1.7% to 198.6p, THG, up 1.7% to 628p and Premier Foods, up 1.6% to 96.9p.
The day's fallers included Deliveroo, down another 4% to 233p, B&M European Value Retail, down 3% to 551.6p, Just Eat Takeaway.com, down 2.7% to 7,716p, Parsley Box, down 2% to 194p, Hilton Food Group, down 1.3% to 1,196p and PZ Cussons, down 1.3% to 264p.