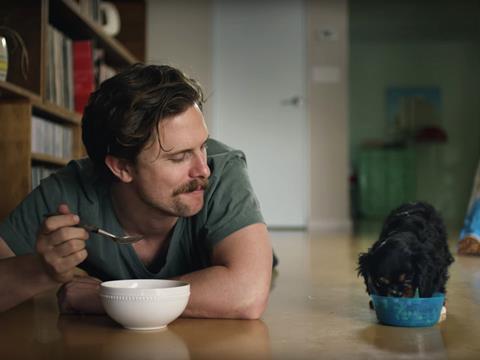 Top story
Global foods giant Nestlé has posted an uptick on organic sales growth during the coronavirus period, helped by strong growth in its petcare, dairy and coffee businesses.
Overall organic growth in the 2020 calendar year was 3.6%, which was the group's highest for five years and improved on the 3.5% posted in 2019.
Volume growth accelerated to 3.2% during the period, while pricing contributed 0.4% and improved during the year, particularly in emerging markets.
Overall headline sales fell back 8.9% to CHF84.3bn due to a 7.9% hit from foreign exchange and the strength of the Swiss franc against most currencies and portfolio divestments, mainly Nestlé Skin Health and its US ice cream business, which reduced total sales by 4.6%.
By product category, the largest contributor to growth was Purina PetCare and its premium brands Purina Pro Plan, Purina ONE and Felix driving the category to organic growth of 9.7%.
Dairy saw growth of 5.6%, based on increased demand for home-baking products and fortified affordable milks.
Coffee reported mid single-digit growth, boosted by strong consumer demand for Starbucks products, Nespresso and Nescafé. Sales of Starbucks products reached CHF2.7bn, generating incremental sales of over CHF400m in 2020.
Vegetarian and plant-based food offerings continued to see strong double-digit growth, despite reduced demand in out-of-home channels due to the pandemic, while sales in Nestlé Health Science grew at a double-digit rate.
However, growth in confectionery was slightly negative, with reduced demand for impulse and gifting products, while water reported a decrease in sales due to its high exposure to out-of-home channels.
Overall e-commerce sales grew by 48.4%, reaching 12.8% of total group sales, with coffee, Purina PetCare and Nutrition & Health Science were the main growth contributors.
However, it also took CHF420m of COVID-19 related incremental costs, including expenses for bonuses paid to frontline workers, employee safety protocols, donations and other staff and customer allowances.
Around CHF260m of these costs impacted underlying trading operating profit, partially offset by savings such as travel expenses.
This meant net profit decreased by 3% to CHF12.2bn, albeit net profit margin increased by 90 basis points to 14.5%, due to one-off items related to gains on disposals, asset impairments, restructuring costs and revaluation of equity investments.
Underlying trading operating profit margin reached 17.7%, up 10 basis points on a reported basis and 20 basis points in constant currency.
Looking forwards, Nestlé said it expected to see a continued increase in organic sales growth towards a mid single-digit rate, while underlying trading operating profit margin will also see continued moderate improvement.
CEO Mark Schneider commented: "In this unprecedented environment, we achieved our third consecutive year of improvement in organic growth, profitability and return on invested capital.
"The global pandemic did not slow us down. Our nutrition expertise, digital capabilities, decentralized structure and innovation engine allowed us to adapt quickly to changing consumer behaviours and trends. We advanced our portfolio transformation, continued to build Nestlé Health Science into a nutrition powerhouse and expanded our presence in direct-to-consumer businesses.
"At the same time, we remained focused on sustainability and set out our path to achieve net zero greenhouse gas emissions by 2050. This journey is expected to support future growth and be earnings neutral – it will generate value for society and our shareholders.
"Looking to 2021, we expect continued improvement in organic growth, profitability and capital efficiency in line with our value creation model."
Nestlé shares are down 0.6% to CHF99.80 so far this morning.
Morning update
Premier Foods has announced this morning it has repaid a further £30m of its outstanding £50m of corporate bonds due July 2022.
Premier has significantly accelerated its net debt reduction as a result of continued strong trading performance and cash generation.
Following this redemption, an aggregate of £190m of the Notes will have been repaid during the FY20/21, generating total pro forma interest savings of over £9.5m per annum.
The ongoing strong performance further underpins the Group's expectation that its net debt/EBITDA leverage ratio will fall below 2x by the end of this financial year end (3 April 2021).
Elsewhere, property investor Supermarket Income REIT has announced the acquisition of a further stake in the beneficial interest in one of the UK's largest portfolios of supermarket properties from an Aviva Investors managed fund.
The 25.5% beneficial interest has been acquired through the company's existing 50:50 joint venture with British Airways Pension Trustees Limited.
The purchase price is £115m million (excluding acquisition costs) meaning that the company's contribution to the JV to fund the Acquisition is £57.5m.
The JV acquired its initial 25.5% beneficial interest from British Land in May 2020. Following this second acquisition, the JV's ownership in the Portfolio is 51.0%. The remaining 49.0% beneficial interest is held by Sainsbury's.
The Portfolio was originally created through two sale and leaseback transactions by Sainsbury's in 2000 and consists of the freehold interest in 26 Sainsbury's supermarkets, with a geographically diverse portfolio of stores with a London and south east bias.
The directors said the portfolio "offers strong property fundamentals and scope for progressive valuation growth in excess of the company's targeted annualised total shareholder return."
Nick Hewson, chairman of Supermarket Income REIT, commented: "This acquisition increases the size of our investment in this high-quality Sainsbury's property portfolio through our joint venture with British Airways Pension Trustees Limited. We will work closely with our tenant and co-owner, Sainsbury's, to deliver a long term occupational solution for them."
French hypermarket group Carrefour has posted a "record commercial performance" in 2020, posting overall like-for-like growth of 7.8% and a rise in profitability.
Broad-based growth saw like for like improvement of 3.6% in France, 7.1% in Spain and 18.2% in Brazil.
Notably its hypermarkets returned to growth in France, with sales up 1% like-for-like over the year and by 3.9% in the fourth quarter.
This helped lead to its best half-year of market share trend in France in the last three years; rising 0.1pts in the fourth quarter.
Performance was also boosted by a jump in food e-commerce activity, with growth above 70% and now contributing positively to ROI and operating margin improvement
On a total basis, sales edged down from €80.7bn to €78.6bn
The group also posted "steady" improvement in profitability, with recurring operating income up 16.4% at constant exchange rates to €2.2bn.
Meanwhile, it has committed to a new target of €2.4bn of additional cost savings on an annual basis by 2023, having achieved its target of €3bn by 2020.
CEO and chairman Alexandre Bompard said: "2020 was a decisive year for Carrefour. In a crisis which is accelerating changes underway, our Group reached a watershed. Three years ago, the Carrefour 2022 plan marked a first turning point for our Group. Three years of flawless roll-out of our transformation have established a growth model that is based on customer satisfaction and new consumer trends.
"Today, this model ensures the sustainable dynamism of our sales and the profitability of our Group, and allows us to generate significant financing capacity to continue our development. Our 2020 results are evidence of this.
"We are confident for the future, and translate this confidence into new operational and financial commitments."
On the markets this morning, the FTSE 100 is up 0.1% to 6,719pts.
Early risers include Nichols, up 4.2% to 1,250p, Bakkavor, up 2.2% to 88.2p and Glanbia, up 2.1% to €10.11.
Fallers so far today include Imperial Brands, down 4.2% to 1,441.5p, Total Produce, down 3.5% to 155.9p and McColl's Retail Group, down 1.4% to 24.3p.
Yesterday in the City
The FTSE 100 fell back 0.6% to 6,710.9pts yesterday.
One of the of the FTSE 100's biggest fallers was British American Tobacco, which dropped almost 4% back to 2,640p after posting a drop in annual sales yesterday.
Other fallers included WH Smith, down 3.9% to 1,633p, Ocado, down 2.6% and Ocado's retail partner Marks & Spencer, down 2.5% to 134.8p, DS Smith, down 2.4% to 386.6p, Just Eat Takeaway.com, down 2.3% to 7,562p and Tesco, down 1.9% to 237.7p.
Total Produce surged 23.3% up to 161.5p on the news that it will merge will Dole Foods and list on a major stock exchange in the US.
Other risers included FeverTree, up 2.1% to 2,383p, B&M European Value Retail, up 1.9% to 601p, Devro, up 1.8% to 180p, Pets at Home, up 1.6% to 422.6p and Morrisons, up 1.2% to 173.5p.