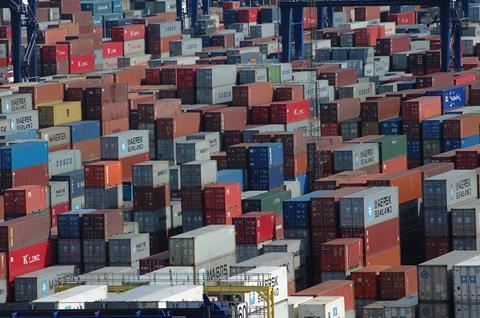 Top story
The BRC has called on the government and the EU to find a "pragmatic solution" to the closure of traffic from France and avoid impacting the supply of Fresh produce to the UK.
Boris Johnson will today hold an emergency COBRA meeting after the UK's border with France was closed on Sunday night due to fears over the new strain of coronavirus spreading in the South East of England.
Since then Germany, Italy and the Netherlands have suspended flights from Britain, while Ireland has announced restrictions on flights and ferries.
Andrew Opie, Director of Food & Sustainability at the British Retail Consortium, said this morning: "The closure of France to UK traffic, including accompanied freight poses difficulties for UK capacity to import and export key goods during the busy Christmas period.
"While goods can enter from France, few haulage firms will be willing to send trucks and drivers across to the UK without a guarantee they can return to the EU in a timely manner. This is a key supply route for fresh produce at this time of year: the channel crossings see 10,000 trucks passing daily during peak periods such as in the run up to Christmas.
He said that immediate problems in relation to food supply should be prevented by retailers having stockpiled goods ahead of Christmas.
However, any prolonged closure of the French border "would be a problem" as the UK enters the final weeks before the transition ends on 31st December.
"We urge the UK Government and the EU to find a pragmatic solution to this as soon as possible, to prevent disruption for consumers," he said.
Morning update
The FTSE 100 has plunged 1.5% back to 6,434.8pts this morning as investors react to the new tier 4 coronavirus restrictions, tighter restrictions on movement over Christmas and the closure of the UK's border with a number of European countries.
The pound has lose 1.8% against the dollar today to $1.3276, while it is 0.9% down against the Euro to 1.0874.
Early losers in the grocery sector include travel specialists WH Smith, down 5.9% to 1,402p and SSP Group, down 6.2% to 293p. Others hit include Nichols, down 5.6% to 1,328.8p, Primark owner Associated British Foods, down 4.7% to 2,143p, Marks & Spencer, down 4.2% to 128.1p and Greencore, down 4.1% to 108.5p.
Risers so far include Bakkavor, up 2.9% to 81.1p, Ocado, up 2.9% to 2,272p and Just Eat Takeaway.com, up 2.7% to 8,186p.
On Friday afternoon Bestway Wholesale announced it had agreed to buy Costcutter Supermarkets from Bibby Line Group for an undisclosed sum.
The deal will take Bestway Wholesale's annual turnover to almost £3bn, alongside a symbol, franchise, and company store retail estate of more than 3,795 stores in the UK (including 2,682 fascia and 195 company owned).
Under the terms of the acquisition, CSG and its brands will become part of Bestway Wholesale's retail division and continue to operate as normal.
Approximately 1,500 stores branded under Costcutter, Mace, Supershop, Kwiksave, and Simply Fresh, along with 20 Costcutter and 4 Co-op franchises, will join Bestway Wholesale's retail estate, including; Bargain Booze, Best-One, Wine Rack, Select Convenience and Central Convenience.
The acquisition, which awaits FCA approval, follows the improvement in CSG's financial performance over the last two years. During the 12 months to 31 December 2019, CSG's sales rose by 10% to £426 million with sales and profitability continuing to rise throughout 2020 as consumers increasingly shopped locally as a result of the COVID-19 pandemic.
Dawood Pervez, MD of Bestway Wholesale, commented: "Costcutter is a great brand with a long heritage and a history of success alongside industry-leading and loyal retailers, with some of the best in-store execution in the business.
"As part of Bestway Wholesale, the team at Costcutter will be able to build upon the amazing results they have been achieving in partnership with their retailers, helping them to innovate and adapt to an ever-changing market in order to grow their businesses and sales."
"We are keen to reassure CSG's retailers that it is 'business as usual' and they will see no change in how they currently work with CSG. The existing CSG supply contract with Co-op/Nisa is not affected by the acquisition and Nisa will continue to supply CSG stores. The 2,000 Co-op SKU range has proven to be an important driver of footfall and sales, as well as providing CSG retailers with an exceptional range of fresh produce.
"This means that Costcutter' retailers will continue to benefit from access to the same range they have today, including a fresh offer that is right for today's convenience shopper, as well as the Co-op's Own Brand range."
Pervez maintains that CSG retailers, shoppers, and suppliers, will be further supported by the additional scale of Bestway Wholesale.
"The acquisition of CSG by Bestway Wholesale enables us to further build on our solid foundations in Independent Retail, allowing us to expand on our already established, and highly respected, fascias, brands and national network of stores. Clearly, there will be benefits of scale and investment in joining forces for our retailers, shoppers, and suppliers."
Darcy Willson-Rymer CSG's CEO of nine years will be leaving the group following completion of the acquisition, with Dawood Pervez taking leadership of the business.
John Cresswell, CEO of Bibby Line Group, said: "Over the last two years, CSG has transformed itself into a profitable and much stronger business, and I'd like to thank the team for their unstinting commitment and passion for helping independent retailers thrive.
"We hope CSG will continue to prosper and grow as it becomes part of a larger business with deep retail expertise. This is also positive news for Bibby Line Group, completing the planned strategic realignment of our portfolio, further strengthening our Group balance sheet for future investment."
This week in the City
There are no scheduled events in the City diary this week as the market winds down heading into the Christmas period.
However, the festive period in 2020 will not be the typical quiet period for the market, with investors reacting to news on the growing number of coronavirus cases globally and in the UK, European countries closing their borders to UK freight and whether a trading deal will be reached between the UK and the EU before 31 December and the UK's exit from the trading block.
Expect a number of off-market deals to be announced before year-end too as buyers and sellers look to beat the Brexit deadline to close deals and forthcoming tax changes.