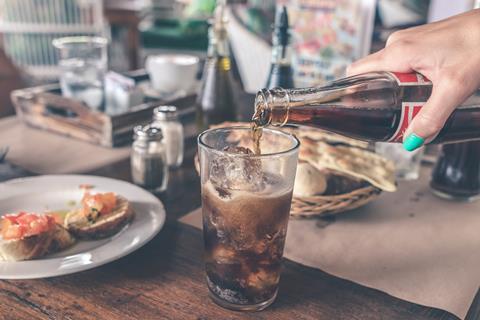 Top story
Coca-Cola European Partners has sweetened its offer for Asia-Pacific Coke bottle Coca-Cola Amatil to reflect an improvement in global trading conditions.
The European bottler upped its price by about 6% from the A$12.75 a share offered back in October to $13.50.
CCEP said the new terms reflected its "best and final offer" to the independent shareholders.
The group also announced it had agreed terms with Coca-Cola for the purchase of its 30.8% shareholding in Coca-Cola Amatil.
Amatil is one of the largest bottlers and distributors of ready-to-drink non-alcohol and alcohol beverages and coffee in the Asia Pacific region, as well as the authorised bottler for Coke's brands in Australia, New Zealand, Fiji, Indonesia, Papua New Guinea and Samoa.
In January, Amatil said demand in Australia and New Zealand over the fourth quarter was strong, demonstrating the success in the Asia-Pacific region in containing the coronavirus pandemic.
In contrast, last week, Coca-Cola European Partners reported an 11% drop in annual sales as its away from home volumes plunged by more than a quarter due to the impact of the coronavirus.
The proposed transaction to buy Amatil would create a broader and more balanced footprint for CCEP while almost doubling its consumer reach.
The revised takeover offer remains subject to customary conditions, including approval from Amatil shareholders, court approval and New Zealand foreign investment regulatory approval. The deal has already been given the green light last month by the Australian Foreign Investment Review Board.
CCEP chief executive Damian Gammell said this morning: "We are excited by the opportunity to bring together two of the world's best bottlers to drive more sustainable growth.
"This is a strategically compelling transaction which will solidify our position as the largest Coca-Cola bottler by revenue. Through this expanded platform and CCEP's proven formula, we will create further value for our shareholders, all underpinned by an even more aligned strategic partnership with the Coca-Cola Company and our other brand partners.
"We look forward to a stronger future together. We will build on our collective strengths through excellent people, a diverse culture, leading commercial capabilities and our commitment to sustainability."
Morning update
Kerry Group has revealed plans to acquire the Spanish biotech company Biosearch Life.
Based in Granada, Biosearch Life has an extensive range of probiotics and is a recognised leader in premium probiotics obtained from human breast milk, scientifically backed botanical extracts and natural omega-3.
The acquisition is expected to be completed by means of "a friendly public tender offer" for the shares of Biosearch Life addressed to all of its shareholders and is subject to the prior approval of the Spanish National Securities Markets Commission and, upon its approval, the acceptance of the offer by Biosearch Life's shareholders.
Grupo Lactalis Iberia, the main shareholder of Biosearch Life, has agreed to sell its entire stake, representing 29.5% of the share capital of the company, into the offer.
Jim McCarthy is leaving his role of chairman at agricultural supplies group Wynnstay after eight years in the role and ten years on the board.
McCarthy, a former CEO of Poundland, will step down at the forthcoming annual general meeting on 23 March to be succeeded by non-executive director Steve Ellwood.
McCarthy will remain a board member at the group until 31 July to help with the transition.
Ellwood, who joined Wynnstay's board in January 2016, spent ten years as head of agriculture at HSBC, and head of food and agriculture at Smith & Williamson.
Wynnstay is also recruiting for an additional non-executive director and has started a process to identify suitable candidates.
McCarthy said: "After ten years on the Wynnstay Board, I step down, confident about the group's growth prospects. The business has a strong management team, clear growth strategy, and robust balance sheet.
"I am delighted to handover to Steve. He is highly experienced, with significant knowledge of the sector as well as of Wynnstay. I have no doubt that he will help to drive the successful execution of the board's strategy and wish him and all my colleagues every success."
Ellwoodadded: "On behalf of the Board, I would like to thank Jim for his significant contribution to the Board and to Wynnstay over the past ten years. His commitment to the group has been outstanding."
Consumer good group Ultimate Products has acquired German kitchen electrical brand Petra.
Founded in 1968 in Bavaria as a manufacturer of electrical equipment, Petra originally specialised in coffee machines before expanding its range into other areas of kitchen electrical products.
Ultimate Products plans to relaunch and refresh the Petra brand with a range of electrical kitchen appliances.
As the brand is well recognised in the German market, the group will initially target this region. In time, the group said it expected to expand Petra into other territories.
Ultimate Products CEO Simon Showman said: "We are very pleased to add Petra to the Ultimate Products portfolio of consumer goods brands.
"Petra is well recognised in the German market with a reputation for quality and design innovation. We will seek to emulate the success of our previous brand acquisitions, most notably Beldray, Progress and Kleeneze, by relaunching Petra with a suite of innovative new products and a dynamic marketing strategy.
"More broadly, as the first German brand to join the Ultimate Products range, we hope this will further increase our penetration of the German market, where we already have a growing business with strong customer relationships."
The FTSE 100 soared by 1.4% this morning to 6,682.54pts as markets were hopeful of an easing of lockdown as vaccines took effect.
This week in the City
It's looking like a fairly busy week ahead on the markets despite it being the school half-term holidays.
Fresh from its Spanish acquisition today (see above), Irish food giant Kerry is set to report its final results tomorrow, with pub group Marston's also updating the market on recent trading.
Cigarettte maker British American Tobacco releases its full-year figures on Wednesday, while Irish forecourt group Applegreen holds an extraordinary general meeeting to vote over its plans to leave the stock market and go private.
The UK's latst inflation figures will also be released on Wednesday.
Thursday brings the latest Asda results as Walmart announces figures for its final quarter of the year, while in Europe Nestlé also reports quarterly results.
And to end the week there are quarterly results for Danone, the latest GFK Consumer Confidence survey and the ONS retail sales figures for January.