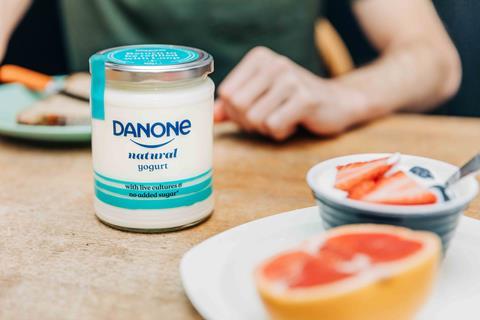 Top story
Danone has guided towards a 'year of recovery' in 2021 after its 2020 sales were hit by weak performance in waters and infant nutrition.
Reporting its annual results this morning, the French dairy giant said its 2020 consolidated sales fell 1.5% on a like-for-like basis, with stable volumes and a 1.5% decrease in value reflecting negative category and country mix.
On a reported basis, sales were down -6.6%, mainly driven by the negative impact of exchange rates (-5%) resulting from currencies devaluation against the Euro in the United States, Latin America, Indonesia and Russia
In the fourth quarter, sales declined -1.4% on a like-for-like basis, showing some sequential improvement from the two previous quarters, with flat volumes. Reported sales for the quarter were down -9.8%, mainly driven by a continued strong negative effect of -8.8% from exchange rates.
In particular, out-of-home channels sales declined by approximately 25% in Q4, hit by new waves of restrictions and lockdown measures related to COVID-19, especially in Europe.
Waters sales declined by 16.8% in 2020 on a like-for-like basis as it was severely impacted by COVID-related restrictions to mobility that disrupted Danone's ability to serve consumers in out-of-home and impulse channels and ultimately translated in negative volume, product and format mix.
Infant Formula sales in China from cross-border channels continued to contract sharply (down 45%) given the ongoing Hong-Kong border closure and travel limitations with mainland China, albeit domestic sales of Infant Formula in China were back to growth in the quarter.
Specialized nutrition sales were down 0.9% in 2020 on a like-for-like basis.
Essential Dairy & Plant-based posted net sales growth of 3.4% in 2020 on a like-for-like basis, sustained by both essential dairy, up low-single digit, and plant-based that grew at 15% and reached €2.2bn of sales in 2020, up from €1.9bn in 2019.
Danone's recurring operating income fell 10.9% on a like for like basis €3.3bn in 2020 as recurring operating margin stood fell 117bps to 14.0%.
This includes a negative 62bps effect from €150m incremental costs directly related to COVID-19 as well as around 100bps of negative mix, mostly driven by negative category mix, with lower sales from specialized nutrition, Danone's most profitable business, and negative country mix, reflecting the slowdown of China.
To mitigate these headwinds, Danone stepped-up its efforts on efficiency and cost discipline, especially in the second half of the year, allowing the company to deliver over 280bps of productivity in 2020 and unlock close to €850m of savings.
Looking forwards, Danone said it expects recurring operating margin expected to be broadly in line with 2020 as a tough Q1 (drive by continued channel-related headwinds) should give way to growth in Q2 and a more profitable second half.
Danone said it will continue to invest in portfolio "superiority and differentiation" to optimise execution and reshape the organisation by reviewing its brand stable.
It is targeting €1bn of savings to fuel reinvestments in innovation and brand support
Chairman and CEO Emmanuel Faber commented: "As COVID became a pandemic throughout 2020, we faced material specific short-term challenges in a number of our key categories and geographies but also clearly uncovered significant long-term opportunities, whose existence directly lies in the strategic framework and choice of category portfolio that we made over the last several years. our one planet one health framework of action has never been as relevant as today for the future, and we continue to be ahead of competition in implementing this vision.
"After making 2020 a year of both delivery and progress under serious challenging conditions, we know Q1 2021 is going to be heading tough comparables in particular in our SN Chinese operations and that governmental health strategies around the world will continue to create uncertainties on the speed of recovery of mobility in indexes that will weigh a bit longer on our water business performance.
"2021 is therefore going to be a year of recovery. we are focused on preparing our return to sales growth as soon as Q2, and are fully confident that we are building the right conditions and momentum to reconnect with our profitable growth agenda as soon as H2.
"In this context, we fully recognize that our share price is not where we would like it to be and we are pleased that this FY announcement resumes our ability to dialogue openly with our shareholders, in preparation of our important CME On March 25, when we will share more on the growth platforms underlying our categories and countries, as well as our progress on our transformation plans, which will provide the necessary support to our full ability to unlock our short and mid term profitable growth opportunities."
Meanwhile, Danone announced last night it has agreed to buy US-based Earth Island, maker of Follow Your Heart brands and a leader in plant-based foods.
Danone said Earth Island represents a strong cultural fit with Danone and provides Danone with a "unique opportunity to strengthen its plant-based business".
Founded in 1988 to meet the growing demand for Vegenaise at the Follow Your Heart Market & Café, Earth Island is a pioneer in the U.S. plant-based marketplace with a leading dairy-free cheese brand—offering shredded and sliced plant-based cheese, grated and shredded plant-based parmesan and cream cheese alternatives—and the egg-free mayonnaise brand, Vegenaise.
The company also produces delicious plant-based sour cream, salad dressings, and VeganEgg within their Follow Your Heart portfolio.
As part of Danone Earth Island will be able to accelerate the growth of the Follow Your Heart brand nationally and internationally alongside some of Danone's plant-based brands, including Alpro, Silk and So Delicious Dairy Free.
"Our mission has always been to produce the best plant-based food products and to make them available to as many people as possible," said Bob Goldberg, co-founder and CEO of Earth Island. "We're very pleased to be joining the Danone family of plant-based companies in a collective effort to bring positive change in the world through the creation of sustainably and responsibly-made foods."
Shane Grant, EVP and CEO, Danone North America commented: "The Follow Your Heart family shares our commitment to producing high-quality products that delight consumers while contributing to the wellbeing of People and Planet. Consumers are increasingly eating flexitarian diets, and we look forward to working with the Follow Your Heart team to offer our consumers even more choices. This partnership will build on our success in plant-based beverages, yogurt alternatives and creamers, further accelerating the growth of our North American plant-based business."
Danone shares are up 1.2% to €56.24 on the news.
Morning update
UK retail sales slumped 8.2% in January compared with December 2020 as tighter nationwide coronavirus restrictions hammered sales across the industry, according to the Office of National Statistics.
Retail sales volumes were 5.5% lower than before the pandemic in February 2020 indicating that the impact of restrictions on the retail sector was not as large as that seen in April 2020 during the first full month of retail restrictions when sales fell by 22.2% when compared with levels before the pandemic.
All sectors saw a monthly decline in volume sales in January 2021 except for non-store retailers and food stores, which reported growth of 3.7% and 1.4% respectively when compared with December 2020.
In the three months to January 2021, retail sales volume fell by 4.9% when compared with the previous three months, with strong declines in both clothing stores and automotive fuel.
The proportion spent online soared to 35.2% in January 2021, the highest on record; this compares with 29.6% in December 2020 and 19.5% reported in January 2020.
All store types reported an increase in their proportion of online spending in January 2021 when compared with December 2020; with food stores reaching an historic high of 12.2% of sales conducted online.
The ONS said that feedback from retailers suggested that enforced closures affected sales, although not to the same extent as witnessed in April 2020 (the first full month of restrictions on the retail sector).
"Anecdotal evidence suggested that during the current period of restrictions, improved online capability and click and collect purchases helped to lessen the impact with a fall of 5.5% in January 2021 compared with February 2020 levels," it stated.
On the markets this morning, the FTSE 100 has edged up 0.1% to 6,622.9pts after yesterday falls.
Early risers so far today include Total Produce, up 3.4% to 167p, Stock Spirits, up 2.8% to 289.5p, SSP Group, up 2.2% to 303.1p and FeverTree Drinks, up 1.9% to 2,425p.
Fallers so far include Science in Sport, down 2% to 44.1p, AG Barr, down 1.5% to 492.7p and Nichols, down 1.1% to 1,167.4p.
Yesterday in the City
The FTSE 100 finished the day down 1.4% to 6,617.1pts as fear over vaccine effectiveness against new coronavirus strains and weak economic data from the US hit market sentiment.
The day's major fallers included Pets at Home, down 4.6% to 403p, Greggs, down 3.2% to 2,080p, B&M European Value Retail, down 2.8% to 584p, Tesco, down 2.8% to 231p, Imperial Brands, down 2.5% to 1,421p and Britvic, down 2.1% to 807.5p.
Stocks on the up were Glanbia, up 2.5% to €10.15, Greencore, up 2.1% to 136.8p, AG Barr, up 1.6% to 500p, Premier Foods, up 1.3% to 90.7p after paying down more debt, and Bakkavor, up 0.9% to 87.1p.
Nestlé ended the day down 1.1% to CHF99.24 after posting its annual results yesterday.