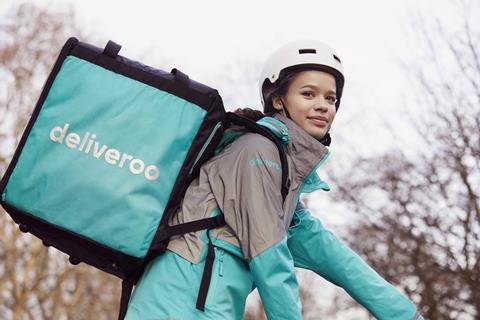 Top story
Surging demand for takeaways during 2020 has helped Deliveroo narrow losses as transactions on the food delivery app soared, the group said this morning as it prepares for an upcoming £7bn IPO.
Gross transaction value rocketed 64.3% to £4.1bn last year during the coronavirus pandemic, Deliveroo revealed as it officially unveiled intentions for a flotation in documents filed on the London Stock Exchange.
Underlying losses for 2020 improved to £223.7m as a result, compared with £317.3m in 2019.
Deliveroo said it works with more than 115,000 restaurants, takeaways and grocery stores globally, serving six million customers and working with 100,000 riders across 800 locations in 12 markets.
The group did not confirm the value it was expected to seek when it offers shares for sale, but the price is widely predicted to be around £7bn.
Deliveroo last week confirmed it had chosen London as the home for its long-expected IPO and over the weekend revealed its customers would be able to participate in the listing, with £50m of shares up for grabs.
The company will use the money from the 'Community Fund' to pay its busiest riders a bonus of up to £10,000, as well as supporting restaurants as they reopen following lockdown.
Founder Will Shu will retain voting power after the IPO as part of a dual-class share structure, with his class B shares worth 20 votes to the A classes one.
He said this morning the business had grown to be "so much bigger" than he thought was possible when first seeking funding back in 2013.
"Now we take the next big step in our journey by allowing everyone to have a share in our future," he added.
"That's why we are planning to take Deliveroo public here in London, the city where it all started – and we plan to offer our customers across the UK the chance to own a part of the business. We are proud to be enabling our customers to participate in a future float and have the chance to buy shares. Your loyalty and custom has helped build our business. I want you to have a chance to share in our future."
Morning update
Domino's Pizza Group has reached agreement to sell its entire shareholding in its Swedish business as part of a planned exit from all directly operated international markets.
The pizza delivery firm will focus on the core UK and Ireland operations going forward as announced back in 2019.
The exit from Sweden follows the company leaving Norway last year.
Domino's Sweden is the master franchisee of Domino's Pizza in Sweden, operating 14 stores in the country. It made an underlying operating loss of £4m in 2019.
Domino's will sell the Swedish business to Eyja fjárfestingafélag EHF, a company controlled by Birgir Bieltvedt, who is an indirect owner of Domino's in Norway.
Domino's will pay €2m (£1.8m) in cash to the purchaser as part of the transaction.
The FTSE 100 started the week on the front foot, climbing 0.4% to 6,658.02 pts.
Early risers in fmcg include Coca-Cola European Partners, up 4.2% to €52.89, Total Produce, up 4.1% to 177p, Nichols, up 3.3% to 1,180p, and PZ Cussons, up 2.7% to 275.2p.
HelloFresh was among the fallers, down 5.5% to €55.55, with The Hut Group and Ocado also in the red.
This week in the City
Tomorrow brings the BRC-KPMG retail sales figures for February, as well as the latest monthly Nielsen grocery sales figures.
Just Eat Takeaway.com reports how well id did out of the pandemic with final results on Wednesday, while in the US Campbell Soup Co updates on quarterly figures.
Thursday sees Morrisons and the John Lewis Partnership reporting their full-year numbers.