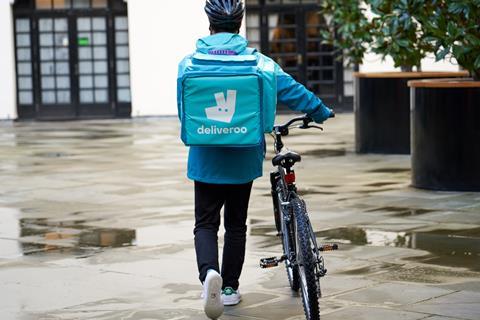 Top story
Newly listed Deliveroo has posted a 130% jump in first quarter turnover, but the delivery giant pointed to dramatic slowdown for the rest of the year as restaurants and pubs reopen.
Growth accelerated for the fourth consecutive quarter, with group orders up 114% year-on-year to 71m. The fourth quarter of 2020 saw order growth of 77% and Deliveroo's growth in the corresponding first quarter of 2020 was 27%.
UK orders were up 121%, while international orders grew by 108%, both primarily driven by new customers.
Gross transaction values (GTV) were up 130% year-on-year to £1.65bn
UK growth came from all regions and the company has strengthened its leadership position in London, with GTV in London growing by over 120% year-on-year.
As of the end of Q1 2021, Deliveroo has reached over 60% of the UK population, adding over 6m people to its coverage.
Deliveroo said it continued to rapidly develop the reach and breadth of its grocery offering, delivering year-on-year GTV growth of more than 700% in the first quarter, with groceries representing over 10% of the UK GTV in Q1.
New international grocery partners included Carrefour across Europe, Conad in Italy and Giant in Singapore, while in the UK Deliveroo now works with Co-op, Aldi, Waitrose, Morrisons and Sainsbury's in more than 1,000 sites across the UK.
However, Deliveroo cautioned that it remains "difficult to say" how much of this growth has been driven by the special circumstances of the current lockdown restrictions in some of its markets.
It expects the rate of growth to decelerate as lockdowns ease, but the extent of the deceleration remains uncertain.
At the current time it is maintaining the guidance set out in its recent IPO prospectus for full year annual GTV growth of between 30% to 40%, compared to Q1's 130% jump.
Will Shu, founder & CEO, said: "We are delighted with the Deliveroo Q1 results. Demand has been strong in both the UK&I and International markets driven by record new consumer growth and sustained engagement from our existing consumers.
"This is our fourth consecutive quarter of accelerating growth, but we are mindful of the uncertain impact of the lifting of COVID-19 restrictions. So while we are confident that our value proposition will continue to attract consumers, restaurants, grocers and riders throughout 2021, we are taking a prudent approach to our full year guidance."
Deliveroo shares have fallen 1.4% to 266.3p so far this morning, albeit still above the low of 241.7p set on Monday.
Morning update
Naked Wines has issued a trading update at the end of its financial year to 29 March, detailing strong growth particular in the US.
The groups said it had benefited from an accelerated shift in consumer behaviour towards win purchases during the pandemic, which underpinned growth of 68% during the year.
Growth was driven by the US, where sales grew 75% to go past £150m and represent approximately 45% of group sales.
Overall growth was driven by increased levels of investment in new customers, which was 10% above previous guidance and sustained a higher payback than target.
Its group active 'angels' base of 885k, grew by approximately 50% year-on-year.
CEO Nick Devlin commented: "I'm exceptionally proud of the performance we have delivered over the last year. Our significant growth is a testament to the customer demand for a disruptive online wine model that offers direct connection to the world's top winemakers. I'd like to thank all our colleagues for their continued dedication throughout a challenging year. We end this year not just as a bigger business, but a better one, benefitting from scale economies that have reinforced our competitive position and enhanced our appeal to both customers and top winemaking talent.
"Whilst in some ways 2021 is as difficult to predict as 2020, I believe we have seen an enduring shift of demand online across multiple categories. Ultimately whilst COVID has driven the trial of many online models, the long-term winners will be the businesses that offer customers a genuinely differentiated offer: I firmly believe Naked will be one of those long-term winners.
"We are committed to further strengthening our proposition and have identified multiple areas to invest in enhancing our customer and wine proposition in the year ahead. The past twelve months have been exceptionally challenging for winemakers the world over and I'm delighted we have been able to use our platform to support over 235 extremely talented independent winemakers to not just survive but grow with us. More than ever I'm excited to work creating a unique platform that connects some of the world's best winemakers directly with a passionate community of wine drinkers."
Online retail giant and beauty and health brand owner THG grew sales by 42% in its debut year on the stock market to £1.6bn as the wider consumer shift to digital channels continued apace.
The group said it continued to deliver organic growth, complemented by strategic acquisitions in the second half of the year, along with the IPO readying the business for continued future success.
International sales accounted for 61% of total group revenue in the period.
Ingenuity Commerce revenues grew 160.4% during the period with 324.0% growth in live sites, comprising fully managed and traded end-to-end online solutions of behalf of clients.
THG OnDemand revenue surpassed £100m for the financial year, representing 69.1% growth year-on-year as personalisation and print on demand services were increasingly sought after by consumers and brand owners.
Group gross profit margin of 45.2%, was 40bps ahead of 2019 driven by strong underlying trading margins in Nutrition, Beauty and Ingenuity Commerce.
Adjusted EBITDA of £150.8m, is after £2.6m of self-funded furlough costs, £153.4m before this which equates to a 9.5% margin.
The Group achieved gross profit of £730m at a gross profit margin of 45%, which was 40bp up on 2019 and driven by strong underlying trading margins in Nutrition, Beauty and Ingenuity Commerce.
Adjusted EBITDA rose to £150.8m from £111m, is after £2.6m of self-funded furlough costs.
It fell to a statutory operating loss of £482m, driven by one-off, non-cash items, principally equity awarded to its people as a result of the IPO as well as £39.2m of COVID costs.
It said that following a strong end to 2020, sales momentum has continued into the first quarter of 2021 across all divisions, with revenue growth for the first-quarter up 58.2% alongside stable margins in line with guidance.
It said Ingenuity Commerce has been a highlight of Q1 with 187.9% growth in the quarter, up from 160.4% in 2020 and 144% in the fourth-quarter 2020.
Founder and CEO Matthew Moulding commented: "Management's purpose for the IPO was to step change THG's access to funding in order to capitalise on Covid-19 accelerated market changes. As we progressed through 2020, those changes became more apparent in terms of the volume and scale of opportunities available to the Group, as evidenced by the c. £400m committed to acquisitions since IPO, most notably the acquisition of Dermstore in the US.
"Our global D2C brand building capabilities and proprietary Ingenuity technology platform has enabled us to further develop both our external brand relationships, and our expanding portfolio of Beauty and Nutrition own brands. Leveraging the platform to build an impressive client base of blue-chip consumer brands has been a highlight of the year, supported by encouraging momentum in the current year Ingenuity Commerce pipeline.
"We have delivered exceptionally well on our commitments at IPO and we move forward with purpose, to advance our strategy with investment in talent, infrastructure, THG (eco) and targeted M&A, and to continue to deliver growth on a global scale."
On the markets this morning, the FTSE 100 continues to creep towards 7,000pts, rising 0.4% to 6,971.1pts so far today.
Risers include Finsbury Food Group, up 2.5% to 81p, DS Smith, up 1.7% to 413.4p and Diageo, up 1.5% to 3,204.9p.
Fallers include Naked Wines, down 2.1% to 788.4p, Hotel Chocolat, down 2.1% to 401.6p and Nichols, down 1.8% to 1,355p.
Yesterday in the City
The FTSE 100 recovered strongly yesterday from a couple of a weak days' trading, climbing 0.7% to 6,939.6pts and back towards post-COVID highs.
However, Tesco was one of the market's weaker performers, falling 2% to 227.4p after profits plunged by more than £700m despite sales rocketing as the supermarket.
Other fallers included grocers Ocado, down 1.4% to 2,121, and Morrisons, down 1.3% to 179.1p.
Also down were McBride, down 2.2% to 90p, B&M European Value Retail, down 1.9% to 539.8p, Carr's Group, down 1.5% to 134p, and Coca-Cola European Partners, down 1.3% to €45.10.
The day's risers included Science in Sport, up 3.3% to 63p, Deliveroo, which recovered 1.9% to 270.2p, PayPoint, up 1.6% to 638p, WH Smith, up 1.6% to 1,857p, Pets at Home, up 1.6% to 442.6p, Hotel Chocolat, down 1.2% to 410p and Greggs, up 1.1% to 2,275p.