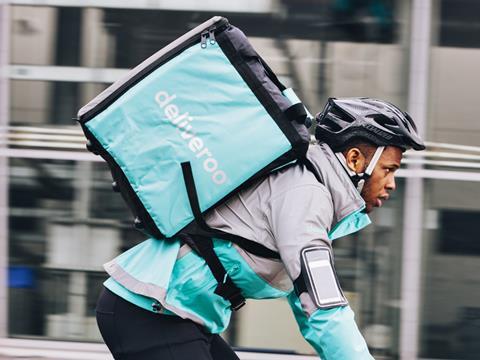 Top story
Food delivery player Deliveroo has enhanced its full year sales forecast after announcing its second quarter sales were significantly ahead of previously announced expectations.
The company said gross transaction value (GTV) sales were up 76% year-on-year at a group level in the three months to 30 June.
GTV in the UK and Ireland grew 87% year on year to £921m in the quarter, representing 88% growth at constant currency, while GTV in the group's international segment was up 65% year on year (75% constant currency) to £818m.
Orders grew 88% year on year at the group level to 78m in the second quarter of 2021. In the same period orders in the UK and Ireland grew 94% year on year to 38m and orders in the group's international segment grew 83% year-on-year to 40m.
That took first half GTV to £3.3bn, with the group having forecast £2.7bn to £3.1bn.
First half GTV growth was 99% (and up 186% on a two-year basis), surging through previous guidance of growth between 15% and 32%.
As a result of this outperformance, plus increased expectations for the second half, Deliveroo has increased guidance for full year annual GTV growth from between 30% to 40% to between 50% to 60%.
Deliveroo also said it sees an opportunity to make further discretionary investments into growth opportunities in the second half.
However, as a result of accelerating these investments, along with an expectation that average order value reverts towards pre-COVID levels, it said full year gross profit margin is expected to be in the lower half of its previously communicated range.
Deliveroo will report its first half results on 11 August.
The company's shares have jumped 4.6% in early trading to a post-float high of 335.3p.
Morning update
B&M European Value Retail has seen a sharp slowdown in growth in its first quarter as its UK like for like sales fell back amid "volatile" trading.
Group revenues were in the first quarter to 26 June were up 3.1% on a constant currency basis to £1.2bn, having risen by 27.7% in the same period in 2020.
Core B&M UK fascia like for like sales were down 4.4% year-on-year, having been up 26.9% in the same period last year.
B&M said trading patterns were "volatile" throughout the quarter, with a pull-forward in gardening demand boosting LFL in the final two weeks of the fourth quarter of its previous financial year and early weeks of Q1, but also depressing the subsequent weeks.
Its frozen food arm Heron Foods delivered a "satisfactory performance" against the very strong comparatives and in the context of grocery spending showing signs of normalising.
Heron sales were down 10% to £101.7m in the period.
In France, revenues increased by 26.9%, with Q1 both this year and in the prior year being impacted by six weeks of varying lockdown restrictions.
In total the group opened a net 44 stores over the course of the year to take its numbers to 1,097. During the quarter seven gross new B&M UK fascia stores opened, with 4 closures.
B&M said While it continues to be too early to accurately predict likely revenue and profitability outcomes for the year, the group is on track with its plans for the year and expects the two-year LFL in the core B&M UK business to remain strong.
CEO Simon Arora said: "The group has made a strong start to the new financial year and sales remain significantly above pre-pandemic levels. As expected, trading throughout the first quarter was volatile as we annualised against the high comparatives from last year.
"Although there remains much uncertainty as to how consumer spending evolves over the coming months, we remain optimistic that our combination of exceptional value across a wide range of product categories and our convenient Out of Town locations will continue to resonate with customers."
WH Smith sales were 38% down on pre-pandemic revenues in the 18 weeks to 3 July 21, but trends have started to improve as stores reopen and restrictions ease.
Its high street business was 14% on pre-pandemic levels, broadly in line with first half performance.
Its travel business has improved to 48% of previous sales from 34% in the second quarter and 39% in Q1.
While passenger numbers remain significantly down versus 2019, it said it is seeing a gradual recovery in sales as restrictions are eased. In the 18 weeks to 3 July 2021, UK Travel total revenue was 32% versus 2019. By channel in the UK, air was 10%, hospitals were 80% and rail was 34% compared to 2019 levels.
Its North America business has continued its encouraging recovery with total revenue during the 18 week period at 74% of 2019 levels with more recent sales, in June, at 88% of 2019 levels.
High Street performance reflects high street footfall which remains below pre-pandemic levels. However, its websites, including funkypigeon.com, continue to deliver a good performance.
WH Smith also said it has continued to explore new business opportunities during the period and has announced it has won 18 technology and accessories stores across a number of significant UK airports, including London Heathrow, London Stansted, Manchester, London Luton, Birmingham and East Midlands.
These stores will trade under the InMotion brand, its tech and accessories business in North America.
Combining learnings and expertise from North America, these stores will provide passengers with a "superior customer service experience and a combination of premium products from brands such as Apple and Samsung, as well as an extensive range of tech accessories".
In a fully recovered travel environment, we anticipate that these stores will deliver sales of £60m per year, albeit these new stores will incur capex and working capital investment of £15m which will be incurred in the financial year ending 31 August 2022.
Following the stronger than anticipated performance from our North America business, the company said it anticipates a small improvement to management's expectations for the current financial year.
Kerry Group has moved closer to the completion of its acquisition of Spanish firm Biosearch Life after the end of the tender process.
A "friendly" tender process with Biosearch's investors saw the acceptance of terms by 90.3% of shareholders by the 29 June deadline. The acquisition of the shares tendered will be settled today.
Kerry will now compulsorily acquire all the remaining shares of Biosearch which have not yet been tendered.
The compensation paid will be equal to the price of the tender offer, €2.20 per share.
The total consideration for the transaction is €126.9m.
Edmond Scanlon, CEO of Kerry, commented: "We have significantly advanced our capabilities in proactive nutrition in recent years. Biosearch is a strong complement to our portfolio and brings leading clinical research capabilities and functional food technologies across multiple life stages and need states. We share a commitment to advance the science behind healthier food and I would like to extend a warm welcome to the Biosearch team."
Biosearch is a leading biotechnology company focused on providing innovative solutions for the pharmaceutical, nutraceutical and functional food sectors.
Based in Granada, Spain, the company provides an extensive range of probiotics with leadership in premium probiotics obtained from human breast milk, scientifically backed innovative botanical extracts and natural omega-3.
On the markets this morning, the FTSE 100 has slumped 1.3% to 7,056.1pts amid fears over inflation.
Alongside Deliveroo, early risers include Total Produce, up 3.5% to 235p, McBride, up 2.8% to 87p, and Just Eat Takeaway.com, up 1.7% to 6,905p.
Fallers so far include Bakkavor, down 3.6% to 130.5p, B&M European Value Retail, down 2.7% to 562p after this morning's update, and Coca-Cola HBC, down 2.6% to 2,576p.
Yesterday in the City
The FTSE 100 bounced back yesterday from Tuesday drop, rising 0.7% to 7,151pts.
Risers yesterday included PZ Cussons, up 3.9% to 269p, Kerry Group, up 2.9% to €122.25, AG Barr up 2.3% to 525p, Coca-Cola Europacific Partners, up 2.3% to €51.50, Deliveroo, up 2.1% to 320.6p, DS Smith, up 2.1% to 438.2p, Sainsbury's, up 2% to 285.4p and THG, up 1.8% to 621.5p.
The day's fallers included SSP Group, down 3.6% to 280.1p, Total Produce, down 3.4% to 227p, McBride, down 3.2% to 84.6p, McColl's Retail Group, down 2.6% to 37p, WH Smith, down 1.8% to 1,649.5p and Finsbury Food Group, down 1.6% to 93.5p.
JD Wetherspoon fell 1.9% to 1,215p after announcing sales had continued to fall as pubs reopen, with its sales weakening during the current European Championships tournament as it declines to show matches.