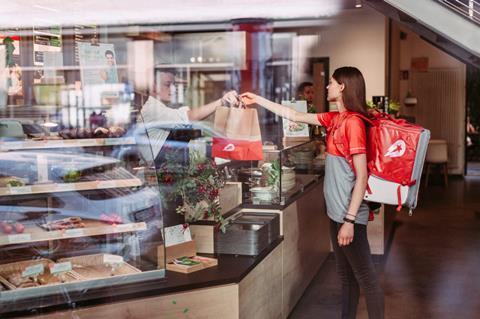 Top story
German food delivery firm Delivery Hero posted surging sales in the first half of 2021, although its EBITDA losses remained at over €330m as it continued to invest in growth.
The group showed a "strong growth trajectory" in the first half of the year, processing 1.4bn orders group-wide in the first half, up 83% from the 760m in the same period in 2020.
The group's gross merchandise value (GMV) grew by 78% YoY to €16.2bn from €9.1bn, while total segment revenue increased 109% year-on-year to €2.9bn.
Its adjusted EBITDA loss edged up from €323.5m to €332.3m, though the group pointed to its EBITDA/GMV margin improving from -3.6% to -2.1% despite expansions into new verticals and markets.
The group said its improved margin "demonstrates the capacity of Delivery Hero to achieve efficient growth".
The group moved into the black in Europe, with adjusted EBITDA improving from -€7.9m to €1m.
In Asia, the adjusted EBITDA of -€202.2m improved only marginally compared to the previous year's period, however, the adjusted EBITDA/GMV margin continued to improve to -1.9% from -3.4%.
A similar picture is emerging in its Americas segment, where the adjusted EBITDA/GMV margin improved from -19.2% to -9.1%.
Delivery Hero said it expects its full-year GMV to reach €33bn-35bn, with a total segment revenue outlook at€6.4bn-€6.7bn.
Adjusted EBITDA/GMV margin is expected to improve slightly to around -2% for the full financial year.
Delivery Hero hit the headlines in the UK two weeks ago after news emerged it had built a 5.1% stake in Deliveroo, spurring speculation of a potential takeover. Delivery Hero CEO Niklas Östberg said the business began buying shares in Deliveroo in April as he felt the company was "undervalued".
Delivery Hero was the former owner of UK takeaway operation Hungry House before selling it to Just Eat in 2016.
The company's shares have dipped 1.2% to €121.70 so far today – they are up 28% year-on-year, but down 11% so far in 2021.
Morning update
On the market this morning, the FTSE 100 is down 0.4% to 7,123.4pts so far today.
Early risers include Hotel Chocolat, up 1.8% to 374p, Devro, up 1.7% to 225.8p and McColl's Retial Group, up 1.7% to 21.2p.
Fallers include McBride, down 1.8% to 78.2p, Diageo, down 1.5% to 3,468p and PayPoint, down 1.3% to 709.8p.
Yesterday in the City
The FTSE 100 rose for its fourth consecutive day yesterday, rising 0.3% to 7,150.1pts.
Marks & Spencer was up another 5.1% to 179.5p – its highest level since the advent of COVID – on broker upgrades followings its announcement on Friday that profits would be higher than market expectations.
Other risers included M&S partner Ocado, up 2.9% to 2,049p, McBride, up 2.6% to 79.6p, Bakkavor, up 2.1% to 117.8p, Pets at Home, up 1.6% to 500p, Hilton Food Group, up 1.6% to 11,72p and B&M European Value Retail, up 1.5% to 578.6p.
The day's fallers included Deliveroo, down 5.1% to 370.1p, Kerry Group, down 3.1% to €122.40, AG Barr, down 2.5% to 550p, Devro, down 1.3% to 222p, and Britvic, down 1.3% to 975.5p.