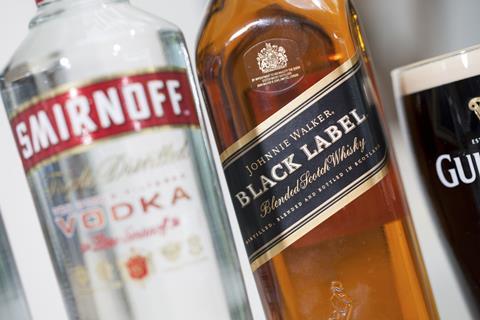 Top story
Drinks giant Diageo is restarting its programme to return £4.5bn to shareholders as its first-half performance benefitted from strong trading across its global markets.
The Guinness and Johnnie Walker owner returned to organic net sales growth in the past six months, with "a good recovery" across all regions.
The performance remained particularly strong in the US, its largest market, thanks to resilient consumer demand and Diageo's wide-ranging portfolio of drinks to meet all occasions.
The off-trade channel is helping the business in Europe, where many countries remain in lockdown, although partial reopenings of bars, pubs and restaurants in some markets also contributed to growth.
There was also a continued recovery in most markets in Africa, Asia Pacific, Latin America and the Carribean.
Although, its travel retail business provided a drag on the rest of the group.
Diageo announced this morning it would recommence its return of capital programme of up to £4.5bn to shareholders, which was first revealed in July 2019. The completion date of the programme has been extended by two years to the end of June 2024 because of the impact of the pandemic.
CEO Ivan Menezes said: "I am very pleased with how our business is recovering in fiscal 21, our strong competitive performance across key markets and our robust cash generation. Our disciplined approach to capital allocation is unchanged. Our priority remains to invest in the business to deliver sustainable and efficient organic growth and to pursue acquisitions that further strengthen our exposure to attractive categories.
"When we have excess cash, we have been clear that we will seek to return it to shareholders. The Board's decision to resume our return of capital programme at this time reflects Diageo's improved performance in the first half of fiscal 21, the continued strong recovery of our business, and our expectation that we will be back within the top end of our target leverage ratio[ of 2.5-3.0x at 30 June 2022, post completion of the second phase of the return of capital programme. We are confident that Diageo will continue to execute effectively in this challenging environment and will emerge stronger."
Shares in the group jumped 3% to 3,284p this morning.
Morning update
Coke bottler Coca-Cola HBC has been buoyed by demand for its energy drinks and shoppers buying more for in-home consumption during the first quarter of 2021.
Revenues – once currency movements were stripped out – increased 2.7% to €1.4bn in the first three months ofthe year thanks to accelerating growth in countries such as Nigeria and Russia as its emerging markets business grew sales by 10.4%.
It helped group like-for-like sales for the period to rise 6.1% on LfL volume growth of 4.7%.
However, its performance was still hampered by ongoing lockdown restrictions in its established and developing markets in places such as Italy, Ireland, Greece, Switzerland and Czech Republic.
As a result, the out-of-home channel registered declines of 20% to 30% in January and February, with performance stabilising in March when it began to lap the beginning of the coroanavirus crisis when all markets shut down.
CEO Zoran Bogdanovic said it was a good start to the year despite the continued impact of the pandemic.
"Our operational agility, flexible route to market and strong customer relationships mean that we are well placed to capitalise on the reopening of the out-of-home channel," he added. "In the meantime, our diverse and balanced geographic footprint has allowed us to benefit from accelerating revenue in the emerging market segment, while lockdowns continue to impact most European markets."
"The speed and shape of recovery from the pandemic remains uncertain, but Q1 puts us on track to achieve our 2021 guidance for a strong recovery in FX-neutral revenues, along with a small increase in EBIT margin."
Pub group Marston's has appointed Andrew Andrea as its new chief executive to take over from Ralph Findlay when the current boss steps down in October.
Andrea is currently the group's chief financial officer and corporate development officer, and has 23 years' experience in the pub and brewing industry.
He has served on the Marston's board since 2009 after joining the group in 2002.
Marston's is now searching for a new CFO to take up Andrea's role.
Andrea said: "I am delighted to have been selected to lead Marston's at such an exciting time as it embarks on the next phase in its history as a focussed pub operator. Despite the challenges of the last year, I am confident that we have a great team of energised and engaged people to deliver our vision, and I look forward to working with them and the board to return the business to growth and optimise the future opportunities available to us."
Chairman William Rucker added: "Andrew was the strongest contender from a selection of extremely high-calibre candidates under consideration and the unanimous choice of the board for the role. He has clear drive, ambition and outstanding execution skills and these attributes, together with his deep knowledge of – and empathy for – the business, equip him well to lead Marston's through the next stage of its development. The board has every confidence in him and looks forward to continuing to work closely with him in future."
Sales and profits at catering giant Compass continued to be severely hit by the pandemic but the group reported progress in its first-half.
Revenues in the six months to 31 March declined 32% to £8.4bn while operating profits fell 78% to £168m as a result of ongoing lockdowns.
However, Compass said its operating margin started to improve in the second quarter of the half, with more than half of pre-Covid margin restored despite volumes being just 72% of 2019 revenues.
The group added it expected a gradual improvement in revenues in the third quarter as lockdown restrictions lifted.
CEO Dominic Blakemore said by "controlling the controllable", the business delivered continued margin progression, strong cashflow and "excellent" client retention despite further lockdowns and limited volume recovery.
"With the gathering pace of vaccination rollouts across our major markets, we are working closely with our clients to prepare to reopen their sites safely, although the picture across the world remains mixed," he added. "Whilst we expect any revenue recovery to be gradual, we remain confident in our ability to return to a group underlying margin above 7% before we return to pre Covid volumes.
"We are now a stronger, more agile business with new client propositions, improved digital capability and a more flexible cost structure. These factors, underpinned by a robust balance sheet, have created a strong platform from which the business will continue to recover and grow. In the longer term, we remain excited about the significant structural growth opportunities globally, the potential for further revenue and profit growth and shareholder returns over time."
Sales have remained significantly elevated from pre-pandemic levels at supermarket group Ahold Delhaize in the first three months of 2021.
CEO Frans Muller said the group started 2021 in a strategically stronger position than before the pandemic began.
Revenues in the first quarter rose 5.8% year-on-year to €18.3bn, with sales in the US up 15.5% versus two years ago and Europe up by 18.1%.
Online sales accelerated in the quarter compared to a year ago, growing 103% overall, including 188% growth in the US and 79% in Europe.
However, costs related to Covid also remained high, with the business spending around €150m in the first quarter – more than double the amount in the first quarter of 2020 – leading to an 8.8% fall in operating profits to €828m.
Muller added: "Our consistent focus on safety, while at the same time providing great customer service and community support, have helped drive a strong quarter relative to our expectations. Although Covid-19 continues to impact our results, we have now entered a period where our year-over-year growth rates are affected by the lapping of difficult prior year comparisons."
Shares in Coca-Cola HBC rose 1.1% to 2,510p and by 1.6% to 1,553.5p for Compass on the back of their respective updates, while Marston's remained flat at 97p.
After yesterday's dramatic fall, the FTSE 100 opened 0.3% higher at 6,966.14pts.
Yesterday in the City
The FTSE 100 slumped back down below 7,000pts as inflation fears in the US troubled investors. London's blue-chip index ended the day 2.6% behind at 6,939.04pts, it's biggest one-day fall for almost three months.
Morrisons shares finished down 0.2% at 182.7p following Q1 results showing growth slowing as lockdown restrictions eased.
Shares also fell in Coke bottle Coca-Cola Europacific Partners as continuing lockdowns across Europe held back growth in its first quarter.
Other fallers in food and drink yesterday included WH Smith, which sank 6.3% to 1,753p, SSP Group, down 4.8% to 317.6p, and Marks & Spencer, down 4.5% to 155.7p.
THG moved strongly upwards after it revealed it had struck a complicated deal with Japanese multinational SoftBank. Shares climbed 11.9% to 667p.
McBride also registered a jump of 2.2% to 85.4p after agreeing a €175m multi-currency 'sustainably linked revolving credit facility' with a syndicate of international bank lenders.
Total Produce, up 5.6% to 190p, Greencore, up 2.4% to 165.9p, and Glanbia, up 2.2% to €13.85, were also among the risers.