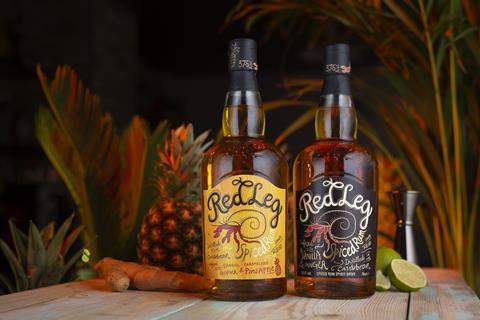 Top story
Drinks group Distil has significantly increased revenues and profits despite Covid disruption as it shift to grocery and online retail helped offset lost business elsewhere.
The group's portfolio of brands include RedLeg Spiced Rum, Blackwoods Gin and Vodka, Blavod Original Black Vodka and Jagpo's Cream Liqueur.
During the year ended 31 March, Distil focused on launching new brands across international markets, in particular in the UK. Trøve Botanical Vodka was launched in the UK in three varieties, alongside RedLeg Banana Rum and RedLeg Tropical Rum and ready-to-drink RedLeg Pineapple Rum with Franklin & Sons Ginger Ale launched and listed in major UK retailers.
Turnover climbed 48% to £3.6m thanks to a 61% hike in advertising and promotion spend across the period, and operating profits jumped 38% to £254k.
Distil added that new product launches were weighted towards the final quarter of the financial year and are expected to add "significant" value to the business in the coming years.
The coronavirus pandemic hit the group's results in the hospitality and travel retail sectors, with sales of Blavod vodka tumbling 45% in duty free aiport shops. However, increases across the grocery and online channels offset the declines.
Executive chairman Don Goulding said he was "pleased" to report significant growth and development at the business.
"Our small but talented and impressive team were able to respond rapidly to the unique Covid pandemic related challenges we faced throughout the year. Despite prolonged closure of the important hospitality and travel retail sectors, plus supply disruptions, export shipping complications and remote working, they delivered an excellent set of results.
"We also delivered against our promise of further new products and whilst these have been initially launched mainly in the UK with international markets to follow, we increased our export sales of existing brands by 81% year on year."
Goulding added the lifting of UK restrictions gave the market optimism the hospitality and entertainment sector would resume full activity over the summer and autumn.
Shares in the group opened 2.2% higher to 2.3p.
Morning update
Agricultural supplies group Wynnstay has appointed Catherine Bradshaw as a non-executive director, with effect from 1 July.
A qualified chartered accountant, Bradshaw has more than 20 years' experience in financial and general management roles, primarily in the food industry. She is currently group financial controller of Greencore Group. Prior to this, she worked in senior financial positions at Morrisons and Northern Foods.
On appointment, Bradshaw will also assume the role of chairman of the audit and risk committee.
Wynnstay chairman Stephen Ellwood said: "I am extremely pleased to welcome Catherine to Wynnstay. Her financial background and extensive experience of the UK food industry adds further strength to the Board, and we look forward to working with her as the Group continues to develop and grow."
The FTSE 100 shrugged off disappointment of a delay to full relaxation of all Covid restrictions, scheduled for 21 June, to rise 0.5% higher to 7,169.42pts as markets opened this morning.
Early risers this morning include Bakkavor, up 2.2% to 139.8p, Ocado, up 1.7% to 1,953.5p, B&M European Value Retail, up 1.3% to 551.4p, and Hilton Food Group, up 1% to 1,133.3p.
Hotel Chocolat, down 1.3% to 370.3p, AG Barr, down 0.6% to 529p, and Kerry Group, down 0.4% to €108.57, are among the fallers.
This week in the City
It looks to be a fairly quiet week on the markets for food and drink.
Friday holds the most interest for the industry, with Tesco to report its first-quarter performance, and the latest monthly ONS retail sales figures for May.
In the US, there are quarterly results from supermarket group Kroger on Thursday.
Elsewhere, the latest UK inflation figures are released on Wednesday, and, in wider retail, the Boohoo Q1 update is out tomorrow, AO.com finals are out on Wednesday, with Halfords and Dr Martens finals released on Thursday.