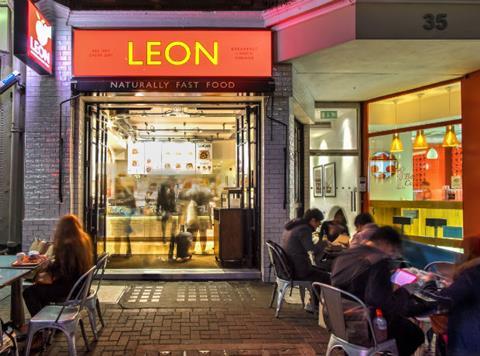 Top story
Petrol forecourt giant EG Group has swooped for restaurant chain Leon as it seeks to grow its non-fuel offering and expand the foodservice operation into healthy fast food.
The Issa brothers, who own the Blackburn-based group, as well as Asda following a £6.8bn deal last year, said Leon was a "fantastic" brand that they had long admired.
Following the acquisition for a reported £100m, EG plans to invest in the chain and broaden its current foodservice offering, which includes the likes of KFC, Subway, Greggs and Starbucks stores run from its petrol stations.
EG said it would open more than 20 Leon sites a year from 2022 and also saw "significant potential" for the brand's supermarket range of products, which are currently exclusively sold at Sainsbury's, across its convenience retail proposition.
The group added Leon presented "a fantastic opportunity" to further develop the menu offer and explore new formats, such as drive-thru sites.
Founded by John Vincent, Henry Dimbleby and Allegra McEvedy in 2004, Leon capitalised on the growing demand for healthier fast food. The chain has grown a network of more than 70 restaurants, mostly in the Southeast and London, as well as 29 franchised sites at airports and train stations across the UK and in Europe.
Leon also sells cookbooks, a branded range in Sainsbury's and deliveries direct-to-consumer with ready meals.
CEO John Vincent said it was "a sad day" for him but added Mohsin and Zuber Issa were "decent, hard-working business people" and would be "superb custodians" of the Leon brand.
Prior to the addition of the Leon store network, EG Group already operated more than 700 foodservice outlets in the UK & Ireland.
Mohsin and Zuber Issa said: "Leon is a fantastic brand that we have long admired. As established entrepreneurs in the foodservice retail market ourselves, we have a huge admiration for the business that John and the Leon team have built over the years, and firmly believe that their culture and values closely align with our own."
They added: "This acquisition aligns with our commitment to being a committed foodservice operator globally, delivers financial benefit to our underlying business, and supports broader commercial strategies to be able to better realise further growth opportunities."
Vincent said: "In some ways this is a sad day for me, to part company with the business I founded 17 years ago in Carnaby Street.
"But I have had the pleasure of getting to know Mohsin and Zuber across the last few years. They have been enthusiastic customers of Leon, going out of their way to eat here whenever they visit London. They are decent, hard-working business people who are committed to sustaining and further strengthening the values and culture that we have built at Leon, a business that has my dad's name above the door.
"Mohsin and Zuber will not just be superb custodians of the Leon brand, through EG Group they have the vision, investment appetite, foodservice expertise and network scale to take Leon to many more people and places. This is what Leon has always been built for and I am confident under the new ownership, the brand will flourish and have even greater appeal to a broader customer base, especially outside of London.
"Thousands of people have been part of creating Leon experience. Each has left their mark, and I would like to thank everyone inside Leon, our partners and suppliers, and our guests who have visited us around 200 million times so far. We have tried hard, done some good things, made a healthy amount of mistakes, and built a business that quite a few people are kind enough to say that they love."
Morning update
Cider maker C&C Group announced on the stock exchange this morning that its wholly owned Matthew Clark Bibendum (MCB) subsidiary has been subject to a "cyber-security incident".
MCB responded quickly, enacting its cyber-security response plan and shutting down all of its IT systems, C&C said.
A forensic information technology firm and legal counsel have been engaged to assist MCB investigate the incident and restore its IT systems "as quickly and as safely as possible". The issue has not affected the IT systems of the wider C&C Group, which continue to operate as normal.
Due to the ongoing Covid-19 restrictions, MCB is operating at reduced volumes and, to minimise the impact of the incident on its operations, is temporarily supporting customers and suppliers manually while IT systems are being restored
MCB is in the process of informing its customers and suppliers of the incident and the actions the company is taking and has notified the relevant authorities, including the Information Commissioner's Office.
A further announcement will be made in due course, if appropriate, the group added.
The FTSE 100 had a slow start to the week after breaking past the 7,000pts barrier last week. It is up 0.1% this motning to 7,023.29pts.
Early risers this morning include Total Produce, up 5.1% to 178.6p, Bakkavor Group, up 4.9% to 129p, and Naked Wines, up 2.3% to 817p.
Among the fallers so far are Parsley Box, down 1.7% to 198p, Finsbury Food Group, down 1.7% to 81.6p, Associated Foods, down 0.7% to 2,411p, and The Hut Group, down 0.7% to 663.5p.
This week in the City
Tomorrow kicks off with interims from Primark owner Associated British Foods. And, it is also the deadline for the CMA to make a ruling on the Issa brother's takeover of Asda. Danone will also report latest quarterly figures, while, in the US, P&G and Philip Morris also update the markets.
Heineken reports its first-quarter results on Wednesday morning.
And Thursday brings an update from Nestle, Pernod Ricard and Domino's Pizza.
The ONS Retail Sales figures for March and the monthly GFK Consumer Confidence Index round out the week on Friday.