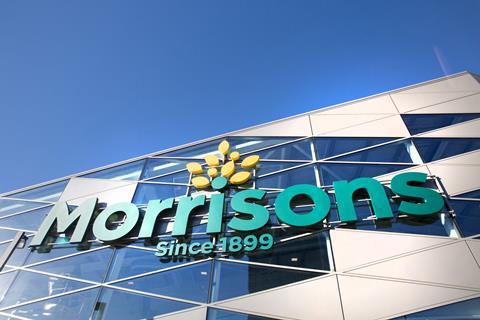 Top story
Growth has slowed at Morrisons in its first quarter as society began to reopen and the supermarket started to lap its own figures from last year when panic-buying was in full force during the first national lockdown.
Total sales, including fuel, in the 14 weeks to 9 May 2021 increased 5.3%, with like-for-like figures up 2.7%.
The like-for-like performance is down from a rise of 8.2% in the final quarter of its financial year. However, it is still 8.7% higher than it was two years ago in the same period before Covid hit.
CEO David Potts said it has been "an encouraging start to the year".
"The pandemic is not yet over, but it is in retreat across Britain and there is much to be positive about as something approaching normal life begins to take shape," he added.
Fuel volumes climbed back towards pre-pandemic levels in the period, with like-for-like sales on the forecourts up 17.5%.
Morrisons also said there had been a strong recent improvement in food-to-go sales.
Despite the high street reopening and people moving around more, online sales in the quarter remained "very strong", with year-on-year growth of 113%.
The group also incurred a further £27m of Covid-related costs to cover staff absences and extra marshals in store during the second wave of the virus.
But full-year pre-tax profits, before exceptional items, are still expected to be higher than the £431m it would have logged last year if not for the return of £230m in business rates relief.
"Our forecourts are getting busier, we are seeing encouraging recent signs of a strong rebound of food-to-go, take-away counters and salad bars, and our popular cafés will soon fully reopen," Potts said.
"The nation has a summer of socialising and sport to look forward to and we'll all be able to rediscover the joys of meeting up and eating well together. Whichever way consumers choose to enjoy their renewed freedom, we will be there for them.
"We're looking to the future with confidence as we see the growing warmth and affection for Morrisons from our customers flow into every area of the business. Our increasingly special butchers, bakers, fishmongers and other food makers are helping to brighten shopping trips, and the growing reach of our online businesses is attracting new customers and broadening the appeal of new Morrisons."
Wholesale contribution to group LfL was 1.1%, compared with 0.8% in the fourth quarter, equivalent to very strong wholesale LFL of 21%, primarily due to the c.230 extra McColl's stores that we started to supply in recent weeks.
Shares in Morrisons are up 0.6% to 184.2p this morning.
Morning update
Revenues continued to be held back at Coke bottler Coca-Cola Europacific (formerly European) Partners as persisting lockdowns across Europe and in other areas of the world affected out-of-home consumption.
In the first quarter of 2021, revenues fell 4.5% on a constant currency basis to €3.1bn.
However, the bottler said strong growth in Australia and New Zealand, where society is open as normal, provided optimism for the future. The group recently completed its purchase of Pacific bottler Coca-Cola Amatil leading to its new name, Coca-Cola Europacific Partners
Great Britain provided the group with a bright spot in Europe, with constant currency sales growth of 1.5% as shoppers continued to stock up on its portfolio in the supermarkets to drink at home.
Europe in total was down 7.5% in the quarter.
CEO David Gammell said: "Trading conditions remained similar to the last quarter of 2020, with renewed restrictions in many of our markets impacting the away from home channel. We have been able to keep on winning, gaining value share in store and online, through our ability to adapt, strong execution and continued focus on our core brands.
"While the pandemic persists and the precise nature and timing of the recovery is unknown, there is optimism ahead."
Retail sales in the UK surged ahead of pre-Covid levels following the lifting of lockdown restrictions for "non-essential" retailers in April.
After the markets closed last night, THG (The Hut Group) announced it had acquired a skincare and haircare products manufacturer for $255m.
US-based Bentley Laboratories already develops products for THG for its Perricone MD brand.
Established in 2002 in New Jersey, Bentley is supported by longstanding relationships with more than 70 prestige beauty brands.
THG said the deal would allow it to bring production of Perricone in-house and accelerate its NPD programme.
CEO Matthew Moulding added: "The US is an important growth market for THG. This investment within our THG Labs division supports the Group's vertical integration strategy, while further deepening our close and important relationships with brand owners across the global beauty industry.
"Bentley provides THG with US-based, pre-eminent in-house skincare and haircare new product development capabilities and manufacturing, which will be leveraged across THG's expanding own beauty brand portfolio, as well as THG's partner brands across Ingenuity and Beauty to embed THG even more deeply as a strategic partner to clients."
Total sales for the retail sector rose 7.3% last months, compared with April 2019, while like-for-like figures shot up 46.3%, according to the latest BRC-KPMG figures.
Over the three months to April, in-store sales of non-food items declined 30.9% on a total basis but increased 1.6% on a like-for-like measurement.
Food sales over the past three months increased 9.9% on a like-for-like basis and 10.3% in total. This is higher than the 2019 total sales average growth of 1.4%. Food was in growth year-on-year for the month of April, the report showed.
Over the three-months to April, like-for-like non-food retail sales increased by 25.1% and 2.4% on a total sales basis.
In the three weeks following the reopening of stores, non-food sales increased by approximately 25% in comparison to the levels of spending seen during the previous month under lockdown.
Online non-food sales increased by 57.4% in April, against a growth of 4.3% in April 2019, while the non-food online penetration rate decreased from 68.8% in April 2020 to 41.5% last month as shoppers returned to stores.
BRC chief executive Helen Dickinson said: "It is great to see customers feeling confident visiting shops, a testament to the ongoing investment by retailers in making their stores, warehouses, and deliveries Covid-secure."
However, she warned the growth was "fragile".
"There is little competition for share of spending while parts of hospitality, leisure, and tourism remain restricted and inner cities and town centres continue to perform poorly as many people continue to work from home," she said
"While the boost in sales is positive as the industry continues to invest in safety and the online offer, high streets still have a long way to go on the path to recovery."
IGD CEO Susan Barratt added the year-on-year impact for supermarkets was hard to determine due to the different timings of Easter, but that week-on-week data indicated food and drink sales slowed from mid-April.
"Inevitably, food and drink will settle at a reduced rate of growth as the competitive landscape normalises but also as the tough lockdown comparatives from 2020 persist for the next few months," she said.
"The easing of lockdown restrictions coupled with the reduced threat of Covid-19 has helped push IGD's Shopper Confidence Index to its highest level in five years. This will likely be boosted over the summer as the economy opens further, which will be good for retail and foodservice."
Consumer spending has increased 0.4% in April compared with the same period in 2019 – the first growth recorded this year, according to the latest figures from Barclaycard.
The card provider's spending data also revealed that consumer confidence in the UK economy was the highest it's been since the onset of the pandemic.
Spending on essential items rose 10.1% compared to April 2019, the highest growth since August 2020. This was boosted by supermarket shopping, which saw an 18.5% increase overall
Meanwhile, fuel spend saw less of a decline, dropping 8.1% compared to a 20.1% fall in March.
Face-to-face spending at food & drink specialist stores – including butchers, bakeries and greengrocers – saw a significant uplift (63.7%) compared to 2019, as shoppers continued to visit local retailers.
As shops across England reopened, overall spending on non-essential items saw its smallest decrease so far this year, falling 4.4% compared to 2019. Face-to-face non-essential retail showed promising signs of recovery, with a decline of 17.4% compared to a sharper 50.5% drop in March.
Raheel Ahmed, head of consumer products, at Barclaycard said: "The easing of restrictions provided a promising boost to a number of sectors in April, with consumer spending back in growth and confidence in the UK economy at its highest level since before the onset of the pandemic.
"The economy should hopefully gather momentum as we head into the summer and see the re-opening of indoor hospitality venues. Yet, what is most encouraging is that the easing of restrictions seems to have lifted the nation's spirits, with many Brits relishing the simple pleasures of dining out and making social plans."
The FTSE 100 suffered a 1.8% slump to back below 7,000pts as markets opened this morning.
Household products maker McBride slid 4.8% to 79.6p after announcing it had signed a €175m new mult-currency 'sustainably linked revolving credit facility'. The five-year financing is backed by a syndicate of international bank lenders.
Other fallers this morning include Hellofresh, SSP Group and B&M European Value Retail.
Risers include Greencore Group, Glanbia, Hilton Food Group and Premier Foods.
Yesterday in the City
The FTSE 100 dipped into the red at the end of the day after being up for most of yesterday's session. It closed down 0.1% to 7,123.68pts.
Although, there was some exceptional growth for two food and drink retail stocks following positive unscheduled trading updates.
Greggs shot up 10.5% to 2,591p after it said profits could potentially – and unexpectedly – return to pre-Covid levels this year following a resurgence in sales as lockdown eased further. The stock is now above its pre-Covid price to new record highs following steady gains since September.
Hoetel Chocolat ended the day 8.6% higher at 380p as it also lifted its profit expectations as revenues outgrew its pre-Covid performance.
Other industry climbers yesterday included Science in Sport, which rose 6.6% to 73p after it announced a new three-year extension to its partnership with British professional cycling team INEOS Grenadiers, AG Barr, up 1.1% to 535p, and Cranswick, up 1% to 3,754p.
Fallers yesterday included The Hut Group, down 4.6% to 596p, Deliveroo, down 4% to 247p, and Bakkavor, down 2.4% to 131.4p.