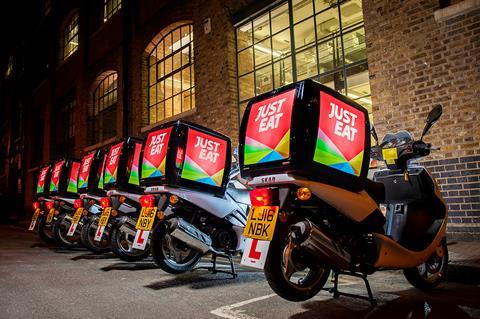 Top story
Just Eat Takeaway.com has reported an "exceptional" year as tailwinds from the Covid pandemic pushed revenues 54% higher to €2.4bn (£2.1bn) as locked-down consumers across Europe turned to takeaways while stuck at home.
The world's largest food delivery company saw orders accelerate for three quarters in a row in 2020, processing 588 million orders in the year, a 42% rise compared with 2019.
In the UK, Just Eat Takeaway processed 179 million orders in 2020 – a rise of 35% year on year – supported by big-name partnerships with McDonald's and Greggs. Delivery orders also doubled year-on-year, accelerating 260% in the second half alone.
UK revenues jumped 42% to €725m (£620m) as a result, although, adjusted EBITDA nudged only €3m higher to €216m as the group invested heavily to gain market share, including in a TV ad campaign featuring Snoop Dogg.
The business expects to increase market share further in the UK this year, with orders up 88% and delivery orders up 600% in the first two months, compared to the same period of 2020 before the coronavirus hit the country.
CEO Jitse Groen said he expected orders to soar even higher across all of Europe in 2021.
"2020 was an exceptional year for Just Eat Takeaway.com. Right before the completion of the merger between Just Eat and Takeaway.com, the world was hit by Covid-19.
"This brought unprecedented challenges to our restaurants, consumers as well as to our organisation and staff, but it also created tailwinds for our business.
"In the second half of the year, we increased our investments into the legacy Just Eat business significantly, building on our position as one of the largest food delivery companies in the world. Our revenue grew 54% in 2020, and we expect a further acceleration of our order growth in 2021 compared with last year."
Group adjusted EBITDA increased 18% to €256m in 2020, but overall it posted losses of €151m – up from €115m in 2019 – as a result of one-off integration and advisory costs related to the Takeaway.com deal and the proposed acquisition of Grubhub.
Shares in the group rose 1.4% to 6,940p this morning.
Morning update
Russian grocery retailer X5 Retail Group has launched an innovative biometric identification payment method at 52 of its supermarkets in a move that CEO Igor Shekhterman said he expected to become universal.
The 'pay-with-a glance' service, partnered by Russian bank Sber and Visa, is scheduled to become available at 150 Perekrestok supermarkets by the end of March, while in April several Pyaterochka proximity stores in Moscow are following suit.
The techonology, which is available to Sberbank clients, takes only a few seconds to use, with customers looking into a camera after scanning their goods at X5 self-checkouts. No bank cards or smartphones are needed, the retailer said.
"You don't need cash, bank cards, or smartphones to use the service – all you need to do is 'present' your face and the payment will be posted," Shekhterman added.
"This is a fast, convenient and secure technology of the future, and we are among the first to be introducing it in Russia and worldwide. I'm convinced that contactless biometric payment solutions will very soon be used universally, and this payment method will become as customary as paying with a bank card or a smartphone."
The FTSE 100 is back down 0.5% to 6,699.74p as inflation concerns continue to haunt markets.
Early fmcg risers include, Coca-Cola European Partners, up 1.5% to $53.86, Heineken, up 1.2% to €91.08, Reckitt Benckiser, up 1.1% to 6,182p, and Diageo, up 1% to 2,990.5p.
WH Smith is down 3.2% to 1,876p in the early going, with HelloFresh down 3.1% to €56.60, and McColl's Retail Group down 2.9% to 30p.
Yesterday in the City
The FTSE 100 continued its positive start to the week to close 0.4% up at 6,742.96pts.
Investors rushed to get a slice of Domino's Pizza Group as the firm announced bumper annual sales and profits as stuck-at-home consumers tucked into more takeaways. Shares in the business leapt by 8.6% to 337.2p.
WH Smith also received a bounce yesterday, with the stock rising 1.7% to 1,937p after the retailer revealed an extension to bank financing agreements and said trading so far this year had been better than expected despite the ongoing Covid restrictions.
Elsewhere, other risers included Bakkavor, up 6.8% to 93.8p, HelloFresh, up 5.5% to €57.90, and
McColl's Retail Group, Nichols, Hilton Food Group and Reckitt Benckiser were among yesterday's losers, falling 6% to 30.3p, 3% to 1,184p, 1.9% to 1,048p and 1.6% to 6.114p respectively.