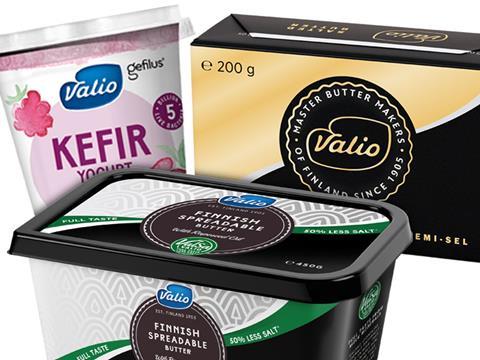 Top story
Finnish dairy group Valio saw sales rise 1.2% in 2020 as a plunge in food service sales was mitigated my increased exports.
Valio Group net sales in 2020 were €1.8bn, up 1.2% on the previous year as domestic net sales decreased by 0.9% and international net sales rose 4.3 percent.
It said the coronavirus pandemic affected domestic consumption and was visible in the growth in retail sales and the decrease in HoReCa (hotel, restaurant and catering ) sales.
However, in the challenging year Valio was able to slightly improve the milk return.
Valio's CEO Annikka Hurme commented: "Despite the coronavirus pandemic, Valio recorded a good financial performance and the milk return continued to grow. I am especially proud of the fact that, in spite of the challenging year, we were able to secure our employees' health and wellbeing, and we were able to maintain normal production and excellent delivery reliability.
"One of our strengths is flexible production capacity, so we were able to shift production quickly from large package sizes designed for restaurants to consumer packages. Additionally, demand in our export markets grew, despite the pandemic."
It said domestic consumer buying power weakened in the course of the coronavirus pandemic, so it launched more items under the Valio Hyvä suomalainen Arki brand.
The market for plant-based products also continued to grow. Valio Oddlygood Barista saw strong domestic sales, while during the year Valio launched Valio Oddlygood Veggie grated, which is used like cheese.
Net sales from international operations totalled €746m, with growth was strongest in China, where demand recovered quickly after the coronavirus shock in early 2020, and net sales increased by more than 40% on the previous year.
"Despite the growth, Valio is a small actor in China. Our most important task is to further improve the profitability of exports and to build recognition of our products and brand," Hurme said.
Growth in net sales in the nearby markets of Sweden, Estonia, and Russia was moderate. In the US, the pandemic caused steep price fluctuations, which weakened financial performance, but net sales remained at a reasonably level. After a slump early in the year, the global market price of milk powders began to rise towards the end of the year.
Valio's overall milk margin amounted to €861m, up from €838m last year, while the milk return was 41.5 cents per litre (41.2 c/l).
Throughout the 2000s, Valio has been able to pay Finnish milk producers a higher price for milk than the European average.
In line with strategic focus areas, Valio will continue to invest in new growth, operational efficiency, and improved profitability in 2021. As a result of contract production, there has been a moderate decrease in raw milk volumes since the beginning of the year.
It said the coronavirus pandemic continues to make operations difficult for restaurant, hotel and industrial kitchen customers. On the other hand, retail demand is on a good level.
It added that the market situation for butter and milk powders seems positive globally, and it sees growth potential especially in the value-added powder business in China and elsewhere in Asia.
Hurme added: "A key issue regarding product exports, as well as importing ingredients and supplies, is whether international borders will remain open. Valio's strength is that milk, the most important ingredient of our products manufactured in Finland, is produced locally, at Valio owners' dairy farms. Products are manufactured at 12 plants, which helps to ensure security of supply. Valio plays an important role in Finland also in ensuring food security, and in all our operations we aim to serve customers and consumers in the best possible way."
Morning update
Love Hemp Group, the UK-listed CBD and Hemp product supplier, has announced the appointment of James Martin as chief operating officer, Anna Legge as chief communications officer and Martin Healy as chief growth officer, effective immediately.
James Martin has over 15 years' experience driving large-scale strategic operational excellence and business transformation programmes across a number of industries, including fast moving consumer goods, technology, pharmaceuticals and healthcare. He has previously worked for companies such as Shell, Vodafone, GlaxoSmithKline, and PwC.
Anna Legge was previously director of communications of London and Toronto listed SolGold. Prior to that, Anna worked at a large international communications agency advising companies such as Mulberry, Centrica, Bunnings and UP Global Sourcing.
Martin Healy was previously head of advertising sales and partnerships at The Walt Disney Group and, prior to that, Commercial Director for ESPN in the Middle East.
CEO Tony Calamita commented: "I am excited to welcome James, Anna and Martin to the growing senior management team at Love Hemp Group. They each bring significant experience in their respective fields of expertise, with the ability to execute the dynamic and impactful strategies required to grow the Love Hemp brand and our investment profile.
"Our ability to continually attract talent of this calibre is testament to our already established market presence and our significant growth potential. Love Hemp Group is at a pivotal point in the Company's development as we move towards a main market listing on the London Stock Exchange. This important step will better reflect our profile and ambitions. We are creating the foundations to build our brand internationally and increase the Company's corporate profile."
Listed palm oil producer MP Evans has updated the market ahead of its AGM later today.
It said the crop of fresh fruit bunches for the five months ended 31 May 2021 was 342,100 tonnes from estates controlled by the group, some 24% higher than the 275,900 tonnes recorded for the same period in 2020.
Crops from the smallholder co-operatives associated with the Group's new projects increased by 43% to 100,800 tonnes.
Overall, the Group's crops continue on an upward trend resulting from the young average age of the group's plantations with yields increasing as they mature.
The Group produced the equivalent of 132,400 tonnes of crude palm oil during the first five months of 2021, including 104,800 tonnes in its own mills with the balance being the oil content of ffb sold by the group to third-party mills.
This represented a 25% increase compared with the 106,000 tonnes produced during the equivalent period in 2020.
The average price of CPO for the first five months of the year was US$1,127 per tonne, substantially higher than the US$659 per tonne during the equivalent period in 2020.
However, the introduction of an Indonesian export levy in December 2020 meant that this increase was only reflected to a limited extent in the price actually received by the group at mill gate.
Nonetheless, in the period to the end of May 2021, the Group realised an average price at mill gate of US$715 per tonne compared with US$550 per tonne in 2020, an increase of 30%.
"The increasing maturity of its planted areas and the application of high operating standards means the board is confident in its ability to deliver crop growth which is the foundation for improving results and a rising dividend," it stated.
In light of the strong performance achieved to date, it remains the board's intention to recommend a dividend of 30p per share in respect of 2021.
On the markets this morning, the FTSE 100 is back up 0.3% to 7,105.3pts so far this morning.
Risers include Bakkavor, up 3.9% to 138.8p, Wynnstay, up 3.3% to 449.4p and Naked Wines, up 1.4% to 782p.
Fallers so far include SSP Group, down 1.8% to 297p, WH Smith, down 1.9% to 1,750p and Sainsbury's, down 1.8% to 257.5p.
Yesterday in the City
The FTSE 100 ended three days of rises by falling back 0.2% to 7,081pts yesterday.
SSP Group closed the day down 1.9% at 302.3p after the Upper Crust owner slumped to first-half pre-tax losses of £300m as the ongoing coronavirus restrictions wiped out revenues.
Other fallers included Bakkavor, down 4.6% to 133.6p, McColl's Retail Group, down 3.4% to 35.8p, Marks & Spencer, down 3% to 159.3p, Hotel Chocolat, down 2.4% to 361p, AG Barr, down 2% to 529p, Kerry Group, down 1.6% to €107.70 and Deliveroo, down 1.5% to 249.6p.
The day's risers included Science in Sport, up 4.4% to 84p, McBride, up 2.7% to 91.8p, Nichols, up 2.5% to 1,640p, Domino's Pizza Group, up 2% to 392p, Just Eat Takeaway.com, up 1.8% to 6,696p and Diageo, up 1.3% to 3,460p.