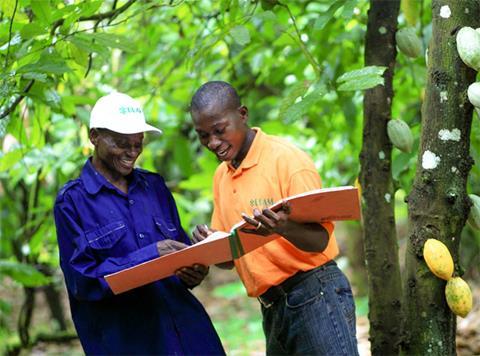 Top story
A major £6.6bn global food ingredients giant will list on the London Stock Exchange next year to boost its worldwide growth plans.
Olam Food Ingredients, which supplies cocoa, coffee, dairy, nuts and spices to international fmcg players, will demerge from Indonesian agri giant Olam International and seek a listing in London, as well as a secondary listing in Singapore, in early 2022.
The global food ingredients supplier is targeting a primary listing on the premium segment of the LSE, suggesting possible propulsion into the FTSE 100 with annual revenues of $9.1bn and EBIT of $0.6bn.
The group had considered a number of listing options prior to opting for London, with Amsterdam and Zurich also under consideration.
OFI CEO A Shekhar said a London listing would provide access to a "large, diverse investor base and deep liquidity", while noting the food and beverage industry was well understood among the UK investment community.
The listing will provide funds to accelerate its global growth plans, including underpinning further acquisition opportunities.
Earlier this year, OFI acquired US-based private label spice and seasoning maker Olde Thompson for $950m. Shekhar said more acquisitions were possible.
"There's clearly possibility for us to do geographic consolidation or category consolidation or channel consolidation and specific markets," he said. "We will probably look at a number of bolt-ons."
Meanwhile, Olam announced its half year results this morning, with OFI revenues up 12.6% year-on-year to S$6.8bn.
Revenue growth was driven by stronger sales from the ingredients & solutions segment, which made up for the reduction in contribution from Global Sourcing segment.
EBIT grew strongly at 22.9% to S$316.3m, demonstrating a "strong recovery" from the impact that Covid-19 had on some of its businesses in H1 2020.
Commenting on the results, Shekhar said: "Shekhar said: "We had a strong first-half as we continued to integrate and drive synergies across our portfolio. We are also making disciplined investments in specific product, channel and category expansion opportunities identified across OFI's on-trend and growing portfolio.
"This includes our newly acquired business in Olde Thompson, the green chilli pepper business from Mizkan and the dried onion ingredients business in the US, all of which already started contributing positively to our earnings in H1 2021."
"The results further demonstrate that OFI is a strong business that is uniquely positioned to take advantage of long-term consumer trends within the food and beverage industry."
Overall group sales increased 33.7% year-on year, with Olam Global Agri contributing 67.8% of total group revenue, OFI 29.8%, and Olam International 2.4% respectively.
For more on OFI's listing plans check out The Grocer's interview with OFI CEO A Shekhar here.
Morning update
Convenience group McColl's has successfully raised £30m from a share placing to provide funds for the continued rollout of Morrisons Daly stores.
McColls has conditionally placed 150m new ordinary shares at the offer price of 20p per share, raising gross proceeds of approximately £30m.
The offer price represents a discount of 31% to the closing price of 29p per share on 11 August 2021 – the last business day before the launch announcement.
Each of the Director's participated in the placing, agreeing to subscribe to approximately £3.2m of shares.
The net proceeds will be used to increase the number, and accelerate the pace of rollout, of Morrisons Daily stores, from 56 to 350 by the end of the financial year ending November 2022. The represents an increase of 50 stores against the group's previous target of 300 stores by the end of December 2023.
McColl's will also use the cash to improve the grocery infrastructure in the Morrisons Daily sites, enhancing the standard of the refit and expanding the chilled offer with more refrigeration.
It will also further invest in the store estate, including the potential to extend the rollout of Morrisons Daily beyond 350 stores as well as to reduce the group's financial leverage.
CEO Jonathan Miller said: "Today's successful capital raise represents a transformational opportunity to accelerate our strategy and capitalise on the growth opportunity available to us in food-led convenience. On behalf of the Board, I would like to thank our existing shareholders for their ongoing support and welcome all new shareholders in the company."
On the markets this morning, the FTSE 100 is back up 0.4% to 7,221pts.
Early risers include Glanbiam up 2.5% to €14.25, Nichols, up 2% to 1,410p and Hotel Chocolat, up 1.8% to 374p.
Fallers include McColl's Retail Group, down another 3.7% to 20.8p, Marston's, down 1.2% to 82.9p and Stock Spirits, down 0.7% to 382.4p after yesterday's share price surge.
Yesterday in the City
The FTSE 100 ended yesterday down 0.4% to 7,193.2pts.
The day's risers were led by Stock Spirits, which jumped 43.7% to 385p after announcing it has agreed to a near £800m takeover by CVC.
Deliveroo also gained 8.9% to 371.4p to move closer again to its 390p float price.
Other risers included PayPoint, up 3.4% to 631p, Marks & Spencer, up 3.3% to 146.3p, AG Barr, up 2.7% to 575p, C&C Group, up 2.3% to 245.4p, Devro, up 2% to 227.5p and Naked Wines, up 1.7% to 834p.
McColl's was a major faller as the issue of new shares saw a 25.5% drop in its share price to just 21.6p after placing 150m new shares at 20p per share.
Other fallers included Glanbia, down 4.1% to €13.90, Nichols, down 3.3% to 1,382.5p, Just Eat Takeaway.com, down 2.7% to 6,101p, THG, down 2% to 586.5p, Hotel Chocolat, down 2% to 267.5p and Coca-Cola HBC, down 1.8% to 2,670p.