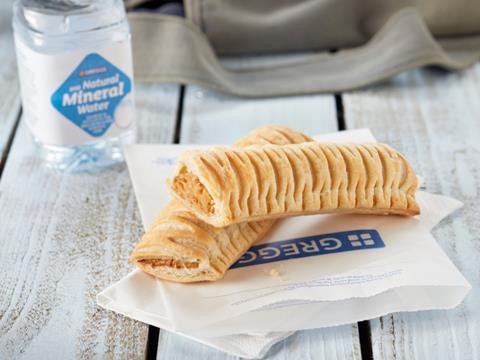 Top story
Greggs has continued to see customers flooding back to its stores in greater than expected numbers since the relaxing of coronavirus restrictions, the high street bakery chain said in an unscheduled trading update.
The business added if the stronger than expected sustained sales recovery continued it would have "a materially positive impact" on the expected financial result for the year.
The group will provide a fuller picture in its interim results at the beginning of August.
In its last trading update in May, Greggs reported a strong recovery in sales as lockdown restrictions began to ease in April.
It had expected to see competition from cafes and restaurants increase as rules were relaxed further around indoor dining.
However, even as pent-up demand for shopping on the high street has reduced following an initial boost, like-for-like sales growth at Greggs remained in positive territory, ranging between 1% and 3% compared with the same period in 2019.
Back in March, Greggs had reported its first-ever loss as a listed company as revenues plunged 30.5% to £811.3m and like-for-like sales in company-managed shops declined by 36.2% as its estate remained closed during lockdown.
Shares in Greggs shot up more than 4% from Friday's close to 2,671p as markets opened this morning, before settling back to a 0.9% gain at 2,582p.
It marks a continued recovery for the stock, which is up 45% in 2021 and back above its pre-pandemic high point.
Morning update
Coke bottle Coca-Cola HBC (CCH) has acquired a minority stake in premium Italian coffee company Caffè Vergnano.
The two companies also entered into an exclusive distribution agreement for Caffè Vergnano's products in Coca-Cola HBC's territories outside of Italy, including Ireland, Switzerland, Greece, Cyprus and Austria.
Caffè Vergnano is a family owned Italian coffee company headquartered in Santena. It is one of the oldest coffee roasters in Italy with roots dating back to 1882.
Its portfolio includes traditional espresso in various blends, packages and formats such as beans, roast and ground coffee and single portioned pods.
In 2020, the company sold about 7,000 tons of coffee in more than 90 countries worldwide.
The proposed transaction represented "an important milestone" in CCH's vision of being the leading 24/7 beverage partner across its markets, the group said.
Caffè Vergnano was highly complementary to its existing Costa Coffee proposition and would allow CCH to address an even wider range of consumer tastes and segments, the business added.
CCH CEO Zoran Bogdanovic said: "We are grateful for the trust being placed in us by the Vergnano family and are excited by the opportunities ahead with this terrific brand.
"With Caffè Vergnano, we are well positioned to build a total coffee portfolio that caters for a diverse range of consumer preferences. We are respectful of the company's 140-year history and the dedication and passion of the four generations that created such a rich and renowned coffee brand, synonymous with the authentic Italian coffee experience. Our investment in Caffè Vergnano is aligned with The Coca-Cola Company as we have worked together on this opportunity."
Franco and Carlo Vergnano, CEO and chairman of Caffè Vergnano, added: "We are very pleased to welcome Coca-Cola HBC as our new strategic partner to help accelerate our growth ambitions and support the journey of our brands outside our home market.
"By combining Coca-Cola HBC's expertise, know-how and critical mass, with our heritage coffee brand, great products and deep knowledge of the industry, we are confident this will prove a powerful partnership in growing our business further."
CCH reached an agreement to acquire a 30% equity shareholding in Casa Del Caffè Vergnano, with the deal expected to complete in the second half of 2021.
The FTSE 100 has started the week on the backfoot, falling 0.2% to 7,119.35pts.
Shares in Coca-Cola HBC fell 0.5% to 2,669p this morning after it announced the Caffè Vergnano deal.
Elsewhere in food and drink, Danone, Premier Foods, Glanbia, Associated British Foods and Finsbury Food Group are among the early risers.
Fallers included Nichols, SSP Group, Fevertree Drinks and Hellofresh.
This week in the City
It is still looking fairly quiet on the markets as summers gets under full swing.
The latest monthly Nielsen grocery market share figures are out first thing tomorrow morning.
Wednesday brings quarterly update from Constellation Brands and General Mills, with the latest BRC-Nielsen shop price index also out.
On Thursday, Primark owner Associated British Foods will update the City on its half-year trading. In the US, Boots owner Walgreen Boots Alliance will release third-quarter figures.