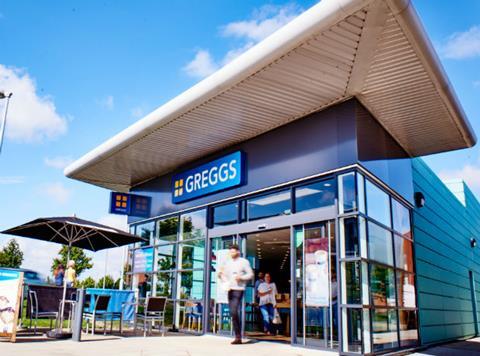 Top story
Greggs has bounced back to first half profitability as sales recovered due to the relaxation of coronavirus restrictions.
Total sales in the 26 weeks to 3 July reached £546.2m from £300.6m in the previous year.
Greggs said sales in the second quarter exceeded expectations, with revenues increasing progressively through the first half in response to its own recovery initiatives and the easing of social restrictions.
On a two-year basis total sales were broadly flat, having posted sales of £546.3m in the same period in 2019. However, like-for-like sales in company-managed shops, measured on a two-year basis, were still 9.2% lower than the equivalent period of 2019.
In the second quarter the lifting of restrictions, particularly the re-opening of non-essential retail, made a significant difference to footfall and resulted in 2.8% growth on a two-year like-for-like basis.
Walk-in customer transactions were still below the level seen in 2019 but were compensated for by higher average transaction values and increases in delivery sales.
Greggs said the strongest-performing parts of the estate are also the locations "where we see significant potential for further expansion, making Greggs accessible to more customers on-the-go".
In the first half of 2021, it opened 48 new shops (including 17 franchised units) and closed 11 shops, giving a total of 2,115 shops (of which 343 are franchised) trading at 3 July 2021.
It anticipates opening 100 net new shop openings in 2021, creating 500 new jbs in the second half.
Greggs said it has the opportunity to expand its UK estate to at least 3,000 shops, presenting a multi-year growth path.
Pre-tax profit was £55.5m in the first half of 2021, recovering from a £64.5m loss in the same period in 2020 and a £40.7m profit in 2019.
The better performance in the second quarter was further supported by stronger sales, relatively low levels of food input inflation and strong margins as a result of good cost control.
The improved performance and trading outlook of our shops resulted in Greggs deciding to repay all CJRS support received in the first half and to reverse £2m of previously-provided asset impairment charges.
Looking forward, Greggs said commodity cost pressure is increasing; nonetheless overall it still expect relatively modest food input inflation in 2021 as a result of forward purchasing cover.
CEO Roger Whiteside commented: "Greggs once again showed its resilience in a challenging first half, emerging from the lockdown months in a strong position and rebuilding sales as social restrictions were progressively relaxed.
"We continue to make good progress with our strategic priorities, growing the shop estate and investing in our digital capabilities to compete in all channels and dayparts of our market.
"Whilst there continue to be general uncertainties in the market, given our recent performance we now expect full year profit to be slightly ahead of our previous expectation."
Greggs shares are flat at 2,803p.
Morning update
Irn-Bru producer AG Barr has posted an 18% increase in revenues for the first half of the year to 1 August.
On a like-for-like 26-week basis revenue is expected to be up 13% as trading has been strong across both its business units, Barr Soft Drinks and Funkin.
Barr Soft Drinks has benefited from recovery in on-the-go consumption, growing volume and improving product mix, while our 'at home' sales have remained strong, as they have done throughout the COVID-19 pandemic.
It said recent new product launches are performing well, with positive consumer feedback and encouraging customer listings. It said the energy sub category, in particular, continues to outperform the total soft drinks market and its focus on innovation in this area, primarily Rubicon RAW Energy, has made a very positive start.
For Funkin it has seen "positive momentum" despite the challegingin circumstances for the hospitality sector.
Funkin has delivered a strong H1 performance in the on-trade driven by both customer restocking and an increase in cocktail rate of sale, with the brand capitalising on the increase in demand for cocktails at home, through both traditional retail and direct to consumer channels.
AG Barr reiterated guidance from 20 July 2021 that profit for the current 53-week financial year ending 30 January 2022, is expected to be slightly ahead of the performance delivered in the 52-week year prior to COVID-19/
Our full year performance expectations take into account the one-off nature of some of the H1 benefits and our anticipation of increased cost inflation later in the year, "reflecting the well documented pressure on supply chains and rising commodity prices".
CEO Roger White commented: "We are pleased with the performance of the business in the year so far. There is good momentum behind our core brands and we have re-entered the growing big can energy category with our Rubicon RAW Energy range.
"We plan to increase our brand investment in the second half of the year, building on our progress to date. While uncertainty remains, we are confident in delivering our plans across the balance of the year and meeting our recently revised full year profit expectations."
Domino's Pizza Group has posted "strong" UK & Ireland performance in the 26 weeks to 27 June, with system sales up 19.6% to £752.3m.
Excluding the benefit of the reduced rate of VAT, underlying like-for-like system sales, excluding splits, grew by 5.5%.
Total orders returned to a positive trend, up 3.5% in the first half, driven by collection orders up 27.1%, as it lapped the closure of the collection business for much of last year.
Collection orders traded at 71% of 2019 levels during the half, and are currently trading at over 75%.
The takeaway chain posted underlying profit before tax of £60.8m, up 27.7%, driven by the strength of the core business and lower Covid-19 related costs.
Digital momentum continued, with UK online sales up 25%, representing 93% of UK system sales.
Statutory profit after tax of £41.3m was up from £19m, benefitting from the successful disposal of all but one of the loss making international operations.
Looking forward, Domino's said the second half has started well with strong total order count growth as we benefitted from marketing campaigns, and the extended involvement of the English football team in the Euros.
"As the second half develops, we will operate within a shifting and uncertain landscape as the nation is released from the restrictions imposed by the Covid-19 pandemic, and the country returns to a level of normality.
"We believe this will benefit our Collection business, which we expect to gradually recover toward order count levels more in line with 2019.
"Our delivery business will face more competition as the hospitality trade reopens but we believe the strength of our brand and our continued investment in developing our offer will enable the delivery business to maintain its performance."
CEO Dominic Paul commented: "I am delighted with the performance of the business in the year to date. We've worked closely with our franchisees to maintain fantastic service levels to our customers, while continuing to prioritise the safety of our colleagues and customers. I'd like to thank everyone in the system for their incredible commitment through the pandemic.
"We have continued to invest in the business as we focus on delivering our strategy with the opening of a new state of the art supply chain centre in Scotland, the launch of our redesigned mobile ordering App, and the roll out of our supercharged marketing campaign which has strengthened our brand and significantly boosted awareness levels.
"The strong trading in the first half of the year provides us with the firm foundations for the delivery of our strategic growth objectives, which build upon our strengths in both delivery and collection. This will enable us to deliver strong system sales growth and increase our store numbers in the UK and Ireland.
"Whilst the external landscape remains uncertain, the second half has started well. I believe our agile business model leaves us well placed to capitalise on the significant opportunities ahead while continuing to invest in our strategy, which will deliver benefits for franchisees and shareholders alike."
On the markets this morning, the FTSE 100 is up 0.4% to 7,110.6pts.
Risers include Domino's Pizza Group, up 3.5% to 436.7p, Bakkavor, up 2.9% to 129.4p and Nichols, up 2.9% to 1,494p.
Fallers include Deliveroo, down 1.8% to 316.9p, McColl's Retail Group, down 1.7% to 35.3p and Kerry Group, down 1.6% to €126.30.
Yesterday in the City
The FTSE 100 started the week up 0.7% at 7,081.7pts yesterday.
Risers included Morrisons, up 2% to 273p on expectations of higher bids coming in in the private equity battle for control of the grocer.
Other climbers included Kerry Group, up 3.1% to 128.4p, Greggs, up 1.8% to 2,804p, Pets at Home, up 1.4% to 474.6p, Hotel Chocolat, up 1.4% to 365p, Marks & Spencer, up 1.4% to 137.4p, B&M European Value Retail, up 1.3% to 560p and WH Smith, up 1.2% to 1,645p.
Fallers included Total Produce, which plunged 13.2% to 165p after Dole slid 9% on its market debut in New York after their merger.
Other fallers included C&C Group, down 2.5% to 231p, Deliveroo, down 2.2% to 322.7p, Premier Foods, down 2.2% to 109p, AG Barr, down 1.6% to 566p, Glanbia, down 1.6% to €14.60 and PZ Cussons, down 1.4% to 248p.