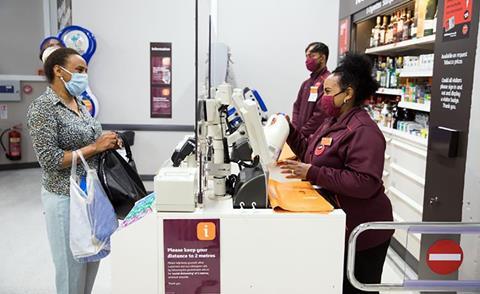 Top story
Grocery sales growth has remained in positive territory in recent weeks despite the reopening of wider retail, food service and the relaxation of social restrictions.
The latest figures from Kantar show take-home grocery sales rose by 5.7% during the 12 weeks to 18 April 2021, with sales growth accelerating to 6.5% in the four weeks to the same date.
The major supermarkets all grew at a faster rate than the wider market, with Asda up 8%, Morrisons 7.2%, Tesco 6.4% and Sainsbury's up 6%. All four were in double-digit growth compared to two years ago.
The growth of the discounters came more into line with the major mults, wit Aldi up 6.6% and Lidl up 6.1%.
The Co-op posted a 3.1% sales decline in the most recent 12 week period having previously been one of the standout growth stories of the pandemic, albeit it remains up 16.2% on a two-year basis.
Ocado again posted the strongest overall grocery growth, with sales up 27.5% and now up 52..2% on a two-year basis.
Fraser McKevitt, head of retail and consumer insight at Kantar, commented: "There is a growing sense that the worst of the pandemic is behind us, and people are becoming more comfortable with venturing out to the supermarket.
"The past four weeks have been the busiest in store for the grocers in more than a year, as the number of trips made in April increased by 4% compared to March. With much of the over-65 community now vaccinated, older shoppers accounted for nearly half of the increased footfall.
He cautioned, however, that the comparative period for 2020 was "a highly unusual month for grocery shopping" as it was a comparatively quiet period after the initial pre-lockdown stockpiling rush.
"While the market may fluctuate between growth and decline in the months ahead, depending on the year-on-year comparison being made, the fact that trip numbers are up and basket sizes down suggests that habits are slowly returning to normal," he said.
"The return of wider retail and hospitality will naturally have a knock-on effect for the grocers. For example, sales of alcohol grew by just 1% in the latest four weeks, as people now have the option of eating and drinking out of the home again. That said, the easing of restrictions was clearly a cause for celebration at home too. Take-home sales of sparkling wine increased by 48%, suggesting that many raised a toast with friends and family in the garden or the park."
The number of people shopping online in the past month fell for the second time in a row. The share of groceries ordered via the internet in the most recent four weeks slipped to 13.9%, down from a peak of 15.4% in February.
While online is still growing strongly, at 46%, the rate is half what it was at the height of the pandemic.
Convenience stores – both independents and those owned by major retailers – also saw sales have falling by 19% in the past month due to tough comparatives in 2020. Independent stores and symbol retailers saw a year-on-year decline of 13.3%, though sales are considerably higher than two years ago.
Grocery inflation currently stands at -0.3%, falling for the first time since December 2016. This is largely down to promotions, as retailers prioritised filling shelves over running deals last year.
Morning update
Beauty and personal care company PZ Cussons has reported "continued momentum in an exceptional year" as it posted a third quarter update for the three months to 27 February.
Total Q3 revenues were up 4.7% to £145.3m, with all regions growing revenues and profits against the prior year.
Its 'must win' brands saw growth of 12%, with Carex in the UK and Morning Fresh in Australia and Nigeria performing strongly amid heightened hygiene needs amongst consumers.
Sanctuary Spa also delivered strong double-digit growth, Original Source returned to growth in the quarter and Cussons Baby grew in both Indonesia and Nigeria.
Growth was boosted by investment behind its brands, with media and consumer spend during the quarter up 30% year-on-year.
Despite continued market volatility, PZ Cussons said it "remains on track to perform in line with the current range of market expectations for full year FY21".
CEO Jonathan Myers commented "Our third quarter results maintained the renewed momentum of our business despite the quarter ending with the anniversary of the start of the global COVID-19 pandemic.
"In the final quarter of this current financial year, as some of our brands come up against strong levels of demand in the base period, we intend to continue increasing investment behind building our brands and capabilities, to maintain momentum as we move to more normal comparatives.
"Looking ahead, we will continue to proactively navigate the volatility of the pandemic, the competitive landscape and commodity cost headwinds, but at the same time remain focused on executing the initial phase of our new strategy – Building Brands for Life, Today and for Future Generations."
Beer, cider and drinks producer and distributer C&C Group has appointed Vineet Bhalla as an Independent non-executive director.
Bhalla has over 25 years of experience across multiple sectors including, consumer goods, retail, health and defence. Until March 2021, Vineet was chief technology officer of Burberry. He previously held global roles for Unilever as head of IT for its digital marketing and research & development divisions. He is also a non-exec director of Moorfields Eye Hospital NHS Foundation Trust and serves as Chair of the Trust's People and Culture Committee.
Stewart Gilliland, Chairman of C&C Group, commented: "On behalf of the Board, I would like to welcome Vineet as an Independent Non-Executive Director. We identified digital transformation as integral to the future growth and development of our business. Vineet's significant expertise and experience in this area brings a necessary skill set to the Board."
On the markets this morning, the FTSE 100 has opened flat at 6,963.7pts.
Risers include Deliveroo, up 3.5% to 235.9p, Nichols, up 3.4% to 1,450p and PZ Cussons, up 1.5% to 272.5p.
Fallers include Naked Wines, down 5.9% to 799p, Greggs, down 1.8% to 2,306p and Compass Group, down 1.4% to 1,575.5p.
Yesterday in the City
The market started the week on the front foot, with the FTSE 100 up 0.3% to 6,963.1pts yesterday.
Tate & Lyle was one of the market's major movers as the FTSE 250 company confirmed weekend media reports it is exploring a break-up by selling its sweeteners unit to focus on food and beverage. The shares were up 5.9% to 801.8p yesterday.
Other risers included Bakkavor, up 34.9% to 136.4p, Hotel Chocolat, up 2.5% to 415p, C&C Group, up 2.2% to 283p, Greggs, up 2.1% to 2,349p, WH Smith, up 2.1% to 1,879p and Compass Group, up 2% to 1,598p.
The day's fallers included Naked Wines, down 4.4% to 849p, PayPoint, down 2.9% to 611p, SSP Group, down 2.6% to 336.2p, Diageo, down 2.4% to 3,215.5p, Deliveroo, down 2.2% to 228p and Just eat Takeaway.com, down 2% to 7,818p.