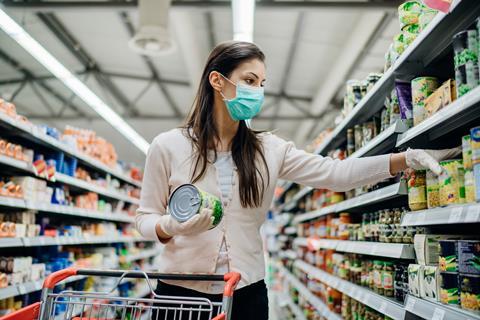 Top story
Take home grocery sales edged back 0.4% in the 12 weeks to 16 May the UK's coronavirus lockdown eased and the vaccine rollout continued.
The latest grocery market share figures from Kantar show that "people are returning to more normal habits" as the country reopens, with more customers making in-store visits.
Shoppers made 58 million more visits to the supermarket this period than they did in May 2020.
Basket sizes fell for the third month in a row and average spend per trip is at its lowest level since March 2020 as shoppers move away from the big weekly shop
However, sales are still significantly higher than pre-pandemic and an additional £3.8 billion rang through the tills over the past three months compared with 2019.
Fraser McKevitt, head of retail and consumer insight at Kantar, commented: "As lockdown eases, people are returning to more normal habits and we can see that reflected in grocery sales. Many of us this time last year were eating all our meals at home and we bought extra food and drink as a result.
"Now we're seeing take-home grocery sales dip versus 2020 as people are able to eat in restaurants, pubs and cafés and can pick up food on the go again, grabbing a sandwich, for example, while they're out and about at the weekend. While not captured in these take-home figures, on-the-go grocery sales look set to be a significant driver of growth for supermarkets over the next few months."
The proportion of supermarket sales made online – another hallmark of shopping habits last year – remains much higher than 2019 levels but fell back from 13.9% in April to 13.4% in the latest month.
Convenience stores, both independents and smaller formats of the major chains, are also seeing some of their market share gains, collectively now accounting for 12.5% of sales, down from 14.9% in May 2020.
On an individual retailer basis, Aldi and Lidl both grew ahead of the market, having previously lagged wider growth as spend migrated to online, with take-home sales up by 5.2% and 4.6% respectively.
Amongst the big four, Asda was the fastest growing at 1.9%, with Sainsbury's up 0.7%, Morrisons up 0.3% and Tesco flat.
Previously fast growing Co-op and Iceland saw their sales drop by 12.1% and 5.3% respectively.
Ocado was still the fastest growing retailer, gaining 0.2 percentage points of share this period and sales growing by 15.4%.
McKevitt commented: "Tough annualisation because of an exceptional 2020 meant spend at symbols and independent retailers and Co-op was down in comparison with last year, but remained in double digit growth against the more typical sales of 2019.
"Convenience stores also benefited from the return of on-the-go food and drink sales – representing additional growth that is not captured in these take-home figures. It's a similar story at Iceland, which saw sales boom in 2020 as shoppers stocked up on frozen food, making growth harder to come by this year."
Grocery inflation now stands at -1.2%, which is the fastest fall in prices since August 2016, and a trend Kantar expects to normalise as the year progresses.
Morning update
Sales fell by a further 19% in the first half at Greencore as coronavirus restrictions continued to hit its food to go business.
Revenues were down 19 to £577.1m in the six months to 26 March, with revenues down 18.6% on a pro-forma basis after adjusting for the disposal of its molasses businesses during the first quarter and currency movements.
Group Operating Profit was down to £3.9m compared to £35.6m in the same period last year, while adjusted operating profit fell by 99.5% to £0.2m.
Greencore said the UK trading environment remained "very challenging and volatile", most notably in its key food to go categories where it suffered from a pronounced reduction in mobility due to extensive lockdowns for most of the first half.
This was balanced to some degree by the its strong market position in supplying grocery retailers, the only channel to remain substantially open in the period.
In the Greencore's food to go categories (comprising sandwiches, salads, sushi and chilled snacking) reported revenue was down 25.6% to £339.2m, with pro forma revenues approximately 30% below prior year levels in Q2, compared to a 22% reduction in Q1.
The Group's other convenience categories, which comprise of chilled ready meals, soups and sauces, ambient sauces and pickles, frozen Yorkshire Pudding categories, and more, were down by 7.4% to £237.9m in the period with organic sales down 5.6%.
Operating profits were hit by this reduction is sales as well as £4.8m of COVID-19 related costs, including £2.9m related to furloughed staff and £1.9m of other costs, including reconfiguring production areas.
Since retrictions have begun to ease, Greencore said it has seen "encouraging revenue momentum" in the first seven weeks of its second half.
Pro forma revenue in food to go categories is running at approximately 123% above prior year levels and approximately 14% below the equivalent pre-COVID levels in 2019.
For this period the group's pro forma revenue was approximately 64% above prior year levels and approximately 5% below equivalent pre-COVID levels in FY19
Greencore anticipates that a continued reopening of the UK will rebuild sales through the year and it expects to generated full year adjusted operating profits above 2020 levels.
CEO Patrick Coveney commented: "This has been a challenging period for Greencore, but the consistent build in our revenues since early March as lockdown measures have eased and COVID-19 cases have fallen give us real cause for optimism. Our focus now is on rebuilding revenue, profitability and cash flow momentum as the UK economy reopens.
"Our recent business wins are a great endorsement of our continuing relevance in the UK convenience food landscape. Underpinned by the quality of our people, our new sustainability strategy and the strength of our long-standing customer relationships, we are confident of being able to build back the business rapidly and profitably, and are optimistic about the medium-term prospects for Greencore."
Elsewhere, Wagamama owner restaurant group has reported "very encouraging" trading in the early weeks of the re-opening of its outlets and the resumption of outdoor dining.
The 130 Wagamama store currently open are trading at 85% of comparable 2019 sales levels, representing a 15% outperformance of the market, reflecting ongoing strong delivery volumes and good trading from outdoor space in many locations.
Its 75 open pubs traded at c.85% of comparable 2019 sales levels, representing a 15% outperformance of the market and benefitting from significant outdoor space and investments in stretch tents and marquees.
The group's 110 leisure sites are trading at 60% of comparable 2019 sales levels, in line with our expectations, reflecting a continuation of strong delivery volumes and limited number of outdoor covers.
Before the re-opening it had approximately 200 sites trading for delivery and takeaway only, with performance of these sites also "very encouraging" and average standalone delivery and takeaway sales in Wagamama and Leisure tracking at approximately 3x and 5.5x pre-Covid-19 levels.
"The Board has been very encouraged by the trading performance seen so far in 2021. While the environment for the remainder of the year continues to remain uncertain, the Group is well positioned across its diversified brand portfolio to benefit from the sustained removal of government restrictions," it stated.
On the markets this morning, the FTSE 100 has edged back 0.1% to 7,044.3pts.
Risers include Just Eat Takeaway, up 3.2% to 6,389p, Premier Foods, up 2.6% to 110.4p and Ocado, up 1.8% to 1,997.5p.
Fallers include Greencore, down 12.9% to 148.8p, Wynnstay, down 2% to 480p and Bakkavor, down 1.5% to 132.1p.
Yesterday in the City
The FTSE 100 started the week on the front foot, rising 0.5% to 7,051.5pts yesterday.
Major risers included Premier Foods, up 5.9% to 107.6p, Deliveroo, up 3.2% to 258p, WH Smith, up 3.1% to 1,740.5p, Compass Group, up 2.8% to 1,582.5p, Marks & Spencer, up 2.7% to 156.8p, McBride, up 2.% to 90p and Greencore, up 2% to 170.8p.
Hilton Food Group edged up 0.3% to 1,234p after it said it made "a strong start" to the year as momentum driven by pandemic tailwinds continued across its global markets.
The day's fallers included FeverTee, coming back down 3.7% to 2,563p after last week's gains, AG Barr, down 2.4% to 528p, Devro, down 2.4% to 206.5p, Bakkavor, down 2% to 134.2p, Britvic, down 1.5% to 937p and Hotel Chocolat, down 1.3% to 375p.