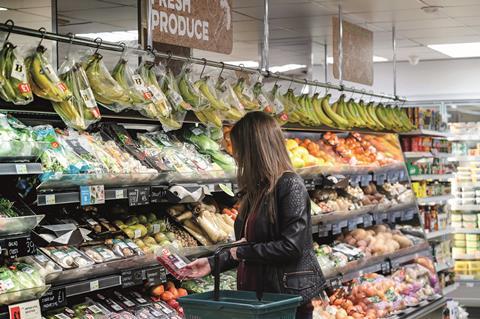 Top story
Grocery industry sales growth accelerated to its highest level since June 2020 during February as the latest national restrictions curtailed spending in cafés, restaurants and pubs.
Take home grocery sales rose y 15.1% over the four weeks to 21 February, an acceleration on the 12-week growth figure of 12.5%.
Online grocery sales reached a new record share in the four weeks to 21 February accounting for 15.4% of sales, up from 8.7% last year.
Online specialist Ocado boosted its sales by 35.3% over the latest 12 weeks with its market share nudging up 0.3 percentage points to 1.7%.
Morrisons was the fastest growing of the big four at 13.9% over the 12-week period, although each of the major multiples was in double0dgt growth, with Tesco at 13.2%, Sainsbury's 12.1% and Asda 10.3%.
Aldi was once again the industry laggard, with sales up 5.6%, while discount rival Lidl was up 10.9%.
The fastest growing physical grocer overall was Iceland, up 23.9%, with Co-op up 12.6% and Waitrose 11.5%.
Fraser McKevitt, head of retail and consumer insight at Kantar commented: "The pandemic has now been making its mark on our lives and completely changing the way we shop for a full year. Various hospitality restrictions mean that we've eaten an extra seven billion meals at home since spring 2020.
"Overall, shoppers have spent £15.2 billion more on groceries during the pandemic – that's around £4,800 per household on average, an increase of £500 compared with normal times."
"In terms of the grocery market itself, we'll start to see year-on-year decline following the anniversary of the first national lockdown next month. Sales will be measured against last year's record spending and comparisons will be tough against the heights of 2020. Demand for groceries is also likely to subside as the hospitality sector re-opens.
"The more typical sales patterns of 2019 will come to the fore as the most important metric to gauge retailer performance as we emerge from lockdown over the coming months."
Kantar found that grocery inflation now stands at 1.2% for the 12-week period ending 21 February 2021, with prices are rising fastest in market such as colas, chilled fruit juices and skin care while falling in vegetables, fresh bacon and fresh beef.
Morning update
Hotel Chocolat has weathered coronavirus restrictions to post half year revenue growth of 11%, driven by online growth in the UK, US and Japan.
In total group revenues were up 11% to £101.9 in the 26 weeks ended 27 December 2020, with strong online and digital partner growth more than offset the impact of physical retail closures due to government restrictions.
UK sales grew by 12% driven by increased multichannel flexibility, with online growth more than offsetting reduction in physical retail sales caused by closures during lockdown and Tier 4 restrictions.
51% of UK sales in the period from direct to consumer digital (online sales, subscriptions, and online experiences), with its UK customer database grew by 38%, adding 0.6m active members.
Meanwhile a pivot to digital-led growth in USA. Sales grew 22% in the second quarter with the acceleration capped by level of inventory in-country at peak. Hotel Chocolat said it is expanding its capabilities in the USA to fully capture the market opportunity
Japanese joint-venture's sales to consumers grew 228%, with wholesale sales by the group to the joint venture contributing 1 percentage point of year-on-year growth
Its USA customer database grew by 170% and Japan customer database grew by 900% in the period.
Profit before tax increased by a more modest 3% to £15.5m as gross margin declined from 65% to 61% due to the impacts of Covid on customer buying patterns, which resulted in some temporary increases in discounting to clear inventory and the shift in channel mix from retail to online.
Operating expenses also grew by 6%, albeit this was slower than sales growth.
The temporary cessation of business rates contributed 220bps of savings, and lower rents including turnover-based leases contributed 140bps. Retail customer service staff were furloughed during lockdown, reducing overheads by 80bps.
However, the rapid channel mix shift to online resulted in higher variable costs for pick, pack, and despatch, as well for digital marketing, website licence and credit card fees. The combined impact of changing channel mix was a negative headwind of 150bps.
CEO Angus Thirlwell commented: "The Hotel Chocolat brand stayed strong during a difficult period for all of us. We certainly kept the chocolate flowing thanks to our online capabilities and multichannel expertise. We recorded superb results in the UK, USA and Japan despite Covid-19 restrictions affecting all our physical locations. We achieved sales growth during those periods when all UK physical locations were closed, demonstrating the brand's appeal to our loyal customers, and our flexible business model.
"Databases of active customers grew substantially in all three markets, underpinning our confidence of growth in the years to come. In the UK, our multichannel model truly came of age, and excitingly, both Japan and the USA firmly stepped up from the 'test and learn' phase into 'grow and scale'. Total brand sales, through direct-to-consumer and partner-channels combined, increased 16% year-on-year.
"We look forward to building the Hotel Chocolat brand further as we move closer to our goal of becoming the leading global direct-to-consumer premium chocolate brand."
Elsewhere, Helloresh SE delivered more than 600 million meals to customers in 14 markets in 2020 to grow revenues by 111% to €3.75bn.
Active customer base in Q4 2020 saw 78% y-o-y increase, reaching 5.3 million customers.
Adjusted EBITDA for the full year 2020 also grew more than tenfold y-o-y, exceeding €500m.
HelloFresh SE expects revenue growth of approximately 20-25% on a constant currency basis and an adjusted EBITDA margin between 9-12%.
Dominik Richter, HelloFresh co-founder and CEO said: "2020 was without a doubt marked by unprecedented events. On the basis of our robust infrastructure, we managed to scale up our operations quickly to accommodate the rising demand. I am very proud of the team for this incredible achievement of delivering over 600 million meals to our customers in the safe space of their homes."
"Preparing and eating food at home has taken on a whole new meaning. As the pandemic hopefully winds down over the course of 2021, we expect consumers to continue to rely on e-commerce solutions to shop for food, as many have experienced the superior value proposition that we can offer in terms of price, variety and convenience."
Supermarket investor Supermarket Income REIT increased the value of its portfolio by more than 60% in the six months to 31 December.
Its direct Portfolio was independently valued at £885.3m, increasing by £345.9 million for the period following valuation growth of £31.9m and new acquisitions of £314m.
That represents a 5.5% valuation growth on a like-for-like basis for the six month period
New acquisitions in the period delivered a net initial yield of 5.1% versus a wider portfolio net initial yield of 4.7% – which was down on the 5% recorded in the same period last year.
Direct portfolio net loan to value ratio rose to 27.0% as at 31 December 2020 from 19.7% last year as it bought 13 more omnichannel supermarket assets in the six month period.
The group has provided total shareholder returns of 26.4% since the initial listing in July 2017.
Chairman Nick Hewson said: "The last 12 months have highlighted the critical role of grocery property in the UK's feed the nation infrastructure. Our supermarkets play a key role in supporting the response of the UK grocery sector to the pandemic and as a result we have experienced strong property investor interest in our market and consequently a tightening of yields.
"Since our IPO in July 2017, we are pleased to have delivered a Total Shareholder Return of 26.4% for our shareholders. We continue to offer investors stable, long-term, inflation-protected income, supported by a compelling real estate opportunity."
Vrigin Wines has begin trading this morning at 8am after its successful IPO.
After listing at 216p, Virgin Wines is currently trading at 233p.
CEO Jay Wright commented: "Today marks a truly exciting day in the history of Virgin Wines. Our successful IPO and admission to AIM represents a significant new chapter in the Group's long-term development. We have enjoyed strong, consistent growth leading to the Group delivering more than one million cases of wine to our customers during 2020.
"We have a clear strategy to continue this growth over the coming years which is underpinned by the strength of our customer proposition as well as the benefit of many positive consumer trends. I am pleased to welcome our new shareholders to Virgin Wines and look forward with confidence to our next phase as a public company."
On the markets this moring, the FTSE 100 has held onto yesterday's gains and is flat at 6,586.3pts.
McColl's has jumped a further 18.9% to 32.3% on the back of yesterday's announcement, Devro is up 5% to 186.2p and Hotel Chocolat is up 4.2% to 387.5p on this morning's half year results.
Fallers so far today include WH Smith, down 1.3% to 1,868p, Nichols, down 1.1% to 1,098p and Domino's Pizza Group, down 0.9% to 305.9p.
Yesterday in the City
The FTSE 100 started the week on the front foot, rising 1.6% to 6,588.5pts yesterday.
McColl's jumped 15.1% yesterday to 27.4p to its highest level so far in 2020 after extending its wholesale supply agreement with Morrisons and converting hundreds of stores to the supermarket's convenience offering.
Other risers included Marston's, up 2.2% to 97.8p, Glanbia, up 1.5% to €10.75 and Science in Sport, up 1.1% to 45.5p.