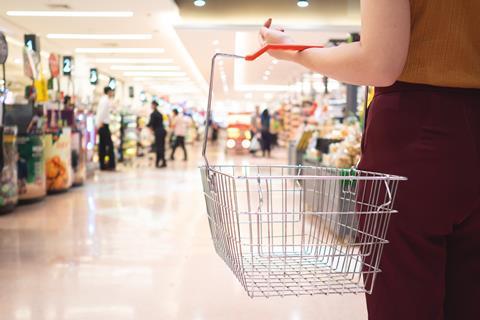 Top story
Grocery sales remained largely unchanged in June despite the widespread reopening of pubs and restaurants, as Nielsen data shows the discounters regaining market share as shopping habits return to normal.
Total Till grocery sales at UK supermarkets remain largely unchanged at -2.4% in the last four weeks ending 19 June, according to NielsenIQ, indicating that "supermarkets continue to drive high sales volumes despite the UK lockdown easing".
Nielsen said this represented a strong performance, despite the headline decline, as during the same period last year it recorded the second highest four weekly growth of 2020 at 14.4%.
A late May bank holiday weekend, combined with a short heatwave and the beginning of Euro2020 all helped to maintain grocery sales, which remained flat (-0.1%) over the last 12 weeks.
Online grocery sales declined by -6.9% over the last four weeks ending 19th June. However 8 million shoppers – equal to 28% of all households – continue to shop online every four weeks. Online share of FMCG sales is currently 13.1%.
NielsenIQ data also shows that some pre-covid shopping behaviours are beginning to be re-established, with shoppers continuing to visit stores more often, up 15% compared to this time last year. As a result, the average spend per visit has reduced by 15% to £17.2 from £20.4 a year ago.
This trend benefitted the discounters, with Lidl surging to growth of 20.4% during the 12 week period, while Aldo was up 8.9% – both aided by new store openings.
M&S also saw strong growth of 11.3% in the 12 week period, but only Sainsbury's was in growth of the major mults (+1.5%). Tesco was down 0.9%, Asda by 2.3% and Morrisons 3.3%.
Co-op, which was one of the pandemic's big sales winners, was down 9.2% year-on-year.
Mike Watkins, NielsenIQ's UK Head of Retailer and Business Insight, said: "With some lockdown restrictions still in place, British consumers have maintained spend at UK supermarkets, with sales remaining relatively buoyant over the last four week period against the high spend during the lockdown last year.
"Staycations for most families this year and the anticipated relaxation of remaining restrictions in July, are expected to be catalysts to a change in retail spend. Whilst more food spend will shift back to hospitality, the increase in seasonal travel and families and friends finally able to join together without restrictions, will give an added boost to food and drink categories at supermarkets."
Category performance also shifted in response to changes in weather, with delicatessen sales up 13.5%, as well as soft drinks (+12.3%), bakery (+8.7%) and crisps, snacks and nuts (+4.1%). This is in contrast to sales for frozen (-9.3%) and packaged grocery (-12.8%), whilst spend also shifted away from beers, wines and spirits (-4.4%) as indoor drinking and eating returned.
Morning update
The British Honey Company, the producer of honey, honey-infused spirits and alcohol sanitiser products, has posted a £1.2m in its first nine months as a listed company, but sales continue to grow strongly.
In the nine months to 31 December, the company recorded a loss for the year of £1.22m, compared with a £1.96m loss in the previous 12 months to March.
However, reflecting a strong performance over the last quarter of 2020, including the Christmas period, total revenues from continuing operations increased to approximately £1.5m for the nine months ending December 2020, representing a 270% increase over the corresponding period in 2019.
The company benefitted from increased online sales, which accounted by 18% of total revenues in the period and approximately 30% of revenues from September to December.
The Company's strategic collaboration with US List Distillery, which was signed at the end of March 2020, has enabled BHC to expand its product range to include List's rum, bourbon and rye whisky, whilst also generating export sales of the company's London Dry Gin which List is selling via its US distribution channels.
Although currently relatively modest, overseas sales, particularly to the United States and China, are an important element of BHC's growth strategy, notwithstanding the COVID pandemic which has impacted on BHC's ability to operate in both of these countries.
The company added that it is pursuing other M&A opportunities internationally whilst the UK remains a key focus in an area ripe for consolidation.
BHC is also actively seeking out new opportunities to deploy its proven product development skills in partnership with others, such as the exclusive international licensing agreement signed with English Heritage in August, and which is starting to gain traction in the UK.
It said the positive cash surplus generated by the company has enabled it to be well positioned to deal with the uncertainties that Covid 19 has created for the industry in the next 12 months.
"There is ongoing change in the behaviour of consumer spending and together with its distillers, the company is able to put resources into areas that require investment to meet this demand," it stated.
British Honey's chairman and CEO, Michael Williams commented: "The company's focus has been to build scale and to concentrate on business fundamentals. The group has made significant progress in 2020 and this positive trading momentum has continued into the current Financial Year, not least with the successful acquisition of Union Distillers Limited, completed in February.
"As Covid restrictions continue to be eased, the hospitality sector is gradually returning to normal and should be fully open by the summer. This will provide further opportunities for an improved performance by BHC with its considerably expanded product range and manufacturing capacity.
"The company is well placed both commercially and financially to achieve further growth in 2021 and beyond, taking full advantage of a significant shift in consumer purchasing and lifestyle habits.
"With these ongoing changes to the behaviour of consumer spending, the company is also able to deploy the necessary resources and investment to meet this demand and to drive its growth strategy forward, maximising the opportunities available to it. It is financially robust, with a strong cash position, an extensive and growing premium quality spirits range, a flexible business model and a highly skilled workforce."
Elsewhere, AIM-listed casual dining operator Tasty has updated the market on its reopening of its estate.
Following the lifting of the lockdown restrictions on 17 May 2021, we reopened most of our estate and now 49 of the company's 54 sites are fully open for trade.
Takeaway and delivery sales performed well during the most recent lockdown and throughout H1 and the company has made good progress in expanding delivery and click and collect across all sites. Its rollout of our new takeaway sub-brands, Out the Box and Out the Box Asia, has "progressed well" and is "contributing an additional revenue stream".
Since the relaxation of indoor dining restrictions, the six-week period to 27 June 2021 as a comparison to 2019 has shown strong like-for-like growth. Trading has benefitted from significant pent-up demand, and it said it is "encouraged by the initial strength of our overall trading performance despite the restaurants having restricted capacity due to social distancing".
"The board believes that, as a result of international travel restrictions, increased disposable income and a general strong desire to go out, trade will remain robust throughout the summer months," it stated.
Notwithstanding this, the company is taking measures to combat the challenges ahead posed by supply chain disruption, recruitment issues, wage inflation, the reintroduction of business rates, and the reduction in furlough and VAT support.
It has agreed consensual lease concessions and rent reductions on more than 80% of the estate and is continuing to negotiate with the remaining landlords and other creditors to settle any outstanding debts.
On the markets this morning, the FTSE 100 is up 0.3% to 7,094.8pts.
Early risers include Greencore, up 2.1% to 130p, SSP Group, up 2% to 282.5p, and Ocado, up 2% to 2,059p.
The day's early fallers include Science in Sport, down 2.3% to 78.2p, Nichols, down 2.3% to 1,405p and Parsley Box, down 1.4% to 180p.
Yesterday in the City
The FTSE 100 fell 0.9% to 7,073pts to start the week as markets reacted to new travel restrictions on British passengers following new curbs on holidaymakers to Europe.
Travel food retail specialist SSP Group was down 4.9% to 277p, while Nichols was down 2.5% to 1,437.5p, Coca-Cola Europacific Partners fell 2.3% to €49.88, WH Smith dropped 1.3% to 1,668p, Marks & Spencer was down 1.9% 150.6p and catering group Compass Group fell 1.8% to 1,509p.
Other fallers included DS Smith, down 1.6% to 416.7p and Devro, down 1.5% to 197p.
Greggs ended the day up 2.9% to 2,634p after seeing a stronger than expected sustained sales recovery in an unscheduled market update.
Other risers included Premier Foods, up 2.6% to 109p, AG Barr, up 2.1% to 530p, McColl's Retail Group, up 2.1% to 37.1p, Pets at Home, up 2% to 464.8p, Deliveroo, up 1.7% to 284.1p and Ocado, up 1.7% to 2,019p.