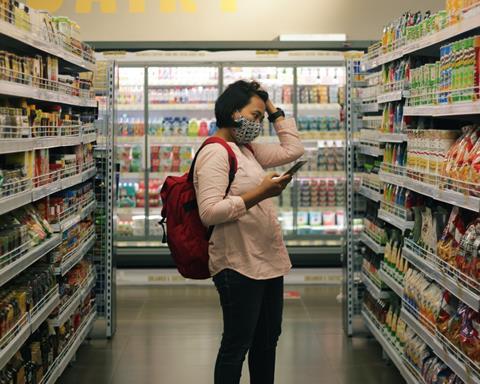 Top story
Grocery sales slipped back 1.6% in the 12 weeks to 13 June, according to Kantar, as the reopening of pubs and restaurants led to reduced spend at UK supermarkets.
The number of customers making in-store trips remains below pre-covid times, but since last year there has been a 13.1% increase in the number of shopping visits.
As visits to store rise, there has been a corresponding fall in the average spend per trip, down 13.6%, metrics which suggest Kantar suggests points to a return to more typical patterns.
However, supermarket footfall in the latest four weeks was down by five million trips compared with May, with the re-opening of indoor hospitality in certain parts of the country took some spend away from the grocers and into the nation's cafés and restaurants.
Notably, though, sales in the past 12 weeks were still £3.3bn higher than in 2019 before the pandemic hit, with sales up 11.9% on a two-year basis.
Aldi was the fastest growing supermarket, with sales up 6.6% while discounter contemporary Lidl saw sales growth of 4.9%.
Sainsbury's was the only one of the mults in growth (0f 0.4%), with Asda down 0.6%, Tesco 0.8% and Morrisons down 1.5%.
The bumper 2020 for the convenience sector has led to a significant downturn in 2021, with the Co-op down 15.8% year-on-year (though up 13.2% on a two-year basis), Iceland down 8.2% and symbols and independents down 28%.
Online sales accounted for the same proportion of the market – 13.4% – in the four weeks to 13 June as they did in May.
This plateau, and the fact that year-on-year sales were up by just 0.2%, suggests the appetite for large online shops is approaching a new baseline, Kantar suggested.
Ocado's growth slowed to 5.4% as demand for online groceries stabilised, though compared with two years ago it has seen a 50% increase in sales.
Kantar head of retail and consumer insight Fraser McKevitt commented: "While it's encouraging to see shoppers returning to the habits of old, there is still a way to go before the market entirely returns to normal.
"That's demonstrated by the fact that sales in the past 12 weeks were still £3.3 billion higher than in 2019 before the pandemic hit. Retailers will also be benefiting from sales of goods consumed on-the-go, such as picnics and lunches eaten at work, which are not captured in these numbers."
Grocery inflation now stands at -1.9% for the 12-week period ending 13 June 2021, with prices are rising fastest in markets such as chocolate, canned colas and savoury snacks while falling in fresh bacon, toilet tissues and ambient cooking sauces.
Kantar said the drop in inflation is partly because of an increase in the number of promotions currently on offer – this period 29.6% of all grocery spending was done on some kind of deal, up from 26.4% this time last year.
Morning update
The coronavirus outbreak led to a 24% drop in adjusted operating profits at packaging giant DS Smith, despite a strong recovery of corrugated box volumes in the second half of its financial year.
In the year to 30 April, DS Smith posted a 1% drop in constant currency revenues, as strong growth in the second half of the year was offset by reduced box pricing throughout its first half due to the annualisation of lower paper pricing and a decline in other volumes.
Organic corrugated box volumes grew 3.5% across the year, reflecting substantial growth from a 1% drop in the first half as they grew 8.2% in its second half.
This improvement was driven by exceptionally strong growth from Northern Europe, notably the UK, and strong growth also in Eastern Europe and North America. E-commerce was the driver behind much of the growth reflecting very substantial growth with existing e-commerce customers, while working with other customers to accelerate their transition into e-commerce sales.
Operating profit declined year-on-year to £311m from £455m, with adjusted operating profit falling by 24% on a constant currency basis to £502m.
This profit decline was despite corrugated box volume growth of £40 million, offset by additional costs incurred by the business in dealing with Covid-19 and a more general input cost volatility, particularly in recyclate, which represented a £66m headwind.
Profits were also impacted by the lower average selling prices for boxes, largely in the first half although the second half has seen more general price inflation.
DS Smith said the current financial year has "started well", with the volume momentum of the fourth quarter continuing into this year. Inflationary cost pressures have also continued, in particular old corrugated cases, but also other costs such as energy, transport and labour. Packaging prices have also started to increase and the company expects to fully recover these increasing costs.
"Whilst the business has seen reduced profitability over the last twelve months, we firmly believe that we exit 2020/21 stronger, further focused on the accelerated opportunities a post-Covid-19 world offers and that our customers will continue to recognise this going forward," it stated.
CEO Miles Roberts commented: "We invested heavily to keep all of our people safe and all of factories open throughout the pandemic and this enabled us to build good momentum through the year after a challenging Q1.
"The growth drivers of e-commerce sustainability and plastic-free packaging have accelerated over the last twelve months and we are very well placed to capitalise on this growth. We have worked hard over many years to focus our business purely on fibre-based packaging and this differentiation is clearly recognised by our customers."
DS Smith shares are down 1.6% to 425.3p so far this morning.
On the markets this morning, the FTSE 100 has edged up another few points to 7,065.5pts.
Morrisons has slipped 1.1% to 237.4p, but held on to the vast majority of its spectacular gains from yesterday.
Early risers include C&C Group, up 2.1% to 242p, Nichols, up 1.8% to 1,458.2p and Greencore, up 1.8% to 126.7p.
Fallers include Just Eat Takeaway.com, down 2.4% to 6,292p, McBride, down 2.3% to 84.8p and Naked Wines, down 1.8% to 697p.
Yesterday in the City
The FTSE 100 closed the day up 0.6% to 7,062.2pts yesterday.
Morrisons surged 34.6% to 240.2p after news broke of the £5.5bn bid from Clayton, Dubilier & Rice on expectation that CDR or another private equity bidder will come in with a higher offer.
Morrisons shares are now back to their highest level since November 2018, having slumped to just 157.8p in November 2020.
Other supermarkets were also boosted by the rally, with Sainsbury's up 3.8% to 270.1p, Tesco up 1.7% to 225.6p and Ocado up 4% to 1,957p.
Away from Morrisons, the City calendar for the rest of the week looks quiet.
Unilever, THG, Tesco and Coca-Cola HBC host AGMs this week, while GFK releases its monthly consumer confidence figures on Friday.