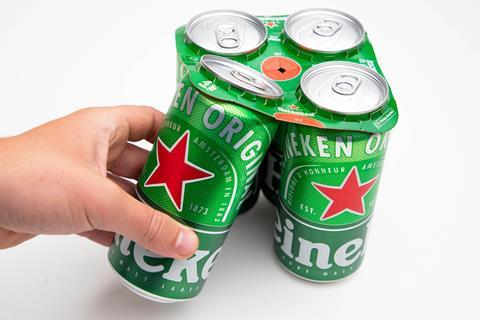 Top story
Profits have more than doubled at Heineken as sales at the Dutch brewer recovered as pubs and bars reopened following extended global lockdowns.
However, the group warned of continued uncertainty driven by the ongoing pandemic and of rising commodity prices putting pressure on margins.
Revenues in the first half of 2021 increased 14.1% on an organic basis to €9.97bn driven by 9.6% volume growth as the hospitality industry enjoyed a boost from the ending of restrictions and the European Football Championship.
Volumes of the core Heineken brand jumped 19.6% in the period, with double-digit growth in more than 50 markets worldwide.
The popularity of the zero alcohol variant continued to grow in the half, with volumes up 40% year on year.
Despite the strong improvement on last year, the group flagged that the recovery had not been uniform across all markets as new waves and variants of Covid led to renewed restrictions, particularly in Asia Pacific and Africa. It meant revenues were still 12.9% below 2019 levels and Heineken said it expected to remain behind pre-pandemic levels for the rest of the year.
Operating profits in the six months to the end of June soared 109.3% to €1.6bn thanks to the jump in sales, as well as continued cost controls and a group-wide restructuring programme.
Net profits leapt 320.3% to €896m.
Rising prices were expected to hamper profit growth in the second half of 2021, with the bottom line forecast by Heineken to be below a year ago and full-year results to remain lower than 2019 levels.
CEO Dolf Van Den Brink said he was pleased to report a strong set of results for the first half despite the ongoing challenges of the pandemic.
"I would like to thank our teams for their resilience and continued focus on safety. They were fast to service our customers and consumers when markets reopened, yet remained agile where restrictions were reintroduced.
"There is early momentum building towards EverGreen: we are strengthening our ability to drive consumer-centric innovation, building traction on our productivity programme and shaping our path to meet our Brew a Better World commitments.
"Yet there is reason for caution too. Firstly, Covid-19 remains a factor, with the biggest impact currently in key markets in Asia and Africa. Secondly, we see a rise in commodity costs, which, at current levels, will start affecting us in the second half of this year and have a material effect in 2022. Overall, we expect full year financial results to remain below 2019."
Shares in Heineken opened 0.3% higher at €98.48 this morning.
Morning update
Global agriculture group Camellia has acquired an 80% stake in Bardsley England for £15.7m.
Bardsley England is a major fruit farming business and the UK's second largest apple grower, supplying major supermarkets.
The farming operation covers 850 hectares (2,100 acres) in Kent and includes 27 orchards growing apples, pears, cherries, plums and grapes, as well as a large grading, packing and storage facility.
Bardsley grows nearly 18,000 tonnes of fruit a year and at peak season it employs 550 staff.
Camellia CEO Tom Franks said: "We have been looking for some time to increase our focus on agriculture where we have deep skills, and to increase our operations in the UK.
"Bardsley helps with both. It is located close to our HQ in Kent, which is the premier region for apple growing in the country. We look forward to partnering with the Bardsley family in the future."
Camellia will also make a loan to Bardsley of £9.3m to repay Bardsley's existing borrowings.
Domino's Pizza Group has announced that non-executive director Kevin Higgins is to step down from the board.
Higgins has served on the board since September 2014 after a 20-year career in branded consumer foods in Europe and the US.
He has chaired the remuneration committee at Domino's since 2014. Stella David will become chair of the remuneration committee effective from today.
Higgins will step down on 8 September when his current term in office expires.
Chairman Matt Shattock said: "On behalf of the board, I'd like to thank Kevin for his valuable contribution to the company over many years. I would also like to thank Kevin for his support since I joined the company and for his assistance as we refreshed and reshaped the board."
The FTSE 100 has started the week strongly, opening 0.9% higher at 7,092.20pts.
Early risers in food and drink include McBride, Nichols and WH Smith, while McColl's Retail Group, Finsbury Food Group and Science in Sport are among the fallers.
This week in the City
Following a busy five days on the markets last week as earnings seasons was in full flow, there is less news scheduled for this week as we enter the height of summer.
Tomorrow kicks off with the Greggs and Domino's Pizza Group interims
Retail property group Hammerson updates on its first-half results on Thursday, while in the US there is the latest quarterly figures from Kraft Heinz and Yum! Brands, and Naked Wines holds its AGM.
Cake Box also holds its AGM on Friday.