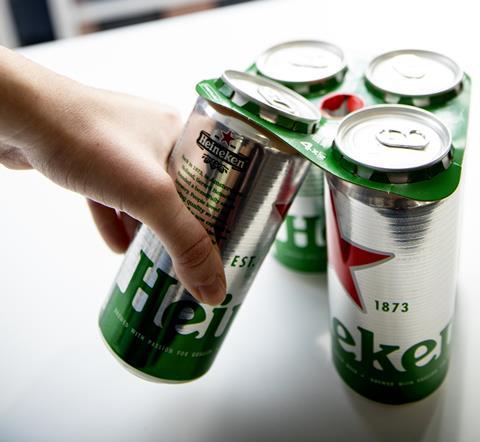 Top story
Heineken is cutting 8,000 jobs around the world in a €2bn cost-saving drive to reshape the group and kick-start growth in the wake of the coronavirus pandemic.
The Dutch brewer announced the move to reduce its 85,000-strong workforce by almost 10% as it revealed it had fallen into the red in 2020.
Heineken has been hit particularly hard by lockdowns across its markets as the group also own many pubs in the UK, as well as experiencing a dramatic decline in on-trade revenues that have affected the hospitality industry in general.
CEO Dolf van den Brink, who was appointed a year ago, said the impact of the pandemic on the business was amplified by its on-trade and geographic exposure.
Heineken slumped to a loss of €204m after being hit by exceptional charges of more than €1bn as it revalued assets in a number of markets hit by the pandemic.
Operating profits also plummeted by 79% to €778m as a result of the disruption, with on-trade volumes falling by 40% in Europe.
Heineken estimated that less than 30% of on-trade outlets were operating in Europe at the end of January 2021.
Revenues plunged 16.7% to €23.8bn in 2020 as overall volumes fell by 10%, with a good summer helping offset some of the declines.
Van den Brink said the group would "stretch beer and move beyond beer" as it fought to bounce back from the crisis. It planned to expand distribution of its popular zero alcohol 0.0% beer, as well as exploring the hard seltzer category.
He added the group was also looking to strengthen its digital route to the consumer.
"We aspire to deliver superior and profitable growth in a fast-changing world," he said.
"Firmly putting customers and consumers at the core we aim to continually enhance and expand our portfolio and footprint. We are stepping up our focus on continuous productivity improvements and raising our environmental and social sustainability ambitions.
"All of this gives us confidence that we will continue to deliver long-term value for all our stakeholders."
The 'EverGreen' restructuring programme is seeking €2bn in savings over the next two years to boost margins and increase productivity.
The cost-cutting drive also includes a plan to reduce the complexity and number of SKUs Heineken produces and looking at spending in the commercial side of the business.
Heineken hopes market conditions will improve in the second half of 2021 as vaccines take effect and markets lift restrictions.
The group added it expected to increase operating profit margin back to pre-pandemic levels of around 17% by 2023.
"EverGreen leverages both our strengths and new opportunities to chart our next chapter of growth," Van den Brink said.
Heineken shares fell 2.7% to €86.60 as markets opened this morning.
Morning update
It was quiet on the London exchange for grocery news this morning, while the FTSE 100 opened 0.2% higher at 6,542.11pts.
Early risers included McBride, Fevertree, WH Smith and Greencore, up 2.8% to 82p, 1.7% to 2,464p, 1.6% to 1,709p and 1.3% to 128.7p respectively.
Cider producer C&C Group was among the early fallers, down 2.6% to 244p, while Ocado was down another 2.4% to 2,636p and Vimto maker Nichols fell 2.3% to 1,185p.
Yesterday in the City
The FTSE 100 ended the day up 0.1% to 6,531.56pts.
Ocado shares fell by 1.7% to 2,700p yesterday after the online grocer announced its full-year results, with sales soaring during the pandemic. The retailer also cut its losses by almost 80%.
Elsewhere, Hotel Chocolat surged by 8.6% to 372p, Lotus Bakeries rose 3.3% to €4,400 on the back its 2020 results, while Greencore was up 3.2% to 127.1p and Diageo climbed 1.4% to 3,011p.
Bakkavor was among the day's fallers, down 3.1% to 86.3p, with French supermarket chain Casino behind by 2.3% to €26.08, PayPoint down 2.1% to 607p, and Hellofresh down 1.8% to €72.20.