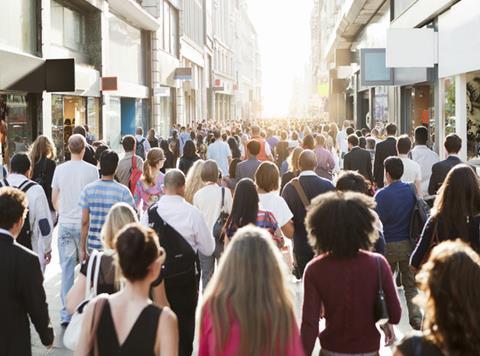 Top story
Retail sales continued to recover in March, though this recovery was centred on specific 'home-centric' categories as most sectors remain in significant decline.
The BRC-KPMG retail sales monitor for March found that total retail sales increased by 8.3% compared with the same period in 2019, after the survey shifted to pre-pandemic comparisons to generate "meaningful" figures.
UK retail sales also increased 8.4% on a like-for-like basis from March 2019, when they had decreased 1.1% from the preceding year.
However, out of the 13 categories tracked, 8 remained in significant decline. The pandemic has concentrated spend on home-centric categories such as food, computing and home appliances. While others, such as fashion and beauty remain in double digit decline compared to pre-pandemic levels.
Over the three months to March on a two-year basis, in-store sales of non-food items declined 44.4% on a total and 44.0% on a like-for-like basis. Total non-food retail sales decreased by 4.5% on a like-for-like basis and 4.7% on a total basis.
Over the same period, food sales increased 14.7% on a like-for-like basis and 11.6% on a total basis.
Online non-food sales increased by 94% in March on a two-year basis.
BRC CEO Helen Dickinson commented: "As we pass the one-year anniversary of the first lockdown, the retail industry has generally remained strong, despite numerous challenges. 2020 was a year like no other, with panic buying followed by a sharp decline in consumer spend, and then the first national lockdown which resulted in erratic retail sales.
"Despite some product ranges trading well, the next six months will be make or break for many retailers. Over the past three lockdowns, non-food retail stores have lost £30 billion, so many retailers will be relying on growing consumer confidence, and a return to town and city centres to fuel their recovery."
KPMG head of retail Paul Martin added: ""One year on from our first national lockdown the retail sector has changed dramatically, but remains remarkably resilient. March last year was a real anomaly and unlike anything we have seen before, with queues of consumers panic buying items and images of empty shelves across our media.
"As we enter the next stage of the Government's roadmap to recovery this month, high streets across the country will be hoping that pent up demand from consumers will be released and cash registers will start to ring again. Government support packages will provide some relief to struggling retailers until after the summer, but conditions will continue to be incredibly challenging as they face thinner margins and rising costs. All hopes of a strong recovery now rest on consumers feeling more confident to move away from their homes and hitting the high street to browse the stores that have been out of bounds for months."
Commenting on the grocery sector, IGD CEO Susan Barratt added: "Food and grocery showed a more restrained performance in March, following a strong February and nearly 12 months of elevated performance through the pandemic.
"However, March was still not a return to what we would usually expect for the time of year, as it was further distorted by the changed timing of Easter. Additionally, trading conditions have still been affected by the ongoing closure of non-essential retail and the out-of-home sector. We are unlikely to see a more settled, post-pandemic food and grocery performance until after restrictions further ease through April and May.
"While shopper sentiment is likely to improve as the economy opens up from April, confidence is likely to remain polarised, with confidence elevated among higher affluence groups but remaining fragile among lower affluence groups."
Morning update
The coronavirus lockdown has helped propel Just Eat Takeaway.com up 79% in the first quarter as UK order numbers rose almost 700%.
The group's quarterly order growth accelerated for the fourth consecutive quarter during the first three months of 2021.
It processed 200 million orders in the first quarter of 2021, representing a 79% increase compared with the same period of 2020.
Gross merchandise value amounted to €4.5 billion in the first quarter, up 89% on a constant currency basis compared with the first quarter of 2020.
Its fastest growing segment was the United Kingdom, with the rollout of its delivery network underpinning a 695% growth in its delivery order rate year-on-year.
Just Eat UK processed 64 million orders in the first quarter of 2021, up 96% compared with the same period of 2020.
New partnerships were signed with household brands such as Leon, Tortilla and Chipotle, as well as coffee chains Starbucks and Costa, adding to Just Eat's growing restaurant supply.
Overall, marketplace and delivery contributed almost equally to order growth – with the former "highly profitable" and deliveries "priced very competitively" allowing for future adjusted EBITDA gains.
To capitalise on te strong momentum from its investment programme, the company said it will continue to invest heavily and prioritise market share over adjusted EBITDA.
Management expects further order growth acceleration for 2021 compared with 2020.
Elsewhere, consumer spending fell 7.2% in March compared to the same period in 2019, as lockdown continued, according to Barclaycard.
However, spending on hotels, resorts and accommodation, as well as entertainment, showed early signs of improvement as Brits began to make plans for when restrictions are lifted.
Barclaycard found that spending on essential items grew 7.7% compared to 2019, the highest growth so far this year, which was bolstered by strong growth (+71.4%) in food and drink specialist stores.
While non-essential spend was down 14.5% compared to 2019, this represents a slight improvement compared to the previous two months of lockdown.
The figures suggest spending at restaurants should improve after further easing of restrictions on 12th April, as one in four Brits (26%) have already been booking post-lockdown activities, with 41% of these consumers booking restaurant reservations for meals outdoors.
On the markets this morning, the FTSE 100 has edged back another 0.2% to 6,876.8pts.
Risers so far this morning include Deliveroo, back up 3.6% to 260p, THG, up 2.9% to 691.7p and B&M European Value Retail, up 2.1% to 547p.
Fallers so far include SSP Group, down 2.8% to 315.7p, Bakkavor, down 1.2% to 121.5p and McColl's Retail Group, down 1.2% to 30.5p.
Yesterday in the City
The FTSE 100 had a subdued start to the week as the reopening of non-essential retailers and pubs did little to move the market as the long expected relaxation of lockdown had been priced into shares over recent months.
The index ended the day down 0.1% to 6,882pts having fallen back from a post-COVID high of 6,949.6pts set last week.
The day's risers included Finsbury Food Group, up 2% to 78.5p, Just Eat Takeaway.com, up 1.8% to 7,354p, Science in Sport, up 1.7% to 61p, Cranswick, up 1.4% to 3,850p, Coca-Cola European Partners, up 1.3% to €45.88 and PayPoint, up 1.3% to 618p.
Retailer Cake Box was up 2.8% to 261p as it reported record sales despite the challenges of ongoing lockdowns throughout 2020 and 2021.
The day's fallers include Nichols, down 2.5% to 1,360p, Bakkavor, down 2.4% to 123p, Ocado, down 2.3% to 2,100p, Premier Foods, down 2.1% to 96.1p, B&M European Value Retail, down 2.1% to 535.6p and DS Smith, down 1.8% to 407.5p.