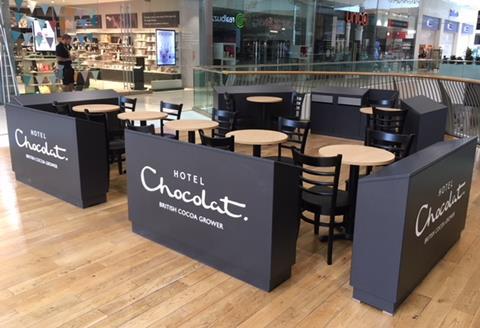 Top story
Hotel Chocolat has posted a financial year ahead of the board's expectations, with strong revenue and profit growth despite the impact of the pandemic.
Revenue for the 52 weeks ended 27 June increase of 21% to £164.6m year-on-year, with 80% of sales generated through digital, partners and continuity products as stores were closed or disrupted for six months of the period.
Gross margins increased by 90bps to 61.8% to drive a fourfold increase in profit before tax and exceptional costs of £10.1m compared to £2.4m in the previous year.
Underlying EBITDA increased to £28.6m from £21.6m.
Hotel Chocolat said it pro-actively shifted its channel mix to achieve strong sales growth, however this did result in additional costs.
The costs of digital are largely variable with sales volume, whereas store costs are largely fixed despite extended periods of closure. Costs of production and distribution were also increased as a result of the impacts of the social distancing and multiple stock relocations in response to changing lockdown restrictions.
However, the group maintained robust financial discipline through the period and was able to commit to repay the support received from the UK Government's Coronavirus Job Retention Scheme (£3.1m claimed in the period).
Statutory profit after tax was £5.7m, compared to a loss of £7.5m in the previous financial year.
Hotel Chocolat said it has entered 2022 "in a strong position, with an increased active customer base, and with multiple clear avenues for further growth, spanning product ranges, channels and territories, all of which are delivering encouraging progress".
Since the period end the group has traded in line with the Board's expectations.
The board said it remains confident in the company's ability to continue to "adapt and react swiftly to what will remain dynamic trading conditions over the coming months and to continue to deliver the brand's exciting, long-term growth".
CEO Angus Thirlwell commented: "These results show we have now evolved from a UK store-led brand to a globally ambitious digital-led brand. FY21 was a year where Hotel Chocolat improved on many fronts. Our digital and subscription-continuity models surged ahead and our global aspirations racked up more strong growth and progress.
"The continued challenges of COVID-19 pushed us to accelerate many of our existing plans and strategic initiatives, helping to strengthen our financial position, improve our multichannel capability, deepen customer engagement and loyalty, and accelerate the rate of product innovation, whilst continuing to make good progress in our two new and sizeable markets of the USA and Japan.
"I am confident that the strategic progress we have achieved over the past year has improved the performance and prospects of the business for significant years to come.
Hotel Chocolat shares are up 4.9% to six month highs of 425p so far this morning.
Morning update
In a trading update this morning Greggs said it had continued to grow sales compared to the pre-Covid period despite disruption to staffing and supply chains.
Two-year like-for-like sales in company-managed shops rose by 3.5% in its third quarter.
Growth was particularly strong in August when a 'staycation' effect was evident and remained in positive territory in September, with two-year like-for-like growth of 3% per cent in the four weeks to 2 October.
Delivery sales continued to "develop well", with 943 shops now involved in supplying customers through this channel.
Greggs said growth was supported by the broadening of its vegan-friendly food and drink options, which have been "well received".
In the year to date the chain has opened 84 new shops and closed 16 shops, giving a total of 2,146 shops trading at 2 October 2021 (comprising 1,785 company-managed shops and 361 franchised units).
For the year as a whole, Greggs continues to expect around 100 net openings, of which half are planned to be with franchise partners.
Greggs conceded that it has not been immune to pressures on staffing and supply chains and acknowledged it has "seen some disruption to the availability of labour and supply of ingredients and products in recent months".
It said that food input inflation pressures are also increasing and that whilst it has short-term protection as a result of forward buying positions, it expects costs to increase towards the end of 2021 and into 2022.
However, it said operational cost control has been good and the strong sales performance in the third quarter means that, subject to any unexpected COVID disruption, it expects the full year outcome to be ahead of previous expectations.
Meanwhile, at a capital markets day later today it will discuss with investors its longer term strategic growth plans.
Greggs' strategic direction remains consistent, focussing on further growth in the shop estate supplemented by development of new channels in the food-on-the-go market.
It has set an "ambitious" target to double turnover over next five years to circa £2.4bn in 2026 and will achieve this by accelerated the rate of net shop number growth to 150 per year from 2022 with potential for at least 3,000 shops.
It will also look to further develop multichannel sales by extending evening trading to more shops, building on initial successes in the online/delivery channel and rolling out its new app to more customers.
An investment programme will equip shops for this multichannel focus and will create additional supply chain capacity for growth.
"Success in driving like-for-like growth in new channels will leverage our existing asset and cost base more efficiently, and will allow us to continue to invest in our price competitiveness as well as even higher standards in terms of the sustainability of our customer offer," it stated.
"We believe that this, and the investment required for growth, can be managed whilst delivering strong returns for shareholders."
Greggs shares are up 4.2% to 2,994.5p on the results.
On the market this morning, the FTSE 100 is back up 0.5% to 7,048.2pts.
In addition to Hotel Chocolat and Greggs, early risers include McColl's, up 3.1% to 20.3p, Ocado, up 2.7% to 1,700.5p and Sainsbury's, up 1.7% to 299.2p.
Fallers include Bakkavor, down 4.5% to 124p, THG, down another 2.9% to 427.2p and Nichols, down 1.9% to 1,275p.
Yesterday in the City
The FTSE 100 ended Monday down 0.2% at 7,011pts.
Morrisons fell back 3.7% after the weekend auction raised its sales price by just 2p to 285.9p.
Other fallers included THG, down 3.3% to 440p, Compass Group, down 2.7% to 1,516p, McBride, down 2.5% to 72.1p, Nichols, down 1.9% to 1,300p, Premier Foods, down 1.8% to 112.6p, Hilton Food Group, down 1.9% to 1,140p, Associated British Foods, down 1.5% to 1,816.5p and WH Smith, down 1.8% to 1,717p.
Parsley Box recovered 11.4% from last week's share price collapse to the end the day at 39p.
Risers included Naked Wines, up 2.2% to 687p, Marks & Spencer, up 1.2% to 183.9p and SSP Group, up 0.9% to 284.9p.