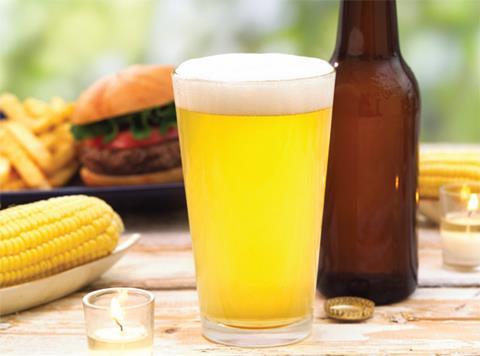 Top story
Grocery sales improved in the four weeks to July 17 as trading was boosted by better weather and the summer sports events, according to the latest figures from NielsenIQ.
Total till sales were down 1.3% year-on-year in the period to 17 July 2021, which representing an improvement on the 2.4% drop in June and 2.7% in the four weeks to 22 May.
Nielsen said slight uptick in sales is attributed to the rising demand for fresh foods as Brits had more opportunities to socialise with friends and family and to enjoy outdoor eating and drinking.
It added that the start of a recent heatwave, an increase in travel, summer sport and the growth in UK staycations all contributed to an uptick in supermarket sales.
This was particularly prevalent in the final week ending 17th July, where sales increased by 1.5%, which was the highest weekly growth since the week ending 12th June (+3.2%).
With more occasions to socialise and celebrate in groups, UK supermarkets experienced a shift in category spend, with delicatessen the fastest growing category (+9.4%) over the four week period. This was driven by sales of rotisserie (+43%), sandwiches (+31%), freshly prepared fruit (+27%), prepared pasta salads (+15%) and coleslaw (+8%).
Sales of lager grew by 22% within the week ending 17th July 1 as Brits stocked up for the Euro 2020 final on the previous Sunday. However, overall category sales for beers, wines and spirits within the full four week period declined by -6% compared with the same period last year as hospitality venues reopened.
Nielsen found in-store sales declined by 1.7% in the four week period, despite a 11% growth in store visits. Online grocery sales fell by 3.6%. However, online continues to maintain its market share of 13.4% for all FMCG similar to the 13.6% a year ago.
When compared to 2019, FMCG growths in the last four weeks are 7.6% which is an indication of the underlying demand.
In terms of retailer performance, the discounters Lidl (18.0%) and Aldi (6.4%) continue to lead the market in terms of growth. Marks & Spencer (6.0%) also experienced strong performance over the last 12 weeks.
Sainsbury's (-1.1%) was the best performing supermarket of the 'big 4', with market share increasing to 14%. Tesco was down 2.1%, Asda 5.3% and Morrisons 6.4%.
Mike Watkins, NielsenIQ's UK head of retailer and business insight, said: "The year-to-date growth among the grocery multiples is currently at 3%, which shows promise for the upcoming summer period. The continued demand for staycations and hopefully good summer weather will certainly put retailers in a strong position to gain incremental sales, with fresh and chilled foods as well as drinks expected to be popular categories with shoppers."
"However, there are two possible headwinds on the horizon. The first is that as consumer demand increases in recreation and leisure, this will dampen FMCG spend. The second, is that 4 in 10 households are now watching their spend more than they did before the pandemic, and should shoppers start to tighten wallets then retailers and brands would be under pressure to drive sales with promotions and price cuts. Looking ahead, and assuming economic activity will be close to pre Covid levels after the summer, we can then expect further normalisation of total till spend later in the year with the full year growths probably in the range of -1.5% to +1.5%."
Morning update
Reckitt Benckiser has posted a drop in first half profitability as mounting costs hit margins in its second quarter and revenues declined due to tough year-on-year comparisons.
Overall revenues for the first half were up 1.5% on a constant currency basis year-on-year at £6.6bn, but were down 1.3% at constant currency in the second quarter to £3bn, which was down 1% like for like and a drop of 8.2% on a statutory basis.
Reckitt said that excluding its China infant nutrition business like-for-like net revenue grew by 3.7% in the first half, which reflects volume growth of 0.3% and price / mix improvements of 3.4%.
Performance was driven by continued growth in hygiene, particularly in North America, offset by declines in health due to pantry loading in the comparative period, a weak cold and flu season and a continued competitive environment in IFCN China.
Two-year stacked like-for-like net revenue growth of 34.1% in hygiene, and 6.8% and 3.4% in health and nutrition (excluding IFCN China) respectively.
Reckitt said brands representing around 70% of net revenue grew by mid-single digits, but the remaining 30% which includes disinfection brands (Lysol and Dettol) and cold and flu brands (Mucinex, Strepsils and Lemsip) have been more impacted by COVID and declined by mid-single digits in the first half.
Adjusted operating profit in the first half fell 16% (9.6% fall at constant currencies) to £1.4bn, with an adjusted operating margin of 21.6% (down from 24.5% last year).
On a statutory basis it made a first half loss of £1.9bn, driven by a near £3bn charge from its agreement to sell IFCN China and a £165m loss on the sale of its Scholl business.
Reckitt said the competitive environment in IFCN China is increasingly challenging, while the margin decline also reflects continued investment and adverse product mix due to a weak cold and flu season which more than offset productivity savings and pricing.
Reckitt also said cost inflation accelerated in the second quarter and it will "take time to offset this headwind with productivity and pricing actions being implemented in the back half of the year and early next year".
As a result it guided that these costs will largely offset the margin accretion from the disposal of IFCN China and it forecasts adjusted operating profit margin to be between 22.7% to 23.2% (40 to 90bps lower than the 23.6% reported for the full year 2020).
It also said the third quarter is likely to be slower due to stronger prior year comparators, therefore it continues to expect like-for-like net revenue growth to be within the 0-2% range set out in February 2021.
CEO Laxman Narasimhan commented: "Against a challenging environment, I am encouraged by the progress we have made in the first half of the year.
"The markets are dynamic, reflecting several factors which we are closely monitoring, including the prevalence of COVID strains and government guidelines such as new lockdowns and social distancing. Although the third quarter will be slower due to strong prior year comparators, as the world gradually opens up and socialisation returns, cold and flu trends indicate a moderate season which should strengthen performance in the fourth quarter.
"Cost inflation accelerated in the second quarter and it will take time to offset this headwind with productivity and pricing actions being implemented in the back half of the year and early next year.
"We are encouraged by the progress we have made to strengthen the foundations of the business and reposition ourselves for sustainable growth. We expect to exit 2022 with a revenue growth run rate in the mid-single digits as we make our way towards our medium-term adjusted operating profit margin target in the mid-20s by the mid-20s."
Greencore has posted "strong revenue momentum" in its third quarter, with group pro forma revenue 53.1% above prior year levels and only 2.8% below equivalent pre-COVID levels in the third quarter of 2019.
It said progressive improvement in monthly trading has seen group pro forma revenue in June 1% above comparative pre-COVID levels in FY19
The recovery was driven by food to go, which is 91.1% above prior year levels at narrowed the gap to 2019 performance to 9.3% down.
Overall reported Group revenue in Q3 was £360.2m, an increase of 49.7% on the prior year. Revenue in the Group's food to go categories was £236.5m in the quarter, while in the first three trading weeks of July, revenues from the group's food to go categories were 7% below the equivalent pre-COVID levels in 2019.
Greencore also posted positive adjusted operating profit for the quarter, in line with management expectations.
It said Q3 inflation trends in the Group's main UK cost components were broadly as anticipated. Supply chain and labour challenges are increasing across the UK food system and the group is working closely with customers and suppliers to mitigate these challenges and to maintain strong operational service levels.
Notwithstanding the supply chain and labour challenges impacting the broader UK food industry at present, Greencore said it is confident in its ability to deliver strong year on year profit and cashflow progression in the second half of the year
The group now expects to generate an 2021 adjusted operating profit outturn of between £36m and £40m, versus previous guidance of above 2020 levels of £32.5m
CEO Patrick Coveney commented: "We are encouraged by the improvement in revenue, profitability and cash flow momentum in Q3 and the early weeks of Q4. Against the backdrop of the UK economy reopening fully, we are rebuilding our economic model effectively and sustainably with all stakeholders, supported by our long-standing customer relationships and further enhanced by the new business wins we have secured this year.
"The performance is underpinned in particular by the energy and dedication of our people. We are also delighted to have made progress in creating a fully recyclable sandwich skillet, a key commitment of our sustainability strategy. We have a strong position in the dynamic UK convenience food market and are confident about our medium-term prospects."
Newly listed wholesaler Kitwave Group has posted financial results for the six months ended 30 April 2021.
During the six months being reported the group traded in line with the board's expectations, despite trading being impacted by COVID-19 lockdown restrictions and, in particular, closures within the leisure and hospitality sector.
Since April 2021, trading has returned close to pre-pandemic levels and the company said the group is currently trading in line with market expectations.
Revenues in the period, which was before its listing in May, fell to £147.1m from £399m in the previous year.
Operating profit was down to £0.8m from £7.6m in the same period in 2020.
It said trading during June and July 2021 has been strong as a result of a period of warmer weather and consumer interest in the UEFA European Championship driving sales, as well as the leisure and hospitality sectors reopening further as nationwide COVID-19 lockdown restrictions have eased.
CEO Paul Young commented: "All of the Group's divisions have experienced some level of impact from the stop-start nature of COVID-19 restrictions during the period. Supply to pubs, restaurants and vending machine operators was severely disrupted as these businesses were either closed or operating under constraints. In contrast, our Frozen & Chilled division was extremely resilient and operated close to pre-COVID-19 levels throughout the period.
"Since mid-May 2021, COVID-19 lockdown restrictions have been eased and trade has accelerated. Thanks to a period of warmer weather and consumer interest in the Euros, we are already experiencing sales volumes that are moving toward pre-pandemic levels; this was the case even before the highly anticipated 19 July 2021 'Freedom Day'.
"As such, we remain confident that the Group is on track to achieve its full year expectations. This belief is further supported by the timing of the return to normal, as it allows the Group to take full advantage of the second half of our financial year, when trading is traditionally stronger due to the seasonality of the Frozen & Chilled division.
"The board anticipates a buoyant market to return once COVID-19 lockdown restrictions are removed fully and has confidence that the Group will continue to be one of the leading independent delivered wholesale providers in the UK. The UK grocery and foodservice wholesale market remains highly fragmented and the directors believe this presents Kitwave with numerous additional growth opportunities."
On the markets this morning, the FTSE 100 has started the day on the back foot, falling 0.9% to 6,963.8pts.
Risers include Greencore, up 3.3% to 133.1p, McColl's Retail Group, up 2.4% to 36.6p and Hotel Chocolat, up 1.6% to 369.8p.
Reckitt has slumped 9.4% to 5,642p, while FeverTree is down 2.5% to 2,245p and McBride is down 2.2% to 84.9p.
Yesterday in the City
The FTSE 100 kicked off the week relatively flat, edging up 0.1% to 7,025.4pts.
Cranswick was up 2.5% to 4,100 as it reported a 9.6% increase in revenues in the 13 weeks to 26 June with volumes up 7.7%.
Other risers included Greggs, up 2.1% to 2,740p, SSP Group, up 2.1% to 246.5p, C&C Group, up 2% to 230.8p, Greencore, up 1.9% to 128.9p, Pets at Home, up 1.9% to 497.8p, WH Smith, up 1.7% to 1,680p and Marks & Spencer, up 1.6% to 142.7p.
The day's fallers included Glanbia, down 4.1% to €14.00, Unilever, down 2.7% to 4,031p, B&M European Value Retail, down 2.4% to 563.4p, Just Eat Takeaway.com, down 1.8% to 5,991p, Britvic, down 1.8% to 955p, PZ Cussons, down 1.6% to 253.5p and Diageo, down 1.3% to 3,461.5p.