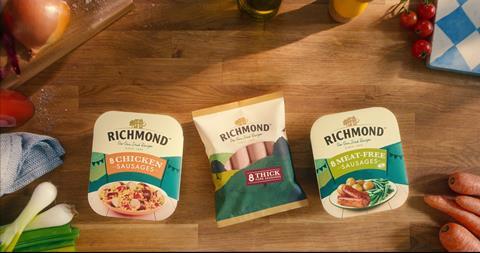 Top story
Kerry Group has reported a strong rise in revenues and profits in the first half of its financial year as it continues to shake-up its portfolio.
The group reported a revenue increase of 4.9% to €3.6bn in the first six months of the year, with volumes up 9% and pricing up 0.5%, but dragged back by a negative currency translation impact of 5.4%.
Its taste & nutrition division continued its "positive momentum", with revenues up 9.8% to €2.9bn and volume growth of 18.1%.
The foodervice channel saw improved market conditions with further reopening of operations in many regions and increased customer innovation activity particularly in the second quarter, ending the quarter up 25.2% on a volume basis.
The retail channel continued to deliver strong growth of 5.4%, supported by an increased level of local innovation, with a number of launches incorporating its Radicle plant-based range.
Business volumes in developing markets increased by 15.3% with strong growth across all regions. The Americas was up 8.1%, and while Europe showed volume growth of 10.7%, both with particularly strong growth in Q2.
Consumer foods, of which Kerry has agreed to sell a significant chunk to US poultry giant Pilgrim's Pride, posted revenues growth of 4.6% to €674m.
Volumes were up 4.6%, led by snacking, meat-free ranges and chilled ready meals, while pricing was up 0.4%.
Kerry said the Richmond sausage range delivered very good growth in the period, with meat-free offerings continuing to drive further market share gains supported by strong innovation and new launch activity. The Denny brand performed well, while reduced retailer deli counter operations impacted sales of sliced cooked meats. Performance of Dairygold and spreadable butter was lower reflecting the lapping of strong prior year comparatives.
Chilled meals achieved strong growth, while frozen meals sales improved through the period after being initially impacted by increased customer stocking at the end of the previous year.
The snacking range delivered strong growth primarily through Fridge Raiders, while the Strings & Things range, led by Cheestrings achieved very good growth with the reopening of schools at the end of the first quarter. The Oakhouse Foods home delivery business continued to perform very well across the period.
Group trading profit increased by 13.0% to €357.1m, with trading profit margin increasing by 70bps to 10.0% in the period, reflecting significant operating leverage given the impact of COVID-19 in the prior year, partially offset by translation currency headwinds and net KerryExcel investments.
Kerry continues to tailor its portfolio to concentrate on core growth assets its taste & nutrition division.
As previously announced in the period, it has agreed to by food technology group Niacet for €853m and the acquisition of Spanish biotechnology company Biosearch, while selling its consumer foods' meats and meals business to Pilgrim's Pride for €819m.
CEO Edmond Scanlon commented: "We are pleased with overall performance in the period, reflecting continued strong growth in our retail channel, with good progression and momentum in foodservice while lapping lower prior year levels. The Americas had good overall volume growth, Europe delivered an excellent relative performance, while growth in APMEA remained strong despite challenging conditions in some local markets. A number of our end use markets had strong category development in the period, with Beverage in particular achieving excellent growth.
"Our performance through the period gives us continued confidence in our full year outlook, while recognising the inherent uncertainty that will remain in many regions through the remainder of the year. Our earnings guidance range has been updated as a result, and we have also reflected the expected impact from portfolio developments."
Kerry shares have fallen 2.4% to €126.30 so far this morning.
Morning update
Heineken has announced it has taken control United Breweries Limited India following its annual general meeting on 29 July 2021.
This follows Heineken's recent acquisition of additional ordinary shares in UBL on 23 June 2021, taking its shareholding in UBL from 46.5% to 61.5%.
Dolf van den Brink, chairman and CEO, commented: "UBL has a proud history dating back more than a century as an influential shaper of the beer industry in India. It built its position as the undisputed market leader in India with a strong network of breweries across the country and a fantastic portfolio led by its iconic Kingfisher brand family, complemented more recently by a strong Heineken international brand portfolio.
"We are honoured to build on this legacy and look forward to working with our colleagues at UBL to continue to win in the market, delight consumers and customers and unlock future growth."
Heineken said India offers an "exciting long-term growth opportunity" as per capita beer consumption is low at 2 litres per annum. Its growing population of nearly 1.4 billion people includes a strong emerging middle class, enabling further premiumisation.
UBL will be a top Heineken operating company and Kingfisher a top 5 global brand.
The company expects the consolidation of UBL will have a small accretive effect on earnings per share and a dilutive effect on operating profit margin.
On the markets this morning, the FTSE 100 has fallen 0.6% to 7,037.3pts.
Early fallers include Pets at Home, down another 3.7% to 455.2p, SSP Group, down 3.2% to 261p and THG, down 2.1% to 583p.
Risers so far include Hotel Chocolat, up 1.1% to 367p, Deliveroo, up 0.9% to 327.9p and PZ Cussons, up 0.6% to 249p.
Yesterday in the City
The FTSE 100 was up 0.9% yesterday to 7,078.4pts on a busy day for of grocery and fmcg results.
Nestle was down 0.4% to CHF113.70 after the world's largest food group beat top-line expectations but downgraded full year profits forecasts on rising costs.
AB In Bev sank 5.6% to €54.85 despite a strong rebound in sales as drinkers return to pubs and bars, as its costs hampered profit recovery.
Diageo was up 0.8% to 3,540p after its own strong recovery in top-line growth as Covid restrictions are relaxed.
Compass Group jumped 3.7% to 1,553.5 as catering rebounded in the most recent quarter.
Pets at Home slumped 5.7% to 472.6p despite a further quarter of strong sales and the forecast of full year profits at the top end of current expectations.