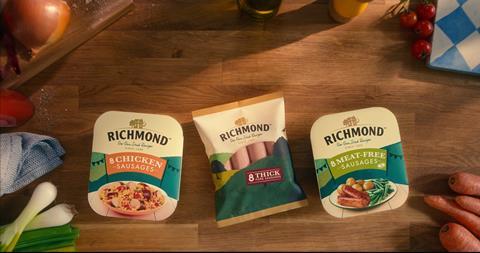 Top story
Irish food and nutrition supplier Kerry Group has posted a 4% drop in annual sales in 2020, which it said representing a 'strong recovery' since April with imporovements in its taste & nutrition and consumer foods divisions.
Overall group revenue was down 4% to €7bn in 2020, with an overall volume reduction of 2.9%.
Sales for its taste & nutrition division, were down 4.4% to €5.8bn, comprising a volume decrease of 3%, an adverse translation currency impact of 2.6% and contribution from business acquisitions of 1.2%.
Kerry said the division had began the year strongly before the global spread of COVID‐19. While performance was most impacted in the second quarter, business volumes "recovered well" since then and returned to growth in the fourth quarter.
Kerry's said its nutrition and wellness technology portfolio had a very good performance within the retail channel through customised solutions incorporating its broad protein portfolio, fermented ingredients, probiotics and immunity enhancing technologies.
Business volumes in the foodservice channel declined 19% in the year, with many out‐of‐home food and beverage outlets closed for an extended period of time.
On consumer foods, which Kerry is reportedly considering selling or spinning off, revenues were down 2.1% to €1.28bn as volumes fell 2.6%.
However, excluding the impact of the ready meals contract exit, volume would have increased by 2.2%.
Kerry said the 2020 market saw major variations in category performances through the year, as consumers' purchasing and consumption behaviours changed significantly as a result of COVID-19 and retailers scaled back category product listings and their freshly prepared over‐the‐counter operations.
Its Richmond sausage range achieved very good growth in the year, with strong growth across Kerry's branded meat-free ranges driving further market share gains. The Denny brand performed well, while overall meat sales were impacted by reduced retailer deli counter operations.
Spreadable butter and Dairygold performed well due to increased at-home consumption.
However, chilled meals were impacted by reduced consumer impulse purchases, while frozen meals benefitted from increased retailer stocking in the fourth quarter. Plant-based meals had strong growth across both chilled and frozen ranges through the year.
Meanwhile, its snacking range and home delivery meals business achieved very strong growth in the year, led by Fridge Raiders, which benefitted from increased at-home snacking consumption.
Overall, the group reported trading profit of €797.2m, which was down from €902.7m last year and reflected the impact of COVID-19.
Group trading margin decreased by 100bps to 11.5% as a result of operating deleverage and COVID‐related costs partially offset by cost mitigation actions, with significant recovery in business margins across the second half of the year.
Net capital expenditure remained relatively level at €311m (2019: €315m) and research and development expenditure edged back to €282m (2019: €291m).
CEO Edmond Scanlon commented: "This has been a truly unique year, with the daily lives of people across the world profoundly impacted by the COVID‐19 pandemic.
"In the year, there were notable distinctions in business performance by channel. Sustained strong growth was achieved in the retail channel, primarily through growth in authentic cooking, plant-based offerings and health and wellness products. Performance in our foodservice channel was most significantly impacted in the second quarter, as the introduction of restrictions affected our customers' operations. The proactive nature of our business model has been a key driver of our strong recovery through the year, as we supported foodservice customers in adapting their operations and menus to cater for increased consumer demand for takeaway, online and delivery.
"We made very good progress on a number of strategic fronts. We commenced the strategic development of our Georgia, US facility, which will have world-leading capabilities. We launched our 2030 sustainability strategy – Beyond the Horizon, which details Kerry's sustainability targets and will be central to our growth strategy, as we continue to innovate with our customers and expand our reach of sustainable nutrition solutions. We completed a number of key acquisitions aligned to our strategic growth priorities in the year, and have since announced our intention to acquire Spanish listed Biosearch Life."
"While uncertainty from COVID-19 continues to impact our customers, consumers and industry, we will continue to co-create with our customers to meet accelerating consumer demands, and look forward to a year of strong recovery and good growth."
Kerry expects its taste & nutrition to see "strong growth" in the retail channel in 2021, with continued recovery in foodservice, underpinned by a very good innovation pipeline and strong customer engagement – albeit the shorter-term impact from COVID-19 will continue through Q1, where it is expecting flat to positive volume growth in this quarter.
Consumer foods business has a "good growth outlook supported by continued innovation and the strength of our brands".
Kerry said it will also continue to pursue M&A opportunities "aligned to our strategic growth priorities".
Kerry shares are up 0.6% to €108.40 so far this morning.
Morning update
The FTSE 100 has sustained its gains from yesterday and risen a further 0.4% to 6,784.3pts so far this morning.
Early risers include McBride, up 6% to 84.8p, Nichols, up 4.2% to 1,295p and AG Barr, up 2.7% to 500p.
Fallers so far today include Marston's, down 2.4% to 92.8p, Finsbury Food Group, down 1.8% to 71p and Compass Group, down 1.4% to 1,474.5p.
Yesterday in the City
The FTSE 100 jumped 2.5% to 6,756.1 to end trading at its highest closing price for a month on optimism about the rollout of coronavirus vaccines and the potential ending of lockdown conditions.
Those travel and food to go shares that have suffered this year rebounded yesterday, including WH Smith, back up 12.3% to 1,739p, SSP Group, up 6.8% to 319p, Marks & Spencer, up 6.6% to 138.9p, Compass Group, up 6.1% to 1,496p and Primark owner Associated British Foods, up 5.4% to 2,348p.
The day's fallers included FeverTree, down 3% to 2,351p, Science in Sport, down 2.1% to 46p, Cranswick, down 1.4% to 3,506p, Just Eat Takeaway.com. down 1.2% to 7,838p and PZ Cussons, down 1.1% to 263.5p.