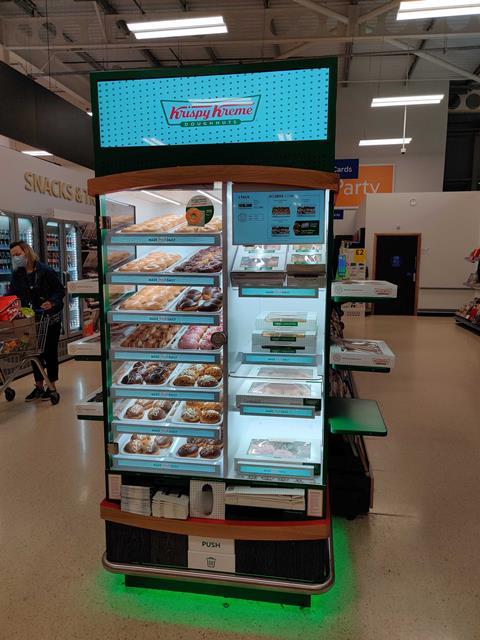 Top story
Doughnut maker Krispy Kreme looks set to be valued at up to $4bn in an upcoming IPO in New York.
The US-based company, which is owned by JAB Holdings, plans to sell almost 27 million shares at a range of $21 to $24 each, according to its latest regulatory filing.
It would value Krispy Kreme at between $3.5bn and $4bn when it floats on the NASDAQ later this year.
Krispy Kreme is looking to raise up to $640m through the IPO, which it plans to use to pay down its debt, repurchase shares from executives and for "general corporate purposes".
The business, which is also available in UK supermarkets and c-stores in branded concession stands, will trade under the ticker symbol 'DNUT'.
The move comes amid a wave of IPOs in the US market this year, but unlike healthy brands such as Oatly, Krispy Kreme is banking on its indulgent positioning to attract investors.
Revenues in 2020 soared 17% to $1.1bn, the highest level in the brand's history, as consumers reached for sugary snacks as a comfort during the coronavirus pandemic. Although, the company still reported a net loss.
"Our strategy is built on our belief that almost all consumers desire an occasional indulgence, and that when they indulge, they want a high quality, emotionally differentiated experience," Krispy Kreme said in an earlier filing at the start of June. "We believe this desire, especially one which is affordable to consumers, exists during good times and bad."
Net revenues for the chain increased 23% to $322m in the quarter ended 4 April, according to yesterday's latest filing. Its net loss also shrunk to just $378,000, compared with $11m in the same period of 2020.
The IPO will represent a return to public markets for Krispy Kreme, which was taken private by JAB in 2016 in a $1.4bn deal.
Morning update
Drinks group Pernod Ricard has upgraded its profit expectations as the pace of recovery following the easing or Covid restrictions proved to be stronger than anticipated.
In its third-quarter update in April, Pernod guided that thanks to a return to organic sales growth its profits would be up 10% in the 2021 financial year.
However, on-trade demand is accelerating and off-trade remains "resilient".
"Thanks to this dynamism, Pernod Ricard now expects an organic growth in profit from recurring operations for FY21 of circa +16%," the company said this morning.
"As a result, FY21 profit from recurring operations should, in organic terms, be broadly in line with that of FY19, albeit with sales still impacted by restrictions in the on-trade and travel retail, and structure costs not yet at their normative levels."
The FTSE 100 opened slightly down by 0.03% to 7,088.13pts.
Shares in Pernod Ricard opened 2.5% higher at €185.
Early risers included McBride, Wynnstay Group and Stock Spirits Group, while Nichols, Glanbia and Science in Sport were among the fallers.
Yesterday in the City
The FTSE 100 continued its recovery from Friday's heavy falls, climbing 0.5% to 7,096.9p.
Morrisons dipped back slightly yesterday after powering 34% higher on Monday on the back of the rejected £5.5bn bid from CD&R. The supermarket stock ended the day 1% down to 237.9p as the markets await the next move from the private equity firm.
Rivals Ocado rose another 1.1% to 1,979p,Sainsbury's edged up 0.2% more to 270.6p and Tesco slipped 0.5% to 224.5p.
Elsewhere, risers included C&C Group, up 4.7% to 248p, Kerry Group, up 4% to €112.55, Greencore Group, up 2.9% to 128.1p, and Marston's, up 2.9% to 93.1p.
Fallers included Wynnstay Group, down 4.2% to 436p, SSP Group, down 2.3% to 295.6p, McColl's Retail Group, down 2.1% to 36.5p, and Finsbury Food Group, down 1.8% to 89.4p.