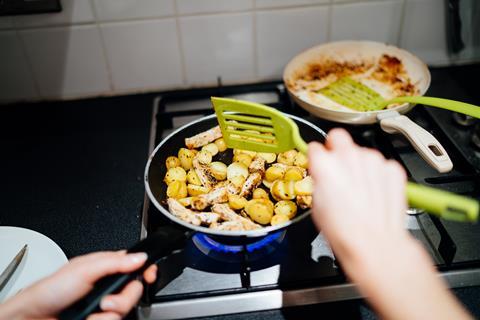 Top story
Ultimate Products has raised its expectations for the year as the boom in online shopping and supermarkets during lockdown continues to benefit the consumer goods group.
Sales at the Oldham-headquartered group, which sells brands such as Beldray, Kleeneze and Salter to more than 300 retailers around the world, have increased 11.7% to £75.4m in the six months ended 31 January 2021.
The online and supermarket channels performed particularly well, continuing the trend from recent years for these two sources to account for a growing share of group revenues, Ultimate Products said in the trading update.
Beldray, the group's proprietory brand for laundry and floor care continued to be a standout performer across teh portfolio.
Cookware, laundry cleaning, floorcare and kitchen eletrical products also traded strongly as customers prioritised spending on quality products, the group added.
Given the continued momentum in the order book, the board now expects the performance in teh 2021 financial year to be ahead of current expectations, with revenues in excess of £135m.
Depiste increased shipping rates for products sourced from China ahead of Chinese New Year on 12 February, Ultimate Products forecast underlying EBITDA for the year of more than £12.6m, with underlying pre-tax profits of in excess of £10.3m.
Morning update
Fresh cake retailer Cake Box has opened its 150th store as CEO Sukh Chamdal hails the resilience of the business over the past 12 months.
The new outlet in Romford is teh company's 66th new opening since its IPO on the AIM market in June 2018.
Alongside the store roll-out programme, the group said it continued to make further progress on strategic initiatives, including the development of its own-brand delivery platform, which complements iexisting click & collect and third-party delivery offerings.
Following investment to support the group's continued expansion, operations at Cake Box's new bakery and distribution centre in Coventry are due to begin shortly, adding to existing facilities in Enfield and Bradford.
New product innovation which has been rolled out to customers includes improved loaf cake ranges, with gluten free and vegan options, alongside a ready-made, egg-free custard.
Chamdal said: "We're thrilled to have reached this landmark in the Cake Box growth story. This is testament to the entrepreneurialism and quality of our franchisees and the resilience of our business model, which has shone through over the last twelve months, in a difficult environment.
"The world is still an uncertain place, but the progress we've made in bringing our unique proposition to more customers than ever gives us confidence that we will continue our growth journey and emerge a bigger, better business."
Dekel Agri-Vision, the West African focused agriculture company, has entered into an agreement to acquire an additional 16.7% interest in the large scale raw cashew nut processing project in Côte d'Ivoire for £1.1m. The move will increase its interest in the project to 70.7%.
Under a phased development programme, the plant at Tiebissou will commence production at an initial raw cashew nut processing capacity of 10,000 tonnes a year. Within 12-24 months, production at the plant is expected to increase by 50% to 15,000 tpa at no extra capital outlay by increasing the number of shifts of employees from two to three per day.
From this level, it is envisaged cashflows generated by the plant will largely fund a doubling in capacity to 30,000 tpa.
Dekel Agri-Vision executive director Lincoln Moore said: "With the commencement of cashew processing operations at Tiebissou in Q2 2021 rapidly approaching, we believe this is the right time to increase our interest in what promises to be a strong margin project that will scale up and diversify our revenues and transform our financial profile.
"We now believe we have a clear line of sight towards building a multi-project, multi-commodity agriculture company, which has the potential to generate significant returns for investors and significant benefits for the local smallholders with whom we work closely with."
The FTSE 100 has started the week on the front foot, climbing 0.3% to 6,507.88pts as investors feel confident over Covid vaccines and the upcoming US stimulus package.
Early risers include Stock Spirits Group, up 2.1% to 292p, PZ Cussons, up 2.1% to 270.5p, and Bakkavor, up 1.9% to 88p.
Fallers so far include M&S, down 3.1% to 134p, Glanbia, down 2.8% to €10.19, Science in Sport, down 1.5% to 47.3p, and Tesco, down 1.4% to 243p.
This week in the City
The big news of the week on the markets for the grocer sector is the Ocado finals tomorrow.
Tuesday also brings the latest BRC-KPMG retail sales for January and the latest Nielsen grocery figures.
Also in the grocery sector, Tesco shareholders will decide on the £5bn special dividend from the recent sale of the Asia business.
Elsewhere it is a busy week for big fmcg players, with quarterly results from Coca-Cola on Wednesday and rival PepsiCo on Thursday, along with Kraft-Heinz.
Heineken also reports its latest numbers on Wednesday, while packaging giant Smurfit Kappa announces full-year results.
Thursday brings full-year results from two Coke bottlers: Coca-Cola HBC and Coca-Cola European Partners.
Spirits group Pernod Ricard also announces quarterly results on Thursday.