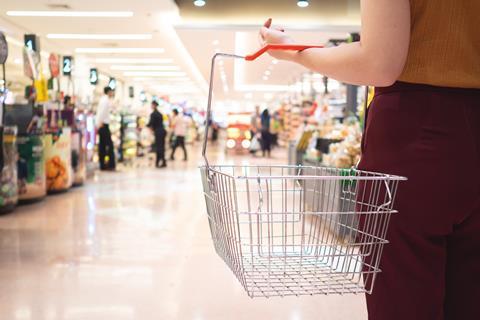 Top story
UK retail sales jumped 10% in May on a two-year basis, driven by buoyant consumer spending as the UK reopens from the coronavirus lockdown.
On a total sales basis, sales increased by 10.0% in May against May 2019, according to the BRC-KPMG Retail Sales Monitor, which is up on the 3-month average growth of 8.5% on a two-year basis to remove 2020 distortions.
UK retail sales surged by 23.7% on a like-for-like sales basis from May 2019 as online sales play a far greater role in LFL, which has increased the growth rate significantly.
Over the three months to May, in-store sales of non-food items declined 16.7% on a total sales basis and increased 27.1% on a like-for-like sales basis. Total non-food sales increased by 7.5% over the three month period.
Online Non-Food sales increased by 39.1% in May, against a growth of 1.5% in May 2019.
For the month of May, in-store non-food sales remained negative, though much improved from previous months.
Over the three months to May, food sales increased 9.8% on a total sales basis and 10.2% on a like-for-like sales basis, with food still in growth in May despite the reopening of pubs and restaurants.
BRC chief exec Helen Dickinson commented: "Retail sales were buoyant in May thanks to the reopening of hospitality, coupled with the afterglow of non-essential retail's own return. Pent-up demand for the instore shopping experience, as well as the first signs of summer weather, helped retail to the strongest sales growth of the pandemic.
"Furniture and Homeware sales continued to perform well as consumers were able to see and feel items instore, while Clothing and Footwear saw their second consecutive month of growth due to the warmer weather and easing of social restrictions. There is a growing sense of consumer confidence, boosted not only by the widespread uptake of vaccinations and testing, but also retailers' own significant investment in safety measures.
"Large cities have been hardest hit by the pandemic, with so many people still working from home and footfall remaining considerably down as shoppers increasingly choose to shop local. Now is the time to consider what our future high streets and town centres will look like a decade from now. We must adapt to these changes, not only to build back better but also to build forward.
"With vacancy rates still rising in many parts of the country, we must reimagine how we integrate residential and commercial property, allowing us to build stronger local communities that encompass leisure, retail, services, and homes. This will require retailers, property developers and local government to work together and plan city centres that cater to these changing demands and truly innovate the high street model."
Paul Martin, UK Head of Retail, added: "The rain in May failed to dampen consumer demand and shoppers continued to return to the high street.
"Clothing retailers were the biggest beneficiaries of pent up demand, clocking up increases of over 100% as an easing of restrictions saw stores reopen and social events slowly come back on the agenda.
"Although some spend has migrated to high street, there was still high penetration of online spending in May reinforcing the view that the pandemic has seen a step up in online activity as some consumers maintain their use of this channel out of habit and choice and some remain nervous about venturing back into stores.
On food and drink, Susan Barratt, CEO of IGD, commented: "A combination of the long-awaited improvement in the weather, the late bank holiday, and the Champions League final, all served to deliver a boost to food and drink sales at the end of May.
"Despite this, food and drink sales throughout the month faced persistently high comparatives with 2020, when we were in the first national lockdown. While its unlikely performance will exceed, or even match 2020 for months to come, sales are still significantly elevated compared to 2019, suggesting that food and drink continues to benefit from an ongoing 'pandemic effect'.
Morning update
Consumer spending rose 7.6% in May compared to the same period in 2019 – the highest growth recorded since coronavirus restrictions began – as the further lifting of lockdown restrictions encouraged more Brits to shop and socialise.
Data from Barclaycard shows that spending on essential items grew 11.4% compared to May 2019 – the sharpest increase since before the onset of the pandemic.
Spending on essentials was bolstered by supermarket shopping (up 17.7%) and face-to-face spending at local food and drink specialist retailers, such as butchers, off-licenses and independent convenience stores, which rose by 69.3%.
The wet weather in early May was not enough to deter consumers from returning to shops, with overall spending on non-essential items rising 5.8% compared to the same period in 2019, while face-to-face spending at non-essential retailers grew 8%.
There were increases at clothing (8.5%) and department stores (8.6%), while in-store clothes shopping was still down on the same period in 2019 (-6.1%), this was a significantly smaller decline than last month (-46.9%).
Brits also spent more on beauty products and treatments, with pharmacy, health and beauty stores (including nail salons and hairdressers) seeing a 17.8% rise – a significant improvement on the growth recorded last month (3.7%).
Hospitality outlets showed signs of recovery as more industry-wide restrictions were lifted, most notably the change to indoor dining restrictions on 17 May. While restaurants as well as bars and pubs saw respective declines of 53.2% and 19.4% for the month overall, these were marked improvements on the 74.4% and 67.2% contractions in April.
Consumer confidence in the economy and household finances remains noticeably higher than this time last year, holding up at 35% and 72% respectively, compared to 20% and 67% in May 2020.
Raheel Ahmed, head of consumer products, commented: "May was a positive month for a range of categories, with the nation clearly determined to show support for retailers and local businesses. As friends and families reunited after months apart, it is reassuring to see signs of recovery for the entertainment and hospitality industries, both of which have faced significant challenges over the past year.
"While international holidays continue to be hampered by restrictions, staycations in the UK are providing a welcome boost to the travel sector, as May saw more holidaymakers, particularly in the older age groups, book or embark on trips. With summer – and hopefully more of this warmer weather – on the way, we hope to see these positive trends continue as Brits make the most of their newfound freedoms."
British American Tobacco has upgraded its full year growth expectations on stronger than expected performance in its tobacco alternative products.
It has upgraded expectations of constant currency revenue growth to above 5%, ahead of its previously announced 3-5% guidance.
It expects mid-single digit adjusted diluted constant currency EPS growth with strong operating cashflow conversion in excess of 90%
The upgrades are driven by accelerating acquisition of non-combustible product consumers, up 1.4m to 14.9m in Q1, with our New Category products now sold in 74 markets across 53 countries
Also it has seen continued acceleration of new category volume and revenue growth, with market share gains across all three new categories in all key markets due to investment weighted in the first half of its financial year.
Its Vuse brand is approaching global leadership in vapour reaching 31.4% category value share in top 5 vapour markets April year-to-date, up 5.9 ppts on last year.
Meanwhile, its traditional combustibles products have seen strong pricing and robust volume, albeit a negative geographic mix is being driven by a continuing recovery in emerging markets and there is no expected recovery in global travel retail until 2022
It saw a robust US performance, driven by new category growth and strong combustible pricing
CEO Jack Bowles commented: "We are investing and building strong, fast growing international brands in each segment, rapidly accelerating our reach and consumer acquisition, thanks to our digitalisation and our multi-category consumer-centric approach, supported by the right resources and products, and our agile organisation.
"Our portfolio of non-combustible products is tailored to meet the needs of adult consumers. We are growing New Categories at pace, encouraging more smokers to switch to scientifically substantiated reduced risk alternatives."
"ESG is deeply embedded in our organisation, and we have set ourselves stretching targets: £5bn New Category revenue by 2025; 50 million consumers of non-combustible products and carbon neutrality across our own operations by 20303, which I am confident in delivering."
"In summary, we are accelerating our transformation with increased investment capitalising on our growing momentum in the New Categories, and a record quarter for consumer acquisition. The momentum across the business is strong, and I am excited about the future for BAT."
Greggs has appointed Mohamed Elsarky as an independent non-executive director, with effect from 21 June 2021, while Peter McPhillips will retire as an independent non-executive director on 31 July 2021.
Elsarky is an experienced international food manufacturing executive, who has held senior positions in Kellogg, Danone, and Godiva Chocolatier. He is currently executive chairman of Artisan du Chocolat, and has previously held non-executive director positions including at Nomad Foods.
McPhillips joined the Greggs board in March 2014, and has provided support to the supply chain team during the extensive operational changes that have taken place since then.
Ian Durant, Chair of Greggs, said "We are delighted that Mohamed has accepted our invitation to join the Board. He brings with him extensive international food manufacturing and supply chain experience gained within businesses owning significant consumer brands."
"We wish Peter well as he steps away from the Greggs board, and thank him for all of his support and commitment to the board and management team during a period of significant change."
On the markets this morning, the FTSE 100 is up 0.2% to 7,089pts.
Early risers include B&M European Value Retail, up 2.7% to 539.6p, British American Tobacco, up 2.2% to 2,835.8p and Nichols, up 2.2% to 1,635p.
Fallers include Total Produce, down 1.7% to 214.8p, Kerry Group, down 1.5% to 109.3p and Science in Sport, down 1.2% to 79p.
Yesterday in the City
The FTSE 100 edged up 0.1% to 7,077.2pts yesterday.
Reckitt Benckiser dropped 0.7% to 6,440p on the announcement it has agreed to sell its struggling baby formula business in China to a global investment firm for $2.2bn (£1.6bn).
Tesco ended the day up marginally 0.3% to 225.6p after announcing the end o its purchasing alliance with French supermarket chain Carrefour.
Drinks group Nichols, up 3.2% to 1,600p and travel retailers WH Smith, up 1.6% to 1,772p and SSP Group, up 1.2% to 303.1p, were up on hopes of post-Covid reopening.