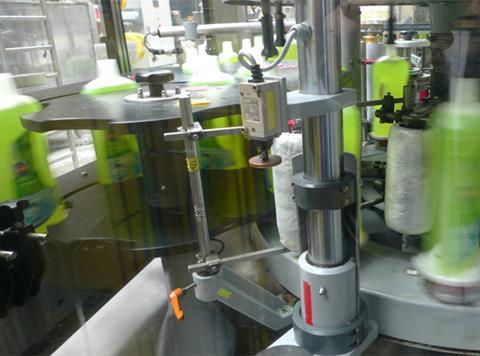 Top story
Household goods manufacturer McBride has seen an uplift in sales and profits in the second half of the year as the coronavirus outbreak continues to boost the sale of cleaning products.
For the six months to 31 December 2020, McBride posted sales of £362.9m, which were 3.6% higher, or 1.7% higher at constant current rates.
The sales uplift reflected continued strong demand for cleaning products due to the Covid-19 pandemic.
The group's first-half Household revenues at constant currency were 1.1% higher compared to the prior year, with performance driven by significant year-on-year growth in its North (+16.6%) and South (+9.7%) regions and Asia (+12.6%), offsetting lower revenues from the UK (-10%).
The UK decline was entirely due to contracts lost in the prior year, mainly in laundry categories, as sales grew 2.5% versus prior year excluding contract losses. Cleaners, which represent 35% of total sales, grew 15.7% versus prior year due to Covid-19 related demand and contract wins.
Its aerosols business reported revenues 15.3% higher at constant currency in the first half compared to the prior year, driven by sales of aerosol-based sanitising products that were developed in the second half of 2020 to help fight against the spread of the Covid-19 virus.
Sales growth was also inhibited by panic buying in spring 2020 which reduced inventory levels and put pressure on customer service levels in the early part of the second half of the year. Overall service levels were back to the 90-95% range by the end of the six month period, with inventory levels also recovered.
Half-year adjusted operating profit of £19m was up from £11.6m in the same period last year, with operating profit margin increasing by 1.9 percentage points to 5.2%.
The slight softening of certain raw material and packaging pricing observed in the second half of the last financial year continued into the first half of its current financial year, contributing to improved gross margin delivery.
Meanwhile, McBride will hold a capital markets event later today where it will outline its new strategy and management.
From 1 January 2021, its European Household business has been restructured into three new business divisions of Liquids, Unit Dosing and Powders, which now operate alongside the existing Asia Pacific and Aerosols divisions.
It said this structure will give the "focus and accountability to deliver the group's vision of profitably growing annual revenues to €1 billion in the next five years".
"Through the comprehensive strategic review, all divisions and central functions have developed individual strategies, aligned to their differing dynamics, in order to achieve this collective goal," it stated.
CEO Chris Smith commented: "I am proud of the way our Company has responded to the challenges faced by the business from both Covid-19 and Brexit in the period and with these robust financial results for the six months.
"Our teams have shown significant commitment to complete the Compass strategy preparation and business reorganisation programme on schedule. The Group has been operating under its new divisional structure since the beginning of 2021 and I can already start to see beneficial effects of the new management teams leading their businesses.
"The Company's consumer end markets continue to be both buffeted and enhanced in different ways by the Covid-19 environment making demand levels more variable than usual. As anticipated, we have seen input costs start to tick up but overall the board's expectations for the full year remain in line with our December trading update."
McBride shares are up 3.2% to 84.4p this morning.
Morning update
On the markets this morning, the FTSE 100 has opened up 0.2% to 6,626.1pts.
The planned end to lockdown continues to drive share price growth this morning, with SSP Group up 8.4% to 341.4p, WH Smith up 7.8% to 1,925p, C&C Group, up 6% to 264p, Marston's, up 4.3% to 96.9p and Compass Group, up 4% to 1,546p.
Fallers include Ocado, down 3.3% to 2,322.9p, B&M European Value Retail, down 2% to 550.2p and Devro, down 1.5% to 177.2p.
Yesterday in the City
The FTSE 100 fell back 0.2% yesterday on a mixed day for consumer stocks as the market reacted to the UK government's lockdown exit plans.
Many of those stocks to have benefitted during the coronavirus period were on the slide yesterday.
Online grocer Ocado fell 6.2% to 2,401p, Premier Foods dropped 5.2% to 88.3p, Just Eat Takeaway was down 4.6% to 7,166p, consumer health giant Reckitt Benckiser was down 3.6% to 5,854p, B&M European Value Retail was down 3.2% to 561.6p, PZ Cussons was down 3.2% to 245p and Pets at Home fell 2.9% to 378.8p.
Other fallers included Finsbury Food Group, which dropped a further 3.4% to 71.5p as it announced yesterday that its 2020 performance was hit by lockdowns,
McColl's Retail Group, down 4.6% to 23.9p, Nichols, down 2.7% to 1,157p and Fevertree Drinks, down 2.2% to 2,348p.
Conversely, those stocks on the up included many focussed on foot to go and out of home eating and drinking.
WH Smith was up 6% to 1,785p, C&C Group rose 5.5% to 239p, SSP Group recovered 4.7% to 315p, Greencore was up 4.6% to 143.3p, Compass Group rose 4.2% to 1,486p and Greggs was up 3.9% to 2,172p.