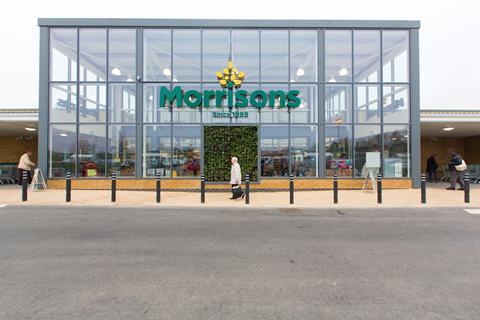 Top story
Morrisons shares have jumped more than 11% this morning on the prospect of a bidding war for the UK's fourth largest grocer after it accepted a £6.3bn offer over the weekend.
On Saturday Morrisons announced it had agreed a deal worth £9.5bn, including debt, with SoftBank-owned Fortress alongside Canadian pension fund CPPIB and a subsidiary of US group Koch Industries.
However, this morning private equity group Apollo announced it is also examining a potential bid for Morrisons, while previous bidder Clayton, Dubilier & Rice (CD&R) is currently considering whether to launch a renewed bid.
Apollo said this morning it is "in the preliminary stages of evaluating a possible offer for Morrisons" and that no approach has yet been made to the board of Morrisons.
Morrisons shares opened 11.3% higher at 266.8p.
The latest suitor to throw its hat into the ring comes after Morrisons recommended the £6.3bn offer to shareholders on Saturday, stating that Fortress' 254p per share offer "represents a fair and recommendable price for shareholders which recognises Morrisons' future prospects".
The offer represents a premium of approximately 42% to the closing price of 178p per share before news of the CD&R bid emerged, and an anterprise value multiple of approximately 8.3 times Morrisons' underlying EBITDA for the 52 weeks ended 31 January 2021.
The all cash offer includes buying the supermarket's shares for 252p and a special dividend of 2p per share for shareholders.
Fortress said it recognises that "long-term, sustainable value creation will be maximised by maintaining the long-held focus on Morrisons customers, and in turn providing support and resources to colleagues, suppliers and broader stakeholders to best serve them".
The Majestic Wine owner said it envisages continuing to support the Morrisons management team's ongoing strategy of targeted new store openings, particularly given the positive performance of recent new stores.
It stated: "Fortress views the UK grocery retail sector in particular as an attractive and differentiated long-term investment opportunity. This conviction has been further enhanced over the course of the last year given the impressive manner in which Morrisons supported customers, employees and broader stakeholders through the COVID-19 crisis."
Morrisons chairman Andrew Higginson said: "The Morrisons directors believe that the Offer represents a fair and recommendable price for shareholders which recognises Morrisons' future prospects.
"Morrisons is an outstanding business and our performance through the pandemic has further improved our standing and enabled us to enter the discussions with Fortress from a hard-won position of strength. We have looked very carefully at Fortress' approach, their plans for the business and their overall suitability as an owner of a unique British food-maker and shopkeeper with over 110,000 colleagues and an important role in British food production and farming.
"It's clear to us that Fortress has a full understanding and appreciation of the fundamental character of Morrisons. This, together with the very clear intentions they have set out today, has given the Morrisons directors confidence that Fortress will support and accelerate our plans to develop and strengthen Morrisons further.
"Fortress, CPP Investments and KREI all have strong track records and a long-term approach to investing. They are backing our strategy, our management and our people. Morrisons has a rich history and a special culture and I am convinced that with the long term support of Fortress, the business will continue to prosper in the future."
Fortress managing partner Joshua Pack added: ""We believe in making long-term investments focused on providing strong management teams with the necessary flexibility and support to execute their strategy in a sustainable and value enhancing manner.
"We fully recognise Morrisons' rich history and the very important role Morrisons plays for colleagues, customers, members of the Morrisons Pension Schemes, local communities, partner suppliers and farmers. We are committed to being good stewards of Morrisons to best serve its stakeholder groups, and the wider British public, for the long term."
Morning update
Morrisons' convenience partner McColl's Retail Group has issued a statement saying its supply contract will not be affected by any potential changes in ownership of Morrisons.
McColl's extended its wholesale supply contract with Morrisons in February 2021 by a further three years to January 2027, providing the business with "even greater access to Morrisons' grocery expertise and brand".
McColl's said its focus remains firmly on maximising efficiency in its wholesale supply arrangements and the successful rollout of Morrisons Daily conversions across the estate.
"McColl's looks forward to continuing to build on the strong relationship developed with Morrisons over the years to serve our local neighbourhood communities with a high quality convenience offer," it said.
On the markets this morning, has started the week edging down 0.2% to 7,111.6pts.
Along with Morrisons, early risers include Kerry Group, up 2% to €199.25, Nichols, up 1.9% to 1,524p, Marks & Spencer, up 1.7% to 155.2p, and FeverTree, up 1.5% to 2,598p.
Fallers include Virgin Wines, down 2.2% to 225p, Devro, down 1.9% to 202p and McColl's Retail Group, down 1.7% to 35.5p.
Morrisons' supermarket contemporaries Tesco and Sainsbury's are up 1.1% to 227.1p and 1.4% to 275.9p respectively.
This week in the City
After Morrisons kicked the week off with a bang, there's plenty more in the financial calendar this week in a busier week for the City.
Tomorrow brings interim results from Ocado as well as Q1 trading figures from Sainsbury's.
B&M Value Retail issues its own Q1 update on Thursday.
There are also plenty of AGMs, with trading updates likely to accompany many of them, including M&S on Tuesday, Pets at Home on Thursday and Sainsbury's on Friday.