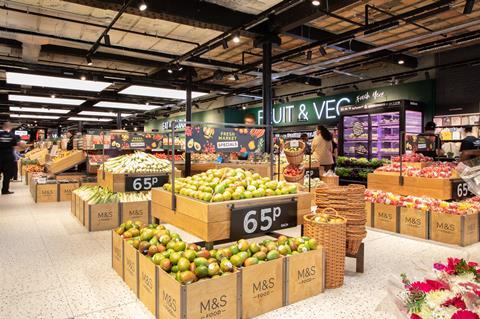 Top story
M&S has sank into the red as revenues fell almost 12% to below £9bn in a year heavily disrupted by the coronavirus pandemic.
The group this morning reported a pre-tax loss of £209.4m in the 53 weeks to 3 April, compared with profits of £67.2m in the 52-week period the previous year.
Its clothing and home business was the worst affected by the Covid lockdown, with sales declining 31.5% to £2.2bn. "Very strong" online growth of 53.9% helped to partially offset in-store declines of 56.2%, but the division still recorded a operating loss of almost £130m.
The food division fared better, although M&S was hampered more than supermarket rivals as a result of its locations on the high street, in shopping centres and in city centres. It also doesn't report online food sales, which are included in the results of Ocado thanks to a joint venture with the online grocer.
Like-for-like revenues for food rose 1.3% – and by 6.9% on an underlying level when excluding the hospitality and franchise business. Total food revenues for the year were down 0.6% to £6bn, while operating profits also fell 9.8% to £213.6m (£228.6m for the 53 weeks).
M&S said the results reflected the impact of the pandemic spanning the beginning of the first national lockdown through to near to the end of the third lockdown in April. "However, they also reflect an acceleration of the transformation, which enabled the business to deliver a resilient performance," it added.
The group highlighted a number of positives as it continued "forging a reshaped M&S" through the 'Never the Same Again' programme, with CEO Steve Rowe declaring the transformation had moved on to the next phase.
"In a year like no other we have delivered a resilient trading performance, thanks in no small part to the extraordinary efforts of our colleagues," he said.
"In addition, by going further and faster in our transformation through the 'Never the Same Again' programme, we moved beyond fixing the basics to forge a reshaped M&S. With the right team in place to accelerate change in the trading businesses and build a trajectory for future growth, we now have a clear line of sight on the path to make M&S special again."
The food business has added more than 1,900 new lines as it moved away from food-on-the-go products, which were heavily affected by the pandemic, to focus on core categories of grocery, household and meat, fish and poultry.
M&S also completed a transition to selling its products on Ocado as it took over from Waitrose last year. Penetration of M&S lines on Ocado was consistently over 25% of the basket, outperforming Waitrose, M&S said. It now aims to grow capacity by 50% in the next 18 months.
M&S was also hit during the year by exceptional costs of £259.7m as a result of organisational change as it continued to restructure, store closures identified as part of transformation plans and also writedowns of assets.
Investors reacted positively to news of the ongoing transformation programme, with shares jumping 4.3% to 162.7p this morning.
Morning update
Shares in Poundland owner Pepco have soared more than 9% as it began trading on the Warsaw Stock Exchange this morning.
The budget retail group offered its shares at a discounted price of 40 zlotys each (€8.82) in its IPO, which was towards the bottom end of its guidance of 38 zlotys (€8.32) and 46 zlotys (€10.08).
It valued Pepco at €5bn and netted the group proceeds of more than €700m.
The share price fizzed 9.2% higher on the stock market debut this morning, moving up to 43.7 zlotys.
CEO Andy Bond said: "The first day of our shares trading on the Warsaw Stock Exchange is a big moment for Pepco Group. I am very proud of our colleagues across the business and want to thank them for their dedication and hard work over the years.
"We have seen strong engagement from institutional and retail investors throughout the IPO process, and welcome all our new shareholders. As a listed company, we look forward to continuing our strong store growth and delivering our successful strategy as Europe's pre-eminent discount variety retailer."
Drinks supplier C&C Group has tumbled to an operating loss of €60m as revenues more than halved to €736.9m on the back of hospitality closures during the coronavirus pandemic.
The Dublin-headquartered maker of Bulmers, Magners and Tennent's, which males 80% of its revenues from the hospitality sector, reported a 14.2% jump in supermarket sales in the year ended 28 February 2021 as consumers stocked up their fridges throughout lockdown.
C&C highlighted a return to profitability during the easing of coronavirus restrictions over the summer months of 2020.
The latest winding down of lockdown guidance also helped the group, with sales 65% ahead of pre-pandemic levels at pubs that have reopened in the week ended 16 May. The business is still awaiting the reopening of Irish hospitality in early June.
C&C also announced a £151m rights issues this morning to raise funds to reduce its leverage and provide enough liquidity to manage the reopening process.
CEO David Forde said the past year had presented an extraordinary set of cicrcumstances to challenge the business, and the industry, at every level.
"We look to FY2022 with optimism and C&C continuing to play an integral role in the UK and Ireland drinks market with our brand and distribution assets appreciated by consumers, customers and brand owners alike," he added.
"We are confident C&C will emerge from the pandemic stronger, more streamlined, and primed to deliver on our ambition to be the preeminent brand-led, final-mile, drinks distributor across our core markets which will ensure long term value for our shareholders."
Bakery group Finsbury Food has upgraded profit expectations thanks to strong trading in the second half of its financial year ending 26 June.
The business now forecasts pre-tax profits will be "no less than" £15m.
The performance was driven by improving volumes and the benefits of the group's "operating brilliance" program, which resulted in improved line efficiency and lower waste throughout the bakeries.
"In the light of the expected performance and the current outlook, the Board plans on reintroducing the payment of the dividend for the financial year ending 26 June 2021," Finsbury said in the short trading update.
The FTSE 100 was back in positive territory this morning, climbing 0.1% to 7,036.78pts.
Shares in C&C Group plunged 11.4% to 270p on news of its poor trading and a rights issues.
Conversely, investors raced to buy into Finsbury Food Group after it upgraded profit expectations, with shares up 5.6% to 89.3p.
Yesterday in the City
The FTSE 100 ended its recent positive run yesterday, falling back 0.3% to 7,029.79pts.
Greencore nosedived 15.7% to 144p after interim results showed a further 19% drop in sales as it waited fro food-to-go to make a recovery.
Other fallers in food and drink, included SSP Group, down 3.4% to 295.5p, Naked Wines, down 2.7% to 843p, and Hilton Food Group, down 2.6% to 1,202p.
Total Produce was among the risers, climbing 8.7% to 218.5p. Other shares in the black included Bakkavor, Hotel Chocolat and Just Eat Takeaway.