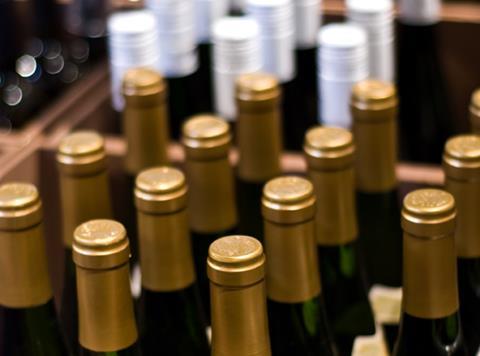 Top story
Booming online sales of wine helped propel Naked Wines' annual revenues up 68% year-on-year, but the company remains loss-making as it continues to invest in new customers and growth.
Total sales for the year to 29 March were up 68% to £340.2m , driven by the accelerated channel shift to online wine purchasing due to COVID-19, investment in customer acquisition and strong customer retention and frequency trends.
Naked saw strong top-line growth in all three geographies, particularly the US segment, where sales grew 78% to £161.7m and is now its largest market representing 48% of total sales.
In the UK total sales were £133.1m, growth of 66%, driven by an increase in awareness and demand and increased order frequency from its repeat customer base.
Total Australia sales were up 42% to £45.5m.
Naked more than doubled its investment in new customers to £50m from £23.5m last year.
Repeat customer contribution profit was up 83% to £84.9m with an enhanced margin at 30% (+320bps), reflecting a 53% increase in active Angels, scale efficiencies and the geographic mix shift to its higher margin US business.
However, it posted an adjusted EBIT loss of £1.5m and a loss before tax of £10.7m, almost double its £5.4m loss last year, reflecting its increased investment in new customers,
Advertising costs of £42.3m represented 12% of total sales, which was a 270 basis point increase over the prior year.
CEO Nick Devlin commented: "Since inception, our mission at Naked has been simple – to disrupt the wine industry for the benefit of customers, our winemakers and our people. In FY21, we made significant progress towards this objective. It is clear to us that the pandemic has served to underscore the value of our business model in connecting winemakers and consumers directly and proven the opportunity before us.
"As we head into FY22, we are focussed on investing in the opportunity and executing against our strategic initiatives, which are i) to invest in New Customers at attractive payback, ii) to enhance the customer proposition to improve LTV, iii) to leverage our scale to enhance value creation, and iv) to broaden and enhance our go-to-market strategy, driving growth."
Naked said it has seen a continued strong performance since year-end in its repeat customer base, with total sales up another 8% year on year on a constant currency basis.
Repeat customer sales grew over 30%, which has been partially offset by the normalisation of new customer sales given the strong comparative in the prior year and lower level of investment spend.
For the full year it expects total sales to rise to £355m-£375m and investment in new customers to remain relatively stable at £40m-£50m
Repeat customer contribution profit is expected to come in at £85m-90m, with repeat customer contribution margin expected to decline slightly.
Naked's shares are down 2.4% on this morning's news to 774p.
Morning update
Supreme, the AIM-listed supplier of vaping and other fmcg products, has announced the acquisition of Vendek, a Dublin-based distributor of batteries and lighting products.
The deal is for an initial consideration of €1.07m plus deferred consideration and a performance related earn-out of up to €0.75m.
Vendek operates exclusively within Ireland, distributing battery and lighting products under the Osram, Panasonic and Duracell brands and servicing some of the country's leading retailers across DIY, hardware, convenience, and petrol stations.
The business was founded in 1996 and is profitable, cash generative and has reported consistent growth in recent years.
For the years ended 31 December 2019 and 31 December 2020, Vendek generated revenues of €4.7m and €5.6m and adjusted EBITDA of €0.5m and €0.7m respectively.
The acquisition is expected to be immediately earnings enhancing for the group.
Supreme said the deal delivers a sizeable foothold into the Irish market, including key distribution infrastructure and long-standing customer relationships with some of Ireland's leading retailers, such as Supervalu, Dunne Stores and Woodies.
There is also significant product and customer overlap with Supreme across the group's batteries and lighting categories with potential to enhance margins across the combined business.
It also provides a strong platform from which to cross-sell Supreme's additional categories including the group's vaping brand, 88Vape, and vitamins brand, Millions & Millions.
Additionally, it creates an opportunity to establish a European export hub specifically targeting countries within the EU whilst remaining competitive.
CEO Sandy Chadha commented: "We are delighted to be announcing what we believe to be a strategic acquisition in Vendek. This is our first transaction since our admission to trading on AIM, and not only expands our footprint in Ireland but provides an excellent platform from which to further penetrate the European markets.
"I have personally known this business for a number of years and firmly believe the combination of our two Ireland operations will significantly accelerate our growth aspirations and foster potentially stronger levels of cross-sell opportunities across our categories."
Elsewhere, Domino's Pizza Group has announced that chief financial officer Neil Smith has decided to leave the company "to take up another opportunity".
As a result, the board will now commence a search process to identify and appoint a successor. Smith will work with CEO Dominic Paul and the board to ensure an orderly transition and is expected to leave on 26 November 2021 following completion of his notice period.
Paul commented: "Neil has been a highly valued member of the management team and played a key role in refocusing the Group and bolstering our financial discipline through extraordinary operating conditions. We have a clear plan to deliver the future, underpinned by a robust capital allocation philosophy that Neil helped to establish.
"While I am sorry he is leaving, I understand his decision and look forward to working with him as we search for his successor. We all wish him well."
Smith added: "I feel privileged to have been part of the Domino's team through a period of significant transformation. While I was not looking to leave Domino's, I have been given an exceptional opportunity to return to an industry where I have spent much of my career. I have no doubt that Dominic and the team will successfully execute on the strategic plan to deliver long-term growth."
On the markets this morning, the FTSE 100 has jumped 0.6% to 7,126.9pts so far today.
Risers include McBride, up 3.8% to 92p, Hotel Chocolat, up 3% to 374.8p and Bakkavor, up 2.2% to 138p.
Fallers so far today include Just Eat Takaway.com, down 1.8% to 6,507p, Domino's Pizza Group, down 1.6% to 384p and Kerry Group, down 0.8% to €109.15.
Yesterday in the City
The FTSE 100 ended the day edging up 0.1% to 7,088.2pts yesterday.
Risers included Wynnstay, up 4.4% to 454p, McColl's Retail Group, up 2.7% to 36.8p, Naked Wines, up 2.3% to 793p, Kerry Group, up 2.1% to 110p, AG Barr, up 1.5% to 537p and Bakkavor, up 1.1% to 135p.
The day's fallers included Devro, down 4% to 203p, Greencore, down 3.5% to 132.7p, McBride, down 3.5% to 88.6p, Compass Group, down 3.1% to 1,594.5p, Greggs, down 3% to 2,540p, Sainsbury's, down 3% to 254.3p and WH Smith, down 2.5% to 1,740p.