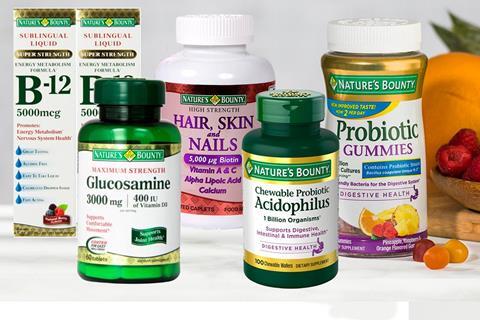 Top story
Nestlé has boosted its presence in the global nutrition and supplement market with the US$5.75bn acquisition of The Bountiful Company.
The company confirmed it has entered into an agreement with private equity investor KKR to buy the core brands of The Bountiful Company, which is says in the number one pure-play leader in its "highly attractive" sector.
The transaction includes the high-growth brands Nature's Bounty, Solgar, Osteo Bi-Flex and Puritan's Pride as well as the company's US private label business.
These brands will be integrated into Nestlé Health Science, creating a global leader in vitamins, minerals and nutritional supplements.
The Bountiful Company's sports and active nutrition brands Pure Protein, Body Fortress and MET-Rx, as well as Dr.Organic and the Canadian over-the-counter (OTC) business, which do not complement the Nestlé Health Science portfolio, are not included in the deal.
The transaction is expected to close in the second half of 2021, following the completion of customary closing conditions.
Nestlé Health Science CEO Greg Behar commented: "Vitamins and supplements are a key part of our business and have contributed to strong growth acceleration."
"This acquisition complements our existing health and nutrition portfolio in terms of brands and channels. It will establish Nestlé Health Science as the industry leader in mass retail, specialty retail, e-commerce and direct-to-consumer in the US, while offering significant opportunities for geographic growth."
Paul Sturman, President and CEO, The Bountiful Company. "As a leader in global nutrition, we take seriously our responsibility and role in consumers' health and wellness. We're incredibly proud of the trusted brands we've built and are confident that they will be strong assets for Nestlé."
The transaction is valued at US$5.75bn on a cash free, debt free basis, representing a multiple of 3.1x net sales and 16.8x EBITDA.
Net sales of the acquired brands wereUS$1.87bn in the last twelve months ending March 31, 2021, with an EBITDA of 18.3%.
The acquisition will be affected by one-off integration costs, making it slightly dilutive to Nestlé's underlying trading operating profit margin in 2021, but the the margin is expected to increase above the Nestlé Group average once synergies are fully implemented by 2024.
Morning update
Empty shop fronts have continued to soar in the early months of 2021, according to the latest BRC-LDC Vacancy Monitor.
The research found that in the first quarter of 2021, the overall GB vacancy rate increased to 14.1%, from 13.7% in Q4 2020.
It was 1.9 percentage points higher than in the same point in 2020, which marks three years of increasing vacancy rates, from Q1 2018.
All locations saw an increase in vacancies in Q4, with Shopping Centre vacancies increasing to 18.4% from Q4 2020's 17.1%.
On the High Street, vacancies increased to 14.1% in Q1 – up from 13.7% in Q4 2020.
Retail Park vacancies increased slightly to 10.6% in Q1 2021, up from 10.0% in Q4 2020. However, it remains the location with by far the lowest rate.
BRC CEO Helen Dickinson commented: "After a third national lockdown, it is no surprise that the vacancy rate has continued to soar. The forced closure of thousands of shops during the first quarter of 2021 has exacerbated already difficult conditions for the retail industry.
"We estimate there are around 5,000 fewer stores since the start of the pandemic, meaning 1 in 7 shops now lie empty. There is significant regional disparity in vacancies, with the North of England showing a greater increase compared with other parts of the country. Shopping centres, many of which have been forced to close for a large portion of this pandemic, have fared worse than other retail locations, with over 12% of units lying empty for a year or more.
"With full business rates relief and the moratorium on aggressive debt enforcement ending in England this summer, many stores may never reopen. The Government must ensure the ongoing business rates review leads to reform of the broken system and permanently reduces the cost burden which is leading to unnecessary stores closures and job losses. The devolved nations have already agreed to extend the business rates holiday until 2022 and England should consider following suit."
Lucy Stainton, director at Local Data Company, said: "The number of vacant units has continued to increase in the first three months of this year across the country, despite much of the market being temporarily closed for during the 3rd lockdown.
"With this in mind, and despite these percentages increasing significantly, we would argue that we have not yet seen the true impact of this 3rd lockdown and this will only be obvious once the market has had the chance to re-open fully. We have seen a number of household names announcing further store closures or indeed, disappearing from our high streets entirely showing how challenged physical retail continues to be.
"This being said, the early indications from the first few weeks of the "unlocking" have shown there is still significant demand for physical retail and eating out. Hopefully, as consumer confidence continues to build momentum with reduced covid-19 cases, more of the population vaccinated and warmer weather, further fall out from the pandemic might be mitigated somewhat. Similarly we are seeing a lot of redevelopment with retail stores being converted to other uses such as office space and residential property – this too may help stabilise the increase in vacancy we'd otherwise expect to see continue into Q2."
On the markets this morning, the FTSE 100 is up 0.2% to 6,976.2pts so far today.
Early risers include Devro, up 3.2% to 207.5p, Bakkavor, up 2.6% to 133.3p, Imperial Brands, up 2.4% to 1,505p and British American Tobacco, up 2.3% to 2,687.5p.
The day's early fallers include Science in Sport, down 3% to 65p, Wynnstay Group, down 1.6% to 481.1p and WH Smith, down 1.4% to 1,789.5p.
Yesterday in the City
The FTSE 100 closed the day flat at 6,961.4pts as strong early gains ebbed away through the day.
Unilever was up 3.3% to 4,213p after posting better than expected first quarter growth figures, driven by a strong recovery in emerging markets.
Packaging giant DS Smith was up 2.5% to 424p after announcing its strong performance during the pandemic continued in the early months of 2021.
Other risers included Science in Sport, up 6.4% to 67p, Finsbury Food Group, up 4.8% to 87.5p, Devro, up 3.3% to 201p, C&C Group, up 2.5% to 295p, Premier Foods, up 2.4% to 95.7p and McColl's Retail Group, up 2.2% to 34.8p.
WH Smith fell back 3.6% to 1,814.5p after it announced annual results on Tuesday evening showing the scale of the impact of the coronavirus pandemic on its travel business.
Other fallers included Wynnstay, down 2.2% to 489p, British American Tobacco, down 2% to 2,626p, Just Eat Takeaway.com, down 1.8% to 7,463p, McBride, down 1.7% to 82.4p and SSP Group, down 1.7% to 313.2p.