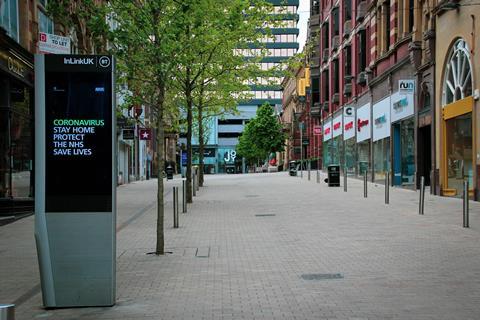 Top story
Retail sales fell back in November as shops shut their doors again during the second coronavirus lockdown, according to official figures published this morning.
The Office of National Statistics said that retail sales volumes decreased by 3.8% when compared with October as many stores ceased trading following government guidance during the coronavirus (COVID-19) pandemic.
In particular, clothing store sales saw a sharp fall in sale volumes when compared with the previous month, at negative 19.0%, as did fuel sales, which decreased by 16.6%.
Food stores fared better, with growth of 3.1%, while household goods stores rose 1.6% – the only sectors to show growth in monthly volume of sales.
The ONS stated: "Anecdotal evidence from retailers suggested that food sales have been boosted in November by the restrictions to the hospitality industry and a shift in consumer habits, with an increase in 'click and collect' users boosting sales in the sector."
Despite the monthly fall, overall sales remain above their pre-pandemic levels.
The year-on-year growth rate in the volume of retail sales increased by 2.4%, with feedback from businesses suggesting that consumers had brought forward Christmas spending.
Compared with a year earlier, both the amount spent and quantity bought reported growth of 1.0% and 2.4% respectively. N
on-store volume sales reported the largest year-on-year growth at 42.4%, while food stores also reported a large year-on-year increase of 7.1%.
Online retailing accounted for 31.4% of total retailing compared with 28.6% in October 2020, with an overall growth of 74.7% in the value of sales when compared with November 2019.
In the three months to November, both value and volume sales increased by 3.0% when compared with the previous three months.
Morning update
Consumer confidence surged in December on news about the rollout of coronavirus vaccines, according to the GFK Consumer Confidence Index.
The overall index rose to -26 in December from -33 in November, with all five measures of confidence improving.
People's personal financial situation over the past 12 months improved to -9 from -16, while confidence in their personal financial situation over the next year moved to +3 from -5.
Views on the wider economy edged up from -65 from -67, but consumer confidence in the general economic situation over the next year jumped to -35 from -50.
This 15-point jump is the biggest movement in economic confidence since early 2011.
Joe Staton, client strategy director at GfK, said: "Many might be surprised that we are ending 2020 on a much brighter note after a roller-coaster of a year. It's safe to say that consumers are looking for good news and they have found it in the form of the UK's Covid-19 vaccination programme getting underway, which has lifted the mood pre-Christmas 2020.
"The 15-point leap in consumer views on the future economy stands out… The renewed expectations on personal finances looking ahead are also welcome, while the six-point uptick in the Major Purchase Index is good news for online and offline retailers. While confidence is still in negative figures, are we finally heading in the right direction?"
Wagamama owner The Restaurant Group has said the government's coronavirus tiering system has caused "significant disruption" to its business.
Under the latest tiering announcement's made this week, the group will have approximately 145 sites which will trade for dine-in across the UK , 142 sites which will provide delivery and takeaway services only, with the remaining 103 sites closed.
"This is significantly worse than when the initial tiering restrictions came into effect," it stated.
The group anticipates further significant disruption on trading whilst these restrictions remain in place.
If UK tiering allocations were to remain the same as currently in place throughout the first quarter of 2021, this will have a "significant adverse impact" on the group, and indeed the wider hospitality sector.
However, it said that whilst the tiering restrictions make the outlook for the first quarter of 2021 extremely challenging, the board is "encouraged by the welcome news of the Covid-19 vaccine being rolled out in the first half of next year".
"The board believes the group is well positioned to benefit from a sustained removal of restrictions given its previous strong trading performance following the first lockdown," it stated. "We therefore expect a strong recovery when there is a return to more normal levels of customer activity. The timing of that will depend primarily on government restrictions being eased."
On the markets this morning, the FTSE 100 is back up 0.6% to 6,588.4pts.
Risers include McBride, up 3.5% to 82p, DS Smith, up 2.6% to 387.6p and Pets at Home, up 2.3% to 407.2p.
Fallers include Science in Sport, down 2.9% to 33p, Marks & Spencer, down 2.1% to 136.3p and Marston's, down 1.8% to 73p.
Yesterday in the City
The FTSE 100 dropped 0.3% yesterday to close at 6,551.1pts.
SSP Group dropped 2.8% to 317.2p as it announced the coronavirus outbreak had driven it to a £426m annual loss.
Other fallers included Ocado, down 2.7% to 2,220p, Bakkavor, down 2.5% to 77p, Kerry Group, down 2.2% to 77p, Kerry Group, down 2.2% to 117.6p, Greencore, down 2.1% to 114.6p, Sainsbury's down 1.5% to 227.7p and WH Smith, down 1.3% to 1,545p.
The days risers included Vimto maker Nichols, up 4.4% to 1,357p, FeverTree Drinks, up 3.5% to 2,291p, Pets at Home, up 3.1% to 398p, Domino's Pizza Group, up 2.1% to 333.4p and Science in Sport, up 1.5% to 34p.