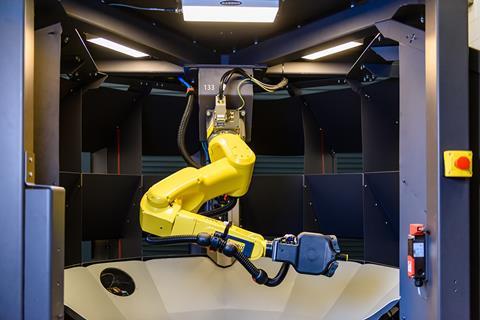 Top story
Ocado has announced it has completed the deal for US piece picking robotics company Kindred Systems.
Ocado announced on 2 November it had agreed a $262m deal for San Francisco and Toronto-based firm that designs, supplies and services piece-picking robots for e-commerce and order fulfilment.
Founded in 2014, Kindred Systems has around 90 employees, approximately half of whom are engineers who will join Ocado's existing technology team.
Kindred Systems is expected to have approximately 180 robots installed and operating by the end of 2020 across its growing client base and is expected to generate revenues of over $35m in the calendar year 2021.
Tim Steiner, CEO of Ocado, commented: "I am delighted to announce the completion of the acquisition of Kindred Systems and to formally welcome the team to Ocado. We look forward to working together to accelerate the development of robotic picking solutions, improving their speed, accuracy, product range and economics, which will benefit our Ocado Solutions partners as well as Kindred Systems' existing customers."
Ocado said Kindred Systems was one of the first companies to successfully use deep reinforcement learning (a form of artificial intelligence) to develop piece-picking robots with AI-powered vision and motion control.
Once a robot is installed, it said, Kindred Systems provides teleoperation remote assistance and engineering services to ensure that the robot continues to operate at a high pick rate with limited downtime.
Morning update
UK unemployment has spiked to 4.9% as the effects of the coronavirus and the predicted easing of government support for furloughed workers is beginning to hit the labour market.
The Office of National Statistics announced this morning that the UK unemployment rate, in the three months to October 2020, was estimated at 4.9%, 1.2 percentage points higher than a year earlier and 0.7 percentage points higher than the previous quarter.
Redundancies reached a record high of 370,000 in the three months to October 2020, an increase of a record 217,000 on the quarter, although the number of redundancies fell slightly in October 2020.
Early estimates for November 2020 indicate that the number of payrolled employees fell by 2.7% compared with November 2019, which is a fall of 781,000 employees; since February 2020, 819,000 fewer people were in payrolled employment.
There were an estimated 547,000 vacancies in the UK in September to November 2020; this is 251,000 fewer than a year ago, although this is and 110,000 more than the previous quarter.
On the markets this morning, the FTSE 100 is up another 0.4% to 6,557.5pts.
Risers include Nichols, up 4.6% to 1,260p, PayPoint, up 1.3% to 623p and B&M European Value Retail, up 1.2% to 517p.
Fallers include McColl's, down 2% to 25.7p, McBride, down 1.6% to 75.8p and Marston's, down 1.4% to 67.8p.
Yesterday in the City
The FTSE 100 ended the day down 0.2% to 6,531.8pts.
Risers included Marks & Spencer, up 3.9% to 134.8p, Sainsbury's, up 3.6% to 226p, B&M, up 3.4% to 511p and DS Smith, up 3% to 372.2p.