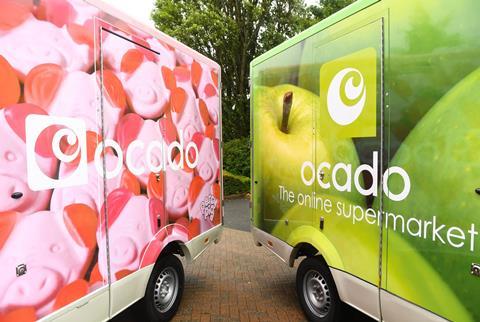 Top story
Ocado has seen a 40% surge in sales over Christmas and the New Year amid a "permanent shift" from physical to online grocery shopping.
A trading update from the retail joint venture between Ocado and Marks & Spencer said retail revenues were up 40% in the 13 weeks to 28 February to £599m, reflecting strong demand for online grocery and the continuation of a smoothed trading week
Average order size rose to £147, a result of seasonal strength over the festive period and a temporary reversal of the trend towards normalised shopping behaviour in response to further national lockdown measures in the UK.
Order numbers also increased despite capacity constraints, rising 2.5% to 321,000 a week.
M&S products consistently accounted for over 25% of the average basket
It said the opening of its first mini CFC in Bristol has opened up 30,000 orders per week more capacity, with the ramp to maturity is expected to be one year or less given strong demand.
In addition, it will be opening two standard sized CFCs in the current financial year, while a minimum of 12 new micro sites are being sought, primarily in London, to support the roll-out of the Ocado Zoom immediacy concept which offers deliveries within one hour of ordering. A second mini CFC will open in 2022 and "progress is being made" securing sites for further standard sized CFCs
Ocado Retail CEO Melanie Smith commented: "Over the past year, large numbers of UK consumers have made a permanent shift to online grocery shopping. Ocado Retail is best placed to serve these customers as we continue to improve the customer experience through the joint venture with M&S, adding new products, offering greater value, and maintaining high customer service levels.
"Q2 2021 represents the one year anniversary of the start of the Covid-19 pandemic which accelerated the demand for online grocery; while this year's quarterly sales figures will reflect the year-on-year comparisons with periods of full lockdown, we expect strong growth over the coming years as we continue to lead the charge in changing the UK grocery landscape, for good."
Tim Steiner, CEO of Ocado Group and Chairman of Ocado Retail, added: "Over the last twelve months, there has been a dramatic and permanent shift towards online grocery shopping around the world. Millions of customers have experienced online grocery shopping through the pandemic and many of them will not be going back to bricks and mortar. As we progress towards a new normal for grocery retail, and the focus for the industry shifts from meeting unprecedented demand to winning in a large and growing online channel, the need for a fulfilment solution that both delights a more knowledgeable customer, and enables profitable, sustainable growth, has never been more critical.
"This is the solution that Ocado's partners are now rolling out in many countries across the world. The first international partners to go live, Sobeys and Groupe Casino, have reported a very encouraging customer response and we look forward to the official opening of the first Customer Fulfilment Centres for our US partner Kroger in the coming weeks.
"Ocado Retail, of course, is the most advanced in demonstrating the power of the solution. It has proven that the model consistently delivers the best online customer experience in grocery with leading economics. We believe that the prospects for Ocado Retail, as well as our other Solutions partners, are very promising."
Ocado cautioned that sales and EBITDA growth moving forwards will now start to reflect annualisation against periods of coronavirus-related lockdown growth experienced in 2020, as well as the extent to which Ocado Retail returns to a 'normalised' trading week, as well as the timing of when planned capacity goes live.
Ocado said it expects positive revenue growth in the second quarter versus the corresponding period last year as it continues to ramp the Bristol CFC and restrictions on social distancing continue in the UK.
Ocado shares are down 1.5% to 2,051p so far this morning.
Morning update
Fever-Tree has managed to ride out a global slump in the on-trade sector to limit its global sales drop to 3% amid a rapid shift to off-trade capacity.
The upmarket drinks mixer producer said it strengthened its position as the leading global premium mixer brand, despite the challenges of COVID during 2020.
Despite widespread on-trade closures, a channel which has historically accounted for 45% of group revenue, full year revenues reduced by only 3% year-on-year to £252.1m due to a very strong off-trade performance.
It said off-trade sales exceeded expectations across our regions, even during periods when the on-trade was reopened:
During the period it maintained its position as number one brand in the UK retail mixer category, with 40.1% value share, saw "significant" momentum in the US and a "very strong" second half performance in Europe driven by off-trade sales as well as "excellent progress" in Australia and Canada.
Overall UK revenues were down 22% to £103.3m due to on-trade closures, while the US was up 23% to £58.5m, Europe up 1% to £65.3m and Rest of the World up by 58% to £25m.
However, gross margin declined due to investments in the US pricing architecture at the beginning of 2020, with a further impact felt from the shifts in channel and regional mix resulting from the widespread on-trade closures during the year.
Alongside this, the group's continued investment and increased level of underlying operating expenditure resulted in a reduction in the adjusted EBITDA margin this year to 22.6% from 29.6% and adjust EBITDA down Adjusted EBITDA down 26% to £57m.
Fever-Tree said that, whilst it remains committed to investing behind growth, it anticipates that the gradual re-emergence of the on-trade will allow for margins to improve from these levels.
Looking forwards, Fever-Tree reintroduced guidance despite the uncertainties relating to the pandemic and the reopening of the on-trade.
It said so far in 2021 it has seen a continuation of very positive trading in the off-trade across all regions. "While we would expect some of the Off-Trade demand to switch to the On-Trade as it begins to re-open, we estimate that the Off-Trade will remain strong," it said.
As the on-trade restrictions begin to ease, it expects to deliver revenue growth of between 12% to 16% in 2021, with gross and EBITDA margins consistent with 2020.
Tim Warrillow, co-founder and CEO of Fever-Tree, commented: "Although 2020 presented many unforeseen challenges, our resilient performance highlights the strength of the business and the Fever-Tree brand which is testament to the proactive and entrepreneurial way our team and our partners responded.
"Our performance in the Off-Trade was especially strong, exceeding our expectations across all our regions. Numerous periods of lockdown during the year encouraged increased consumer interest in premium spirits and stimulated excitement about mixing drinks at home, attracting more households and new consumers to the Fever-Tree brand than ever before. Consequently, we have increased our penetration in the UK, driven value share gains in the US, and Europe, and gained real traction in Canada and Australia.
"Our resilient performance can also be attributed to the proactive and rapid actions taken by the business to respond to the evolving consumption and purchasing habits that emerged during the pandemic. Crucially, we did this while remaining focused on the longer-term opportunity.
"Whilst our On-Trade business remains impacted by the continued shutdowns and restrictions across many of our regions, we have had a very positive start to 2021 across the Off-Trade. The momentum seen in 2020 has continued in the first part of the new year with strong sales in our major markets, most notably the UK and US. We are working closely with our On-Trade customers as they prepare for re-opening across our regions and while we are mindful of the gradual nature of easing of restrictions, we share their optimism and excitement for this important channel in the months and years ahead.
"Our confidence in the future is underpinned by the long-term trend towards premium spirits and long mixed drinks which accelerated during 2020 and a trend that Fever-Tree, with our category leadership position, range and relationships, remains uniquely placed to continue to benefit from."
Fever-Tree shares have dropped 8.8% to 2,313.6p so far this morning on guidance that margins will not improve in 2021.
Elsewhere, the FTSE 100 is down 0.8% to 6,740.8pts so far this morning.
Early risers include Science in Sport, up 3.4% to 60.5p, Nichols, up 2.8% to 1,290p, and Total Produce, up 2.7% to 169.5p.
Fallers include McColl's Retail Group, down 3% to 32p, Stock Spirits, down 1.4% to 278.5p and Compass Group, down 1.2% to 1,521.8p.
Yesterday in the City
The FTSE 100 ended the day down 0.6% yesterday at 6,762.6pts.
SSP Group slumped 7.9% to 318.4 after it announced it is planning to raise £475m from shareholders in a rights issue to strengthen the balance sheet and prepare for a recovery from the coronavirus pandemic as lockdown restrictions begin to lift.
Other fallers included Wynnstay Group, down 2.5% to 500p, Finsbury Food Group, down 2.4% to 81p.
Science in Sport jumped 10.8% to 58.5p after announcing it managed to hold revenues in line with 2019 levels at £50.4m despite the disruption caused by the pandemic.
Risers included McColl's, up 3.1% to 33p and British American Tobacco, up 2.3% to 2,750.5p.