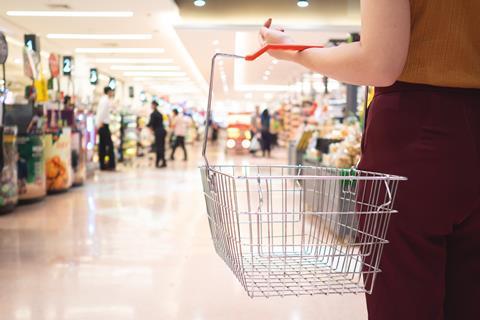 Top story
Supermarket customers shopped less online and more in store in April following the latest easing of coronavirus restrictions, new figures showed this morning.
The growth in online grocery sales slowed considerably to 25% last month, compared to 92% in March, according to the latest till roll data from NielsenIQ.
Online sales growth had remained above 70% since the start of the pandemic in the UK, supercharging e-commerce shopping at the major grocers.
However, in the four weeks ended 24 April, visits to bricks and mortar stores increased by 3%, the first increase in a year. It marked a significant rise compared to a -19% decline in March.
Although visits are up, spend per visit declined, resulting in flat in-store sales of £8bn, while online grocery sales remained strong at £1.3bn. Online share of grocery sales remained relatively stable at 14.2%.
Total till sales at UK supermarkets maintained steady growth at 4.6% in the past four weeks despite the partial reopening of hospitality.
Mike Watkins, NielsenIQ's UK head of retailer and business insight, said it was clear shopper behaviours had changed once again as lockdown restrictions eased, with growing confidence and growing numbers returning to stores.
"Whilst online sales remain high, we're noticing a rebalancing of shopper baskets as consumers spread their spend beyond the lockdown staples," he added.
Data from NielsenIQ also revealed several of the categories that suffered most during lockdown experienced a return to growth in the past four weeks.
Sale of health & beauty items grew 27% year on year, fresh goods, such as deli, increased 28% and bakery rose 15.5%.
Despite the partial reopening of hospitality over the period, sales of beers, wines and spirits remained 9% up as consumers met up with friends in parks or in back gardens.
Lockdown basket staples continued to decline in April, with packaged grocery down -10% and frozen falling -5%.
In terms of retailer performance, Lidl (18.2%) and Aldi (10.4%) grew the fastest over the past 12 weeks. Meanwhile, Asda (4.6%) and Sainsburys (3.9%) were the fastest-growing supermarkets of the 'big four' retailers. Marks and Spencer (3.9%) also experienced strong growth as non-essential retail reopened and more consumers also sought food-on-the go items.
Watkins said: "Categories such as health & beauty, deli and bakery have experienced a boost in the last four weeks as the schools have returned and consumers are given more freedom to socialise and meet outdoors in a small group.
"With rules set to relax further within the next few weeks, consumer lifestyles will begin to adapt and it's likely that we'll see another change in grocery spend as cafes, pubs and restaurants fully reopen. How far this is set to change exactly, remains to be seen."
Morning update
Discount chain Pepco has this morning published the price range of its upcoming IPO on the Warsaw Stock Exchange, valuing the Poundland owner at up to €5.8bn (£5bn).
The group will offer more than 102 million existing shares in the flotation, representing about 18% of its total issued share capital on admission to the public markets.
The offer shares will be priced at between PLN 38 (€8.32) and PLN 46 (€10.08) each, giving Pepco an implied equity value for the business of between €4.8bn and €5.8bn.
The expected first day of trading of the company's shares on the WSE will be "on or about" 26 May 2021.
CEO Andy Bond said the publication of the prospectus today marked a further important step towards Pepco Group listing on the Warsaw Stock Exchange.
"We have a proven track record of delivering growth and look forward to presenting our compelling investment case to both institutional investors, as well as retail investors in Poland."
Household goods manufacturer McBride has warned this morning that trading in its final quarter has weakened considerable compared with the first nine months.
Demand for auto-dishwash products remained strong but volumes in household cleaners began to normalise from the peaks seen in 2020.
Additionally, sales of laundry and personal care products were "very subdued" across the group's main markets. With lockdowns still in place across many markets, McBride also reduced the outlook for the liquids and aerosols for the final quarter, which ends on 30 June.
As a result, the group now expected second half constant currency revenues to be approximately 6% lower year on year.
McBride also warned of "significant and sustained" price escalation for many of its raw materials, particularly core chemicals and plastics.
"Our current view is that we will see further double-digit increases on average across these materials and packaging items by June 2021 – more than double the rates of increase expected in mid-March 2021," the group said. "Additionally, we do not see these prices returning to more normalised levels in the near future."
Shares in McBride collapsed by more than 23% to 69.3p this morning on the news of soaring raw material prices and weaker trading.
Sales and profits at Raisio have fallen in the first quarter of 2021 as it began to lap the period of exceptional demand in 2020 when panic buying started.
The Benecol owner's net sales fell 8.7% to €50m (£43.2m) in the three months ended 31 March, while comparable EBIT sank 29% to €4.7m (£4.1m).
CEO Pekka Kuusniemi said: "They say that no two years are alike and that description is accurate when we compare Raisio Group's first quarter of 2021 with the same period one year earlier. One year ago, the pandemic caused a completely exceptional barrage of demand that strongly drove up sales in all of Raisio's consumer markets."
The FTSE 100 rebounded this morning, climbing 0.8% to 6,978.28pts in the early going.
Early risers include Hotel Chocolat, up 2.6% to 390p, Marston's, up 1.4% to 97.1p, and SSP Group, up 1.1% to 320.4p.
Fallers so far include Parsley Box Group, dow 4% to 190.1p, Greencore Group, down 2.2% to 158.2p, and Ocado, down 1.6% to 1,971.5p.
Yesterday in the City
After a strong start this morning following the bank holiday, with the FTSE 100 rising above 7,000pts, London's leading index finished 0.7% down to 6,923.17pts.
Hellofresh suffered a bad day as the stock crashed 6.6% to €65 despite posting another quarter of strong growth. While revenues more than doubled in the first three months of the year to reach €1.4bn, investors continued to worried about the susatinability of growth post-pandemic.
Other food and drink fallers yesterday included Wynnstay Group, down 7.1% to 455p, Hotel Chocolat Group, down 6.2% to 380p, and Bakkavor, down 1.4% to 131p.
DTC firm Parsley Box rose 2.9% to 198p, while other risers included Devro, Fevertree Drinks and AG Barr, climbing 2.4% to 210p, 2.3% to 2,566p, and 2.2% to 519p respectively.