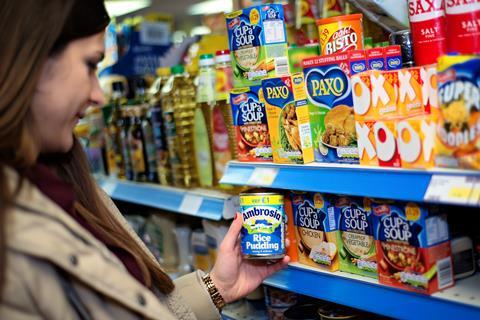 Top story
Premier Foods has revealed an "outstanding" year of growth as the pandemic significantly elevated demand for its household brands amid a home cooking boom.
Revenues in the year ended the 3 April increased 10.3% to £934.2m, while trading profits rose 11.9% to £148.3m and pre-tax profits more than doubled to £122.8m.
The performance was driven by a 13.6% jump in its branded performance, with the likes of Bisto, Oxo, Ambrosia, Sharwood's, Homepride, Paxo and Nissin "stand-out performers" and many registering double-digit growth.
With consumers forced to eat almost all meals at home throughout lockdown, Premier was able to attract new shoppers to its brands, resulting in a significant increase in household penetration for Bisto, Oxo, Sharwood's and Paxo, with a million or more new households buying into their ranges.
Growth in the sweet treats division was more "muted" as consumers focused more on cupboard staples. However, Mr Kipling reached revenues of £150m for the first time in its history following extended TV advertising, increased sales of its reduced sugar slices range and an expansion of its premium Signature collection.
Premier's non-branded business declined in both the grocery and sweet treats divisions in the year, falling by 5.3% and 8.4% respectively.
The overall performance led the group to reinstate a divident payment for shareholders for the first time in 13 years.
Premier also reduced net debt by another 23% down to £332.7m.
CEO Alex Whitehouse said it had been "an outstanding year for the business".
He added that a series of NPD, increased marketing and TV advertising and a "robust" performance from the supply chain all helped to deliver growth ahead of the market.
"We enter this year in a strong position, with the benefit of an expanded consumer base, further TV advertising for our brands and a substantial pipeline of new products planned," Whitehouse said.
"We are confident in our trading profit expectations for the full year and we expect adjusted PBT to benefit from lower financing costs. As we look to the future, with a transformed business in a demonstrably much stronger financial position, we will continue to move forward at pace and with rigour, applying our brand building skills to expand the business. We will do this through entering new categories in the UK, scaling up our overseas businesses and exploring the opportunity for appropriate bolt on acquisitions."
Shares in Premier increased 1.9% to 104.3p as markets opened this morning.
Morning update
Pub group Marston's has slumped to a pre-tax loss of £122.4m in the six months to 3 April as its revenues crashed more than 80% to £55.1m.
Most of the group's pubs were closed throughout the period as a result of the extended lockdown.
Howver, Marston's flagged strong demand since restrictions began to ease in April, with like-for-like sales running at around 80% of pre-Covid levels.
It helped the business break-even on an EBITDA level in April.
CEO Ralph Findlay, who is stepping down as boss, said that despite the challenges, Marston's had emerged "a stronger more focused business".
"This is my last set of results as chief executive officer and I am confident that the business is in an excellent position to execute its strategy and deliver a return to growth as the country recovers from the pandemic," he added.
"Whilst still early days, trading has been encouraging since we were permitted to open our doors for outdoor trading last month and it has been fantastic to have our teams back in the business, doing what they do best, and welcoming customers back into our pubs. Our recent strategic investment in additional outdoor trading areas ahead of reopening has enabled us to capitalise on the clear pent-up consumer demand for the pub. We look forward to all trading restrictions being removed next month which signals a return to some semblance of normality."
Findlay hands over the reigns to CFO Andrew Andrea later this year.
English wine producer Chapel Down group has appointed Stewart Gilliland to its board as a non-executive director.
Gilliland is a former CEO of Müller Dairies UK and Ireland and is currently chairman of cider maker C&C Group and a non-executive at Tesco. Prior to joining the board of Tesco, he was chairman of Booker Group.
He has also held executive roles at the likes of Whitbread, Mitchells & Butlers and Interbrew.
Chapel Down CEO Frazer Thompson said: "I am delighted to formally welcome Stewart to the board. Stewart brings not only extensive drinks industry experience and fmcg expertise built at AB InBev, Müller, M&B, Tesco and C&C but also a love of great brands and an enthusiasm for our business. With Stewart's strategic and commercial skills and outstanding people skills we know that he will be a great asset for the Company and I am truly delighted that he has agreed to help us on our journey."
Russian retail chain Lenta has acquired the supermarket business of Billa Russia for €215m.
The deal significantly accelerates Lenta's expansion in Moscow, adding prime retail locations, the group said.
As a result of the transaction, Lenta will have a total food retail market share of approximately 3% in Moscow and the Moscow region.
CEO Vladimir Sorokin said: "The acquisition of Billa Russia's supermarkets gives us access to mature stores with established customer traffic, including in central Moscow neighborhoods, and instantly doubles Lenta's footprint in the supermarket segment in terms of the number of stores overall. Billa's locations also enable Lenta to further expand its online express delivery offering across all of Moscow, supporting our ambitious plans to significantly grow the online business in the coming years.
"Becoming the second biggest supermarket operator in Russia's largest and wealthiest metropolitan area represents a significant statement of intent backing up the ambitious strategic goals we announced at our recent Capital Markets Day."
Lenta plans to integrate the 161 newly acquired supermarkets, supply chain infrastructure and Billa Russia employees into the Lenta retail network. Once the stores have been converted to the Lenta brand, the Billa brand will be discontinued within Russia.
Billa currently operates supermarkets with total selling space of 138,051 square meters, the vast majority of them in Moscow and the Moscow region, as well as a distribution center in Bykovo (Moscow Region).
The transaction is expected to close over the summer, subject to regulatory approvals from the Russian Federal Antimonopoly Service.
The FTSE 100 slumped back below 7,000pts this morning as inflation in the UK more than doubled to 1.5% in April. London's blue-chip index is down 0.9% to 6,073.50pts.
Shares in Marston's tumbled 2% to 93.4p after this morning's news of how hard the latest lockdown hit the pub group.
Yesterday in the City
The FTSE 100 kept its head above water yesterday to end the day 0.1% higher at 7,041.28pts.
Shares in Cranswick increased 9% to 4,006p after the mixed protein group reported double-digit jumps for revenues and profits last year driven by big retail gains.
Drinks supplier Britvic also registered a strong rise in its share price following encouraging sounds around a pick-up in trade as lockdown eases, despite a 6.3% revenue drop in its first half. Shares at the Robinson owner rose 3.9% to 955p.
Tobacco giant Imperial Brands finished 1.6% up to 1,615.8p thanks to an uptick in sales in the six months to 31 March 2021.
Elsewhere, other risers included WH Smith, up 4.2% To 1,719p, B&M European Value Retail, up 1.3% to 573p, and Greencore Group, up 1.7% to 169.1p.
Fallers included Parsley Box, down 2.2% to 182p, Kerry Group, down 1.2% to €109, and SSP Group, down 1.2% to 304p.